Amyris (West Indian Sandalwood) 100% Pure Essential Oil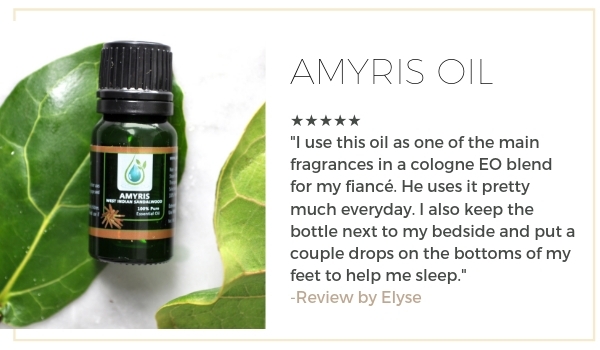 Amyris (West Indian Sandalwood)
100% Pure Essential Oil
Scientific name: Amyris balsamifera

Oil origin: Haiti
Extraction: Steam Distillation
Aroma: Gentle, woody, with slight vanilla undertone
Odor strength: Medium
Evaporation: Base
Origin: Haiti
Amyris essential oil is distilled from the wood of the tropical evergreen Amyris tree found throughout the world. It often referred to as West Indian Sandalwood, though does not possess the same depth and character as true Sandalwood. Amyris offers a sweet-woody, balsamic aroma with good fixative value, and is often used as a substitute for Sandalwood when a less expensive alternative is required.
Amyris relaxes and calms the mind, helping to alleviate stress and anxiety. It is also said to uplift the mood and it has an aphrodisiac-like effect when used in small amounts in a blend.
Amyris is often used as an antiseptic, a sedative, and to improve circulation. It is very calming to the skin and the mind.
Disclaimer:
The above statements have not been evaluated by the FDA
This information is for educational purposes only, it is not intended to treat, cure, prevent or, diagnose any disease or condition. Nor is it intended to prescribe in any way. This information is for educational purposes only and may not be complete, nor may its data be accurate.
Safety precautions: Extremely potent use with care. Consult a professional reference for correct dilution ratios prior to application.
Avoid in pregnancy and lactation. Keep away from eye area. Keep out of reach of children.
You won't find a higher quality 100% Pure Amyris Essential Oil anywhere
More Information
UPC Barcode
641990785166
Scientific Data

U.S. National Library of Medicine

"Both amyris oil and elemol were repellent to both species of ticks. Elemol did not differ significantly in effectiveness against A. americanum from the widely used repellent deet. At 2 and 4 h after application to filter paper, 827 microg amyris oil/cm(2) paper repelled 80 and 55%, respectively, of A. americanum nymphs. Ixodes scapularis was repelled by lower concentrations of amyris oil and elemol than A. americanum."

Complete Scientific Study Available: http://www.ncbi.nlm.nih.gov/pubmed/20016930

Uses
Skincare, Relaxation, Respiratory
Customer Reviews
4%
of customers
recommend this product