Details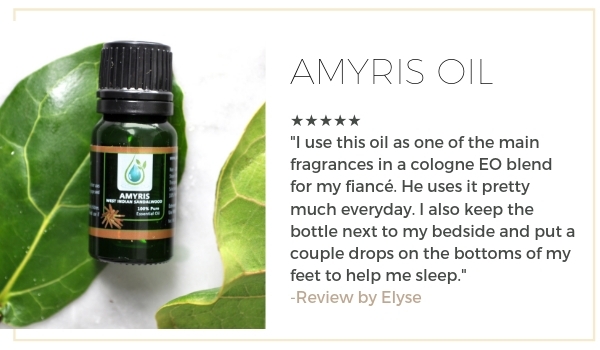 Amyris (West Indian Sandalwood)
100% Pure Essential Oil
Scientific name: Amyris balsamifera

Oil origin: Haiti
Extraction: Steam Distillation
Aroma: Gentle, woody, with slight vanilla undertone
Odor strength: Medium
Evaporation: Base
Origin: Haiti
Amyris essential oil is distilled from the wood of the tropical evergreen Amyris tree found throughout the world. It often referred to as West Indian Sandalwood, though does not possess the same depth and character as true Sandalwood. Amyris offers a sweet-woody, balsamic aroma with good fixative value, and is often used as a substitute for Sandalwood when a less expensive alternative is required.
Amyris relaxes and calms the mind, helping to alleviate stress and anxiety. It is also said to uplift the mood and it has an aphrodisiac-like effect when used in small amounts in a blend.
Amyris is often used as an antiseptic, a sedative, and to improve circulation. It is very calming to the skin and the mind.
Disclaimer:
The above statements have not been evaluated by the FDA
This information is for educational purposes only, it is not intended to treat, cure, prevent or, diagnose any disease or condition. Nor is it intended to prescribe in any way. This information is for educational purposes only and may not be complete, nor may its data be accurate.
Safety precautions: Extremely potent use with care. Consult a professional reference for correct dilution ratios prior to application.
Avoid in pregnancy and lactation. Keep away from eye area. Keep out of reach of children.
You won't find a higher quality 100% Pure Amyris Essential Oil anywhere
Additional Information
UPC Barcode
641990785166
Scientific Data

U.S. National Library of Medicine

"Both amyris oil and elemol were repellent to both species of ticks. Elemol did not differ significantly in effectiveness against A. americanum from the widely used repellent deet. At 2 and 4 h after application to filter paper, 827 microg amyris oil/cm(2) paper repelled 80 and 55%, respectively, of A. americanum nymphs. Ixodes scapularis was repelled by lower concentrations of amyris oil and elemol than A. americanum."

Complete Scientific Study Available: http://www.ncbi.nlm.nih.gov/pubmed/20016930

 

 

 
Customer Reviews
Nice in a blend
By Garnet
July 6, 2019 4:20:56 PM MDT
I like to use this amyris as a base in a blend in the diffuser.
Love it!
By Stephanie
July 6, 2019 11:36:52 AM MDT
I've tried several other "cheaper" brands of sandalwood but they don't touch this! I love how it's so versatile and blends well with so many other oils! I wanted to give this a go because the other was kinda out of my price range right now and I'm extremely pleased with the light scent it has. Next time though I think I will try the pricier one and see the difference.
Great Sub
By Amy Rector
April 21, 2019 3:33:43 PM MDT
I originally wanted sandalwood but couldn't afford it. After trying this. I was more than pleased. Thank you for the amazing oils JB!
Substitute
By Sarah Stephenson
March 25, 2019 8:00:28 PM MDT
I wanted Sandlewood, but could not afford the "real" one. I read that Amaris could be used. It worked for me in my blend. Thanks for great oils.
Lovely
By Kiwiatheart71
March 12, 2019 12:34:45 AM MDT
Nice, soothing scent. Great with lavender or frank at night
Terrific!
By Tracy
February 23, 2019 9:19:48 AM MST
I don't usually love the tree smells, but this is so delicate and soothing! Thanks Jade Bloom!
So pleased!
By Frances
January 15, 2019 1:22:54 PM MST
Summary
By Melissa
December 14, 2018 12:49:03 PM MST
Love this oil it has a very light scent and is a great addition to my restless leg recipe
Smells good
By Silviya
December 7, 2018 5:48:08 AM MST
It is a very viscous oil but I add with Cassia in my defuser and I like the smell.
Wow!
By Leah
November 20, 2018 2:15:13 PM MST
Rich and woodsy and perfect for meditation!
Nice smell
By Sherrie Dillon
October 24, 2018 3:01:33 PM MDT
I really enjoy the way this oil smells and will use it again
Summary
By Shaye
October 5, 2018 2:57:02 PM MDT
I was anticipating a stronger smell, it's hardly detectable and fades away immediately. I won't buy this type again.
Love it
By Chico Walker
August 14, 2018 10:38:01 AM MDT
I love this oil, I use it with Lavender, at night while sleeping. For me it work great.
Little to No Scent
By Denise
August 9, 2018 1:51:21 PM MDT
I'm glad I got this one free. It barely smells like anything.
Great oil to have on hand!
By Brittany
July 31, 2018 11:32:17 AM MDT
Love the scent...not as strong as regular sandalwood but a nice substitute
Nice
By Irene
July 19, 2018 11:17:36 PM MDT
Wanted to get Sandlewood but it was way too expensive so decided to try Amyris. I have been very surprised and I like the smell. Not as strong as Sandlewood but I like it a lot.
5 Stars
By Amy
July 17, 2018 4:54:49 AM MDT
Impressed after reading reviews!!
By Rkat12
June 19, 2018 9:15:25 AM MDT
I was surprised at the aroma of this oil. hesitant after reading the reviews, sandalwood is a bit pricy and wanted something similar. And I was surprised when I smelled it how strong the musky woodsy refreshing smell was. Great buy for the price. Excellent scent.
Summary
By Megan Hurst
June 17, 2018 7:10:06 PM MDT
Very thick, thought It would smell like sandalwood but it doesn't.
nice
By Nancy Vandevanter
June 15, 2018 12:43:23 PM MDT
I could not get it out of the bottle without removing the little plug....Sorry
5 Stars
By CB
June 15, 2018 10:56:57 AM MDT
Nice
By Stephen
May 19, 2018 10:48:01 PM MDT
This oil is similar to sandalwood. It's nice. Not quite the same as sandalwood, but a good woody smell.
Very Nice
By Alyssa
May 13, 2018 9:43:46 PM MDT
It's not as strong as traditional Sandalwood but it's very lovely!
Pretty Oil
By Gina
April 22, 2018 12:25:57 PM MDT
Very nice oil. I don't find it to have the aroma of Sandalwood, but a slight vanilla scented wood that I find very calming. The scent lingers for quite a long time.
Amyris
By Silviya
April 19, 2018 1:15:14 PM MDT
I mix this oil with Cassia, it has a nice, pleasant smell.
Sandalwood
By Teresa M
March 20, 2018 10:15:03 AM MDT
This oil is AMAZING!!! LOVE IT, by itself, or blended with Lavender, a drop of Vetiver!!!! Smells Wonderful !!!!,Can't go wrong with this one
I love it!
By Weena
February 9, 2018 9:41:16 PM MST
This oil is highly refreshing.
Lasting scent
By Jackiem
February 9, 2018 12:40:38 PM MST
I put this oil on my husbands lava beads and the scent has lasting longer than any of the others I put. very nice manly scent.
Awesome oil
By Ruthy Esbeck Nahrgang
February 8, 2018 9:32:47 AM MST
Been using this oil to help with anxiety wonderful results
Beautiful!
By Holly
January 23, 2018 8:58:01 PM MST
Really beautiful and lasting scent! Thank you!
Earthy!
By Cheryl
January 23, 2018 8:18:46 PM MST
This oil has a rich, woody fragrance that is soothing and enjoyable! I am glad I bought it!
Summary
By Louise
January 12, 2018 2:11:41 PM MST
Beautiful!
By Holly
January 8, 2018 12:34:20 PM MST
I love Sandalwood! I was hesitant to purchase this one, but I'm so glad I did. Yes, it's different, but it has that warm and earthy fragrance that lingers. Thank you!
love it
By pam
December 28, 2017 3:32:12 PM MST
Beautiful, delicate oil
By Greenman
December 27, 2017 3:01:36 PM MST
This is such a beautiful and delicate oil! We love diffusing it during our meditations.
Perfect for cologne and sleep
By Elyse
December 26, 2017 12:46:20 PM MST
I use this oil as one of the main fragrances in a cologne EO blend for my fiancé. He uses it pretty much everyday. I also keep the bottle next to my bedside and put a couple drops on the bottoms of my feet to help me sleep.
happy
By wonderful calming joy
December 10, 2017 2:48:46 PM MST
a friend of mine gave me this oil and I just couldn't be happier. it smells lovely, last long and fills my while house with a calming peaceful smell.
Love it
By Alex
December 5, 2017 1:26:19 AM MST
I really do love this oil. I like the viscosity (very thick). I like the mild woody smell. I like that it's saving Sandalwood trees. I also like the fixative properties for blending and the smoothing effects on the skin.
Calming
By Paula
November 22, 2017 2:30:13 PM MST
I use sandal wood in my difusser for a calming effect.
relaxing
By jessica
November 21, 2017 6:19:39 AM MST
Use if you want a great nights sleep... also great for meditation
Great
By Karen Madera
November 12, 2017 5:38:51 PM MST
I like using this on my skin and it's much cheaper than sandalwood
Blend
By Brandy
November 12, 2017 9:31:47 AM MST
Good to blend with lavender to diffuse.
Love
By Jackie Wilson
November 8, 2017 2:08:51 PM MST
This oil is great on your skin and a good substitute for sandalwood.
Wonderful Product
By Amy
November 2, 2017 3:26:08 PM MDT
Being over 50 and slightly vain, the fine lines have been a challenge. Having received this and started using it. I've decided I'll be ordering more! It's wonderful for your skin removing those fine lines! ;-)
Diffuse --4-Amyris, 3 Rom Cham, 2 Mandarin, 1 Valerian <--- can also be added to a massage oil or cream and rubbed on your chest, back and neck and arms.

For those fine lines ---
3-Amyris, 3 Frankincense, 2 Bergamot and 1 Neroli, Lovely, uplifting. Hope you enjoy it as much as I do!

This oil is amazing
By Angela
October 22, 2017 3:22:57 PM MDT
This oils helps out so much I live it
great product
By Khristy
October 21, 2017 5:06:44 PM MDT
Great
By Liz
October 19, 2017 4:20:56 PM MDT
Summary
By Tiff
October 17, 2017 1:51:29 PM MDT
Another win for JB! Perfect addition to my skin care line.
very calming
By Robin
October 15, 2017 2:29:25 PM MDT
I add this into my skin care regimen. It is great to blend with ylang ylang , patchouli, egyptian geranium or Rose oil for your face and neck area at night. I also like to take a nice Epsom Salt bath with a couple drops of this along with lavender to calm a nervous stomach or tight neck and shoulders.
I really like it.
By Unique
October 13, 2017 2:55:23 AM MDT
I put this in my diffuser with some Sandalwood oil and it was ah-mazing! It is very calming and sedating, great for night-time.
Need something to diffuse to relax you after a long day.
By Paula
October 1, 2017 9:50:50 AM MDT
After a long day I love to but this in the diffuser and Amyris will help you relax it reminds me of being camping in the woods and just relaxing It calms me down. After some days I need it alot.
Great for relaxation!
By Brooke
September 25, 2017 10:29:35 PM MDT
I got this oil as a free gift, but I would definitely buy it again! It is very relaxing and great for blends.
Great for Anxiety
By Jenifer
September 20, 2017 7:17:31 PM MDT
This works great for anxiety! Very relaxing especially when mixed with lavender.
Love love love
By Kelly
September 18, 2017 3:02:59 AM MDT
I have never tried this oil until jade Bloom offered it free this last week and I love it my 5 year old sleeps so much better when this is defusing. I will most definitely ve buying this oil again.
light smell
By TRACIE
September 15, 2017 4:38:54 PM MDT
I use on my temples...very calming
Pleasant
By tammy
September 15, 2017 1:31:19 PM MDT
Pleasant woodsy aroma. Will be Great in the sugar scrub I want to make for my husband
Pleasant
By tammy
September 15, 2017 1:31:19 PM MDT
Pleasant woodsy aroma. Will be Great in the sugar scrub I want to make for my husband
Pleasant
By tammy
September 15, 2017 1:31:18 PM MDT
Pleasant woodsy aroma. Will be Great in the sugar scrub I want to make for my husband
Love the Fragrance!
By kherbaljunkie
September 9, 2017 7:45:17 PM MDT
Wow! What a fabulous scent. Great price for a great oil. this is a must have.
Nice!
By Abby
September 9, 2017 7:43:09 AM MDT
Just got mine in the mail..not an overpowering smell at all...this will work nice in my goldenrod salves. Only thing is...I really don't remember ordering this at all nor the Amla Fruit Oil??? I hope I don't start seeing this on a regular basis...I'll keep this one though.
Smells great!
By Alex
September 5, 2017 9:25:44 PM MDT
I got this oil through one of Jade Boom's many promotional deals. It smells wonderful! I like my regular Sandalwood too. This is just different. I like both. The price point for this oil is more affordable so it's more accessible to people which is a major plus!
Amyris
By Lori
September 3, 2017 11:16:06 AM MDT
Really enjoy the scent, the hint of vanilla makes it very relaxing & calming, love diffusing this on stressful days.
Excellent
By Shayne
August 2, 2017 10:00:37 PM MDT
This oil is a very nice substitute for Indian sandalwood. I love it alone or with a touch of geranium and ylang ylang.
AKA Poor Man's Sandalwood
By Maria
July 31, 2017 11:09:23 PM MDT
Amyris is known as Poor Man's Sandalwood. If you love sandalwood but not the price tag (not much of a problem with Jade Bloom's awesome prices) this is the oil you want.
great oil
By Miracle
July 18, 2017 1:41:45 AM MDT
I love the smell of this version of sandalwood. Although not as great as the real deal, it is a great substitute for it and smells nice. I can't wait til I can add the more expensive one to my collection!
woodsy
By Kayla
July 9, 2017 6:37:55 AM MDT
This oil has a very woodsy smell to me and is more manly. I think I'll make a deodorant for my husband with it. I thought it would have a floral scent to it as well but I don't smell that in it.
Awesome Value
By Sandy
May 29, 2017 9:21:56 AM MDT
I have been extremely pleased with every Jade Bloom oil I've purchased. This oil is no exception. I often use my oils in a diffuser, this oil has a nice light woodsy fragrance which is what I want when diffusing.
Love ❤️
By Patricia
May 14, 2017 9:16:17 PM MDT
Shampoo and conditioner smell so good and are so gentle. Does not strip my color! Just re-ordered so I don't run out!!
Very nice woodsy sandalwood
By Crystal
April 23, 2017 11:26:58 AM MDT
A lot different than the sandalwood that I'm used to but better than Hawaiian Sandalwood. Very woodsy light aroma very nice to work with I added it into my face oil and it came out very good. Thank you Jade bloom
Love this
By Daintry
March 27, 2017 6:38:51 AM MDT
Eccential Oils
By pat
March 2, 2017 9:17:34 AM MST
Made.me want to throw up . This fidnt go with my system at all too strong smelling nasty sorry

COMPANY RESPONSE - March 2, 2017 9:22AM - Pat, we're sorry you didn't like Amyris. Please contact our support team and they'll be happy to issue you a full refund and pay your return shipping costs.
Good
By Danielle
February 14, 2017 4:15:13 PM MST
This smells fantastic in the soap I made
Subtle scent, great uses
By Tabitha
January 3, 2017 9:28:28 PM MST
This Amyris oil has a beautiful subtle woody scent. Definitely a great base note. I love it!
The aroma was not what I am used to for typical Sandlewood, although the price is by far much less expensive also. I probably would purchase again at this price, as long as i am still getting the same benefits...
By Lisa
September 4, 2016 1:47:54 PM MDT
Overall still a great oil for the price, just disappointed in the aroma not being a typical sweet Sandlewood scent...I will purchase again at this price!! Still a great oil for the price with great overall benefits!!
soft scent
By Jillian
May 3, 2016 10:49:20 AM MDT
This is a thicker oil somewhat sticky, but because of the new droppers it comes out beautifully. It smells very softly of sandalwood, but is not nearly as potent as a sandalwoods blend (blend of different sandalwoods) I have from a different company. I would love to try the mysore from JB, but don't have it yet.

This is a very pretty and soft scent, I'm just not sure how lasting it will be.
See all
Hide all