Details
Grounding Kit
Argan, Vetiver & Amyris Essential OIl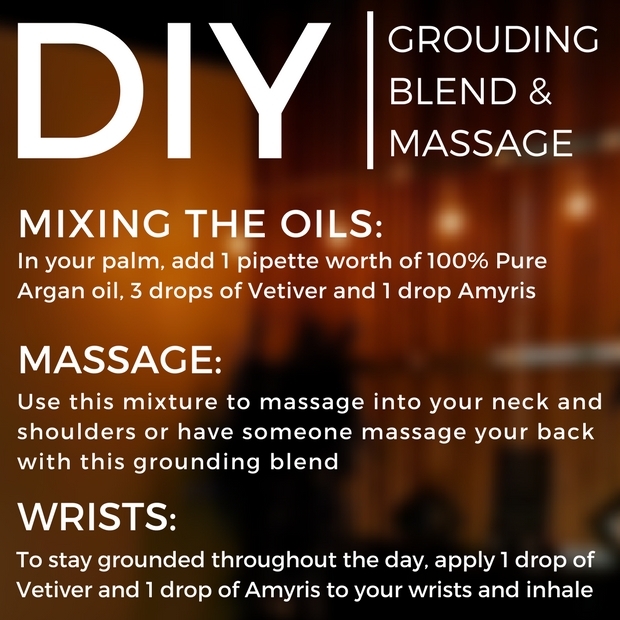 1. 100% Pure Argan Carrier Oil -- Read Reviews
Botanical name: Argania Spinosa
Extraction method: Cold pressed, Extra Virgin, Unrefined
Our argan oil is organically grown and manufactured with the highest standards of quality.
Argan oil is renown for its skin and hair healing ability. It is quickly absorbed upon application and leaves your skin silky and smooth. It is considered an effective anti-aging oil due to high levels of tocopherols and saponins. Besides cooling and soothing inflammation, it has been noted to help reduce wrinkles by restoring the skin`s hydro-lipid layer.  This is the treasure from Morocco not to be missed. 
Argan oil contains rare plant sterols (schottenol and spinasterol), not found in other oils. It is believed that these phytosterols are unique in their combination and that there are no other vegetable oils with a comparable phytosterol composition. Sterols can be described as 'plant fats' which are known for stimulating pore detoxification, boosting the immune system, and preventing transepidermal water loss. Sterols leave the skin feeling velvety while reducing inflammation and delaying the aging process.
2. 100% Pure Haitian Vetiver-- Read Reviews
100% Pure Vetiver Essential Oil
Scientific name: Vetiveria Zizanoides
Oil origin: Root
Extraction: Steam Distilled
Aroma: Rich, Sweet, Heavy
Odor strength: High
Evaporation: Base note
Origin: Haiti Wildcrafted

Vetiver essential oil is reputed to heal bruises, cuts, insect bites and stings, promotes restful sleep, stops itching, helps with menstrual problems, soothes muscular aches and pains, reduces scars, helps with skin problems, sprains, stiffness, wounds, eases stress, and reduces anxiety.  Vetiver is most popular for improving focus and concentration.
Vetiver essential oil is analgesic, antibacterial, antifungal, anti-inflammatory, antimicrobial, antioxidant, antiseptic, antispasmodic, cell proliferant, depurative, emmenagogue, rubefacient, sedative, stimulant, tonic, vermifuge, and vulnerary.
3. 100% Pure Amyris (West Indian Sandalwood) Essential Oil -- Read Reviews
Scientific name: Amyris balsamifera

Oil origin: Haiti
Extraction: Steam Distillation
Aroma: Gentle, woody, with slight vanilla undertone
Odor strength: Medium
Evaporation: Base
Origin: Haiti
Amyris essential oil is distilled from the wood of the tropical evergreen Amyris tree found throughout the world. It often referred to as West Indian Sandalwood, though does not possess the same depth and character as true Sandalwood. Amyris offers a sweet-woody, balsamic aroma with good fixative value, and is often used as a substitute for Sandalwood when a less expensive alternative is required.
Amyris relaxes and calms the mind, helping to alleviate stress and anxiety. It is also said to uplift the mood and it has an aphrodisiac-like effect when used in small amounts in a blend.
Amyris is often used as an antiseptic, a sedative, and to improve circulation. It is very calming to the skin and the mind. 
You will love your our Grounding kit of 100% Pure Essential Oils
Additional Information
| | |
| --- | --- |
| UPC Barcode | No |
| Scientific Data | No |
Customer Reviews
Grounding Kit
By Ashe
March 29, 2019 1:36:51 PM MDT
I initially looked for an oil that would help me deal with PPD. This kit has helped not only my PPD, but has helped with anxiety, also.
Amazed!
By Tanya
April 10, 2018 4:24:32 PM MDT
This far exceeded expectations. If you have anxiety or a rampant running mind THIS works!
You will not regret purchasing this set.
They sure are...
By Alex
March 4, 2018 5:58:26 AM MST
These oils are so very grounding. Argan oil added into the mix for your carrier oil. Perfect for times of increased anxiety.
Grounding kit
By Naomi
February 26, 2018 2:18:05 PM MST
This grounding blend smells so earthy and fresh. I love using this blend when I do my candle meditation at the end of the day.
Love this!!
By Cheryl
February 20, 2018 12:44:46 AM MST
This is a wonderful kit! So earthy and delicious-smelling!!
great combination
By Jeffrey edelheit
February 15, 2018 5:57:01 PM MST
loved the combination except for the vetiver is at times a challenge to get drops out of the bottle....which is normal for it....always got high quality product from Jade Bloom
Summary
By Name
February 8, 2018 5:20:00 PM MST
This kit for me was right on time.
Grounding Kit
By Suzanne
February 7, 2018 10:43:59 PM MST
This kit was awesome...arrived fast like always and certainly does the job, it said it should. Grounded me quickly, which isn't something easy to do...Give it a try!
See all
Hide all