Details
DIY pH Restore Dry Ingredients
All-Natural Mouthwash Ingredients
"THE WORLD'S BEST MOUTHWASH...AND IT'S ALL NATURAL!"
Features
-Kills bad bacteria, retains good bacteria while maintaining the mouths natural PH balance
-Remineralizes & whitens teeth while reducing build up of plaque
-Naturally freshens breath with 100% pure essential oils by Jade Bloom
-Free of Alcohol, Glycerin, Fluoride.
-Free of the traditional ingredients that have been shown to change the natural pH of your mouth and prohibit remineralization.
How To Make
Recipe
-- 3.25 ounces distilled water
-- .4 ounces pH powder (dry ingredients)
-- 30 drops peppermint essential oil
-- 30 drops nutmeg essential oil
-- 15 drops lemon essential oil
Add distilled water and pH powder to a 4-ounce glass bottle.  Replace the lid and shake well.  Remove the lid and add the essential oils.
Substitute your own essential oils to change the flavor or change the quantities to change the intensity.
How To Use
Shake well before each use as settling is normal.  Swish a mouthful of pH Restore for 20 to 30 seconds as needed to freshen breath.  A single use per day will promote tooth enamel whitening and remineralization.
For best results, use in conjunction with Jade Bloom's PROTECT Remineralizing Toothpaste and avoid using other products that contain glycerin or alcohol.
INGREDIENTS: Distilled Water, Calcium Hydroxyapatite, Xylitol, Peppermint Essential Oil (Mentha piperita), Nutmeg Essential Oil (Myristica fragrans), Lemon Essential Oil (Citrus Limonum), Ionic Trace Minerals From The Great Salt Lake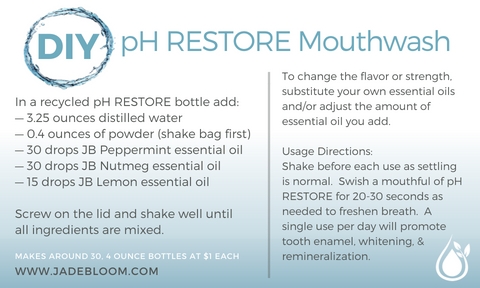 Disclaimer:
The above statements have not been evaluated by the FDA
This information is for educational purposes only, it is not intended to treat, cure, prevent or, diagnose any disease or condition. Nor is it intended to prescribe in any way. This information is for educational purposes only and may not be complete, nor may its data be accurate.
Safety precautions: Extremely potent use with care. Consult a professional reference for correct dilution ratios prior to application.
Avoid in pregnancy and lactation. Keep away from eye area. Keep out of reach of children.
You won't find a higher quality, more effective Mouthwash anywhere!
Additional Information
| | |
| --- | --- |
| UPC Barcode | No |
| Scientific Data | No |
Customer Reviews
Wow
By Cathy G.
April 28, 2019 5:26:40 PM MDT
I love this mouthwash really makes my teeth feel good
And my gums
Wish I had this and the toothpaste 10 years ago
I would not want to be with out it
Love it!!
By Sandra
March 13, 2019 4:00:46 PM MDT
I like being able to make my mouthwash!! I love the aftertaste feeling in my mouth. It's a really clean and fresh sensation.
Summary
By Joy
October 10, 2018 9:09:49 PM MDT
I love being able to make my own healthy mouthwash with your help! Great taste and Clean feeling that lasts.
See all
Hide all