Bamboo Toothbrush - 100% Biodegradable
Bamboo Toothbrush
"Brush with Bamboo" is the world's first plant-based toothbrush. Every component of this product is plant-based: bristles, handle, wrapper, and box. "Brush with Bamboo" is a USDA Certified Biobased Product by United States Government's Biopreferred Program. A purchase of our toothbrush is a vote for biobased products that are not fossil fuel-based! Our product is BPA-Free, Vegan, and Verified Non-toxic.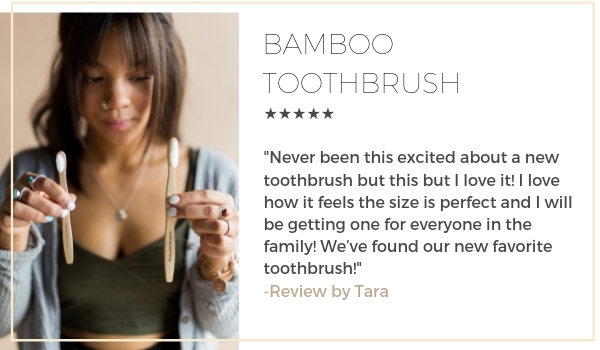 About the brush:
The handle:
We've created a high-quality easy-to-grip curved handle made entirely out of bamboo. Only organic, wild, giant Chinese Moso Bamboo is used for our bamboo toothbrush handles. No pesticides or fertilizers are ever used on our bamboo – in fact, because it is wild mountain bamboo, doing so would be completely impossible. Likewise, our bamboo is never watered by us — only natural mountain rain. At present we are harvesting less than 1% of the possible bamboo resources available in the sprawling Chinese bamboo mountain range where our bamboo is harvested. Less plastic, more bamboo!
Plant-Based Bristles:
This special SOFT bristle is composed of 62% Castor Bean Oil, 38% plastic. This is the latest and most advanced biobased bristle in the world today. It's biobased, but still not biodegradable. You may have seen Dasani brand plastic water bottles made from 30% plants – our bristle is a similar concept. Prior to the invention of nylon in the 1930s, pig hair was used for toothbrush bristles worldwide. Today, pig hair remains the only biodegradable option – and it is a very controversial material. We hope you'll support our brand as we "vote" with our supply chain. We're pushing bristle manufacturers to develop better alternatives to nylon. This new bristle that we are now using is the best available option. It's not perfect, but it's a step in the right direction. Our bristles can be recycled – please read further details in the Proper Disposal Section of this website.

Compostable Packaging:
We wanted to our whole product to be ecological, including the packaging. The toothbrush comes in a compostable wrapper made from plants. The outer box is made from 100% paper and is also biodegradable – no tape or glue is used.

Toothbrush Lifespan:
Our ecological bamboo toothbrush will last just as long as a conventional plastic toothbrush- About 4 months.

True Sustainability:
Bamboo is the fastest growing plant on earth. Because it contains naturally-occurring antimicrobial agents, there is no need for using fertilizers or pesticides during its cultivation. Our bamboo is totally organic and wild. After we harvest a bamboo stalk to use it for toothbrushes, another stalk takes its place and grows to full size within just 2 years — a remarkable growth rate!


You won't find a higher quality biodegradable Bamboo Toothbrush anywhere
Customer Reviews
3%
of customers
recommend this product
Featured review(s)
Love these toothbrushes!
Jul 27, 2021
I love these bamboo toothbrushes! They provide one more small win for Momma Earth.