Details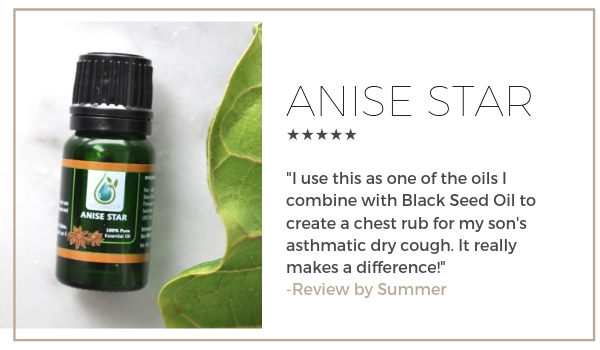 Anise Star
100% Pure Essential Oil
Scientific name: Illicium verum
Oil Origin: Seeds
Extraction: Steam distilled
Aroma: Licorice-like
Odor strength: High
Evaporation: Middle note
Origin: China
Star anise (also known as anise star) is a fruit native to Vietnam and China. It has the shape of a star with seeds tucked inside. Star anise has been used in Chinese medicine since antiquity, most notably helping with cases of rheumatism.
Anise star essential oil is considered to assist in expanding lung capacity, calming overworked muscles, working as an antiseptic, and an overall tonic to health. It contains anethole, the same compound that is found in the non-related anise, which gives it a similar scent. It is commonly used in toothpaste formulations, soaps, personal care formulations, and perfumes.
Disclaimer:
The above statements have not been evaluated by the FDA
This information is for educational purposes only, it is not intended to treat, cure, prevent or, diagnose any disease or condition. Nor is it intended to prescribe in any way. This information is for educational purposes only and may not be complete, nor may its data be accurate.
Safety precautions: Extremely potent use with care. Consult a professional reference for correct dilution ratios prior to application.
Avoid in pregnancy and lactation. Keep away from eye area. Keep out of reach of children.
Anise Star essential oil is reported to have potentially carcinogenic constituents. High risk individuals should be careful not to overexpose themselves to this oil. Please stay with in a 1.75% dilution ratio and use extra caution. 
Additional Information
UPC Barcode
641990785173
Scientific Data

U.S. National Library of Medicine

"Both the essential oil [Anise Star] and trans-anethole exhibited strong inhibitory effect against all test fungi indicating that most of the observed antifungal properties was due to the presence of trans-anethole in the oil, which could be developed as natural fungicides for plant disease control in fruit and vegetable preservation."

Complete Scientific Study Available: http://www.ncbi.nlm.nih.gov/pubmed/21030909

 "I. verum has carminative, stomachic, stimulant, and diuretic properties, and is used as a pharmaceutical supplement"

"The essential oils of [Anise Star] I. verum and S. tenuifolia and their major constituents could be used to manage post-harvest diseases caused by B. cinerea and C. gloeosporioides."

Complete Scientific Study Available: http://www.ncbi.nlm.nih.gov/pubmed/18062240

 

"Other studies have indicated that the essential oil of [Anise Star] I. verum has repellent and fumigant actions."

  Complete Scientific Study Available: http://www.ncbi.nlm.nih.gov/pmc/articles/PMC4212851/

 

 
Customer Reviews
Summary
By Maritza
November 5, 2018 12:09:04 PM MST
I love this black licorice aroma!! Great oil for Fall and winter blends
Summary
By Rebecca
September 8, 2018 8:22:42 PM MDT
Wonderful smell and makes a great addition to my water!!
Summary
By Name
May 27, 2018 10:56:59 PM MDT
Anise Star
By Stephen
May 18, 2018 10:09:47 PM MDT
This oil has a licoricey, fennely smell to it, which I personally love. If you're not into licorice though... but its very nice.
Awesome
By Donitta Cody
April 24, 2018 12:26:07 PM MDT
Awesome oil with many uses
Smells awesome
By Mary
April 15, 2018 10:30:27 AM MDT
Love the smell and the high grade of the product.

Awesome
By Kathy
February 8, 2018 7:30:35 PM MST
This smells just like black licorice unfortunately i just got the sample size not very much but nice strong scent
Smells wonderful!
By Cheryl
January 21, 2018 9:35:49 PM MST
I love this black licorice aroma!! Very potent and delicious!!
Summary
By Name
January 18, 2018 1:59:12 PM MST
Good for coughs
By Summer
December 12, 2017 7:50:56 PM MST
I use this Anise as one of the oils I combine with Black Seed Oil to create a chest rub for my son's asthmatic dry cough. It really makes a difference!
When you need a Happy Moment
By Tracy S
November 21, 2017 3:26:20 PM MST
This oil has a very strong scent, and it the perfect pick me up when you are having a difficult moment, while it can also be used to help a person relax, and with tummy issues for me it brings a huge smile to my face every time I inhale
Anise Star
By Jessica
November 21, 2017 6:25:58 AM MST
Not a fan of the smell, but as far as the uses, its great.... has a very strong scent.
yum
By lisa grinder
November 6, 2017 5:55:15 PM MST
smells great and has so many different uses
Summary
By Tyffani
October 28, 2017 5:50:28 PM MDT
France!
By Alex
October 13, 2017 2:57:51 AM MDT
Yes! This scent reminds me of those little anise mints from France. Smells delightful.
One of my top favorites
By Robin
October 8, 2017 6:36:53 PM MDT
Anise is one of my top favorite oils. It is a scent that helps me relax and just feel good. One I must have on hand at all times. I have used it in my homemade shampoo and conditioner because I love it so much
Smells like Anise or licorice
By French candies....
October 3, 2017 11:43:03 PM MDT
l love those French mints with the anise in the middle. This reminds me of those. Lovely.
awesome!!
By Jenifer
September 20, 2017 6:35:17 PM MDT
Great smell works wonderfully!!!
tea time
By TRACIE
September 16, 2017 1:56:02 PM MDT
Memories
By Tammy d
September 14, 2017 5:31:20 PM MDT
Love the scent for two reasons thus far. Reminds me of anise cookies at Christmas time that my father used to make and the red anise candies my grandfather always had in his pocket for us
Warm and sweet
By Maria
July 31, 2017 11:11:00 PM MDT
This oil makes me think of Christmas. It's a warm spicy oil, but it's sweet at the same time. I must have if you like Cloves, Cinnamon or Allspice.
See all
Hide all