Anise Star 100% Pure Essential Oil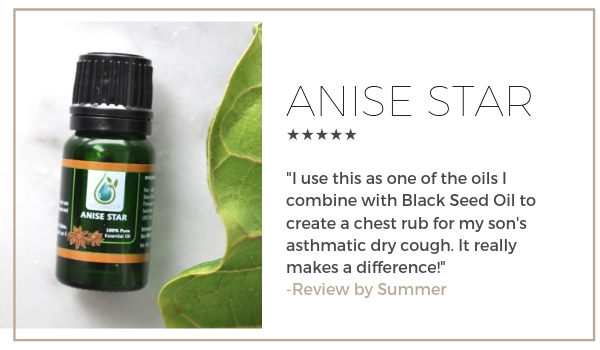 Anise Star
100% Pure Essential Oil
Scientific name: Illicium verum
Oil Origin: Seeds
Extraction: Steam distilled
Aroma: Licorice-like
Odor strength: High
Evaporation: Middle note
Origin: China
Star anise (also known as anise star) is a fruit native to Vietnam and China. It has the shape of a star with seeds tucked inside. Star anise has been used in Chinese medicine since antiquity, most notably helping with cases of rheumatism.
Anise star essential oil is considered to assist in expanding lung capacity, calming overworked muscles, working as an antiseptic, and an overall tonic to health. It contains anethole, the same compound that is found in the non-related anise, which gives it a similar scent. It is commonly used in toothpaste formulations, soaps, personal care formulations, and perfumes.
Disclaimer:
The above statements have not been evaluated by the FDA
This information is for educational purposes only, it is not intended to treat, cure, prevent or, diagnose any disease or condition. Nor is it intended to prescribe in any way. This information is for educational purposes only and may not be complete, nor may its data be accurate.
Safety precautions: Extremely potent use with care. Consult a professional reference for correct dilution ratios prior to application.
Avoid in pregnancy and lactation. Keep away from eye area. Keep out of reach of children.
Anise Star essential oil is reported to have potentially carcinogenic constituents. High risk individuals should be careful not to overexpose themselves to this oil. Please stay with in a 1.75% dilution ratio and use extra caution. 
More Information
UPC Barcode
641990785173
Scientific Data

U.S. National Library of Medicine

"Both the essential oil [Anise Star] and trans-anethole exhibited strong inhibitory effect against all test fungi indicating that most of the observed antifungal properties was due to the presence of trans-anethole in the oil, which could be developed as natural fungicides for plant disease control in fruit and vegetable preservation."

Complete Scientific Study Available: http://www.ncbi.nlm.nih.gov/pubmed/21030909

"I. verum has carminative, stomachic, stimulant, and diuretic properties, and is used as a pharmaceutical supplement"

"The essential oils of [Anise Star] I. verum and S. tenuifolia and their major constituents could be used to manage post-harvest diseases caused by B. cinerea and C. gloeosporioides."

Complete Scientific Study Available: http://www.ncbi.nlm.nih.gov/pubmed/18062240

"Other studies have indicated that the essential oil of [Anise Star] I. verum has repellent and fumigant actions."

Complete Scientific Study Available: http://www.ncbi.nlm.nih.gov/pmc/articles/PMC4212851/

Uses
Relaxation, Respiratory, Haircare
Aroma
Earthy / Herbaceous
Customer Reviews
5%
of customers
recommend this product