Details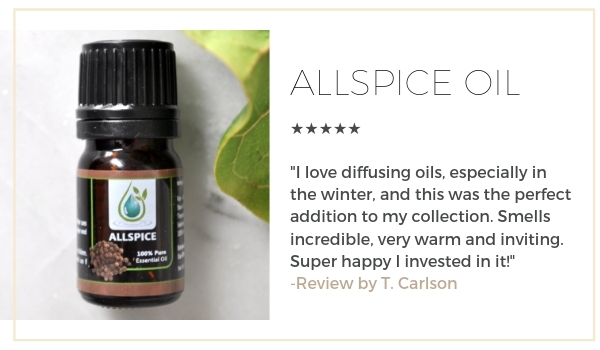 Allspice
100% Pure Essential Oil
Scientific name: Pimenta dioica
Oil Origin: Berries
Extraction: Steam distilled
Aroma: Warm, clove-like, spicy
Odor Strength: High
Evaporation: Middle note
Origin: Jamaica 
Allspice is native to Southern Mexico and Central America. It is now grown predominantly in Jamaica and at one time was forbidden to be exported.  The name "Allspice" was coined by the English who noticed the aroma was reminiscent of cinnamon, cloves, and nutmeg. Ancient Mayans would embalm passed rulers with allspice, holding the berry in high esteem.
Allspice has warming properties which improve blood circulation and calm the nerves. It is reputed to act as an aphrodisiac. For cosmetic applications, allspice essential oil acts as an astringent, constricting the skin and tightening pores. Its pain reducing properties are attributed to its eugenol content, helping to relieve arthritis and other muscle related pains.
Allspice is wonderful to use in aromatherapy in addition to incorporating in beauty and personal care formulations. A warm scent with therapeutic properties certain to please.
Disclaimer:
The above statements have not been evaluated by the FDA
This information is for educational purposes only, it is not intended to treat, cure, prevent or, diagnose any disease or condition. Nor is it intended to prescribe in any way. This information is for educational purposes only and may not be complete, nor may its data be accurate.
Safety precautions: Extremely potent use with care. Consult a professional reference for correct dilution ratios prior to application.
Avoid in pregnancy and lactation. Keep away from eye area. Keep out of reach of children.
You won't find a higher quality 100% Pure Allspice Essential Oil anywhere
Additional Information
UPC Barcode
641990785159
Scientific Data

U.S. National Library of Medicine

"The results show that apple-based films with allspice... [is] active against 3 foodborne pathogens by both direct contact with the bacteria and indirectly by vapors emanating from the films."

Complete Scientific Study Available: http://www.ncbi.nlm.nih.gov/pubmed/19895483

 

"The results show that the essential oils possess significant antioxidant activity which is comparable to that of pure eugenol. Therefore the oil can be utilised as a natural antioxidant which gives good flavour as well as health benefits." 

Complete Scientific Study Available: http://www.ncbi.nlm.nih.gov/pubmed/21246442

 

"Allspice essential oils also have been substituted as a natural alternate for pesticides and fungicide."

"Allspice essential oil, when added to massage oils and baths, is known to promote circulation so as to relieve pain from muscle cramps and strains. Also, it is used for headache, to combat stress and depression and to overcome fatigue because of its comforting scent. Allspice blends well with ginger, lavender and other spices, making it diversified when it comes to the choices for aromatherapy."

"The reason why Allspice is used for treating indigestion might be due to the abundance of the common polyphenol Eugenol in Allspice, which is known to stimulate digestive enzymes."

"The biological properties exhibited by Allspice extracts can be loosely classified as oxygen scavenges (antioxidants), vasodilators (antihypertensive) and antiproliferative agents with potential for application in cancer chemoprevention and therapies."

"We have presented a critical evaluation of its medicinal properties with special attention as a chemo-dietary prevention agent for chronic diseases and malignant cancers."

"Opportunities exist to identify several potential anticancer compounds from Allspice and test their bioavailability and mechanism of action on normal and tumor systems."

Complete Scientific Study Available: http://www.ncbi.nlm.nih.gov/pmc/articles/PMC3891794/

 
Customer Reviews
Allspice: The End All for Kitchen Spices
By Ruth Moore
June 1, 2019 3:37:22 PM MDT
Review

One of my all-time kitchen oils that has great dual purpose for pain relief.
Great for the holidays!
By Timothy Curtis
December 11, 2018 5:55:36 PM MST
I love spicy oils and this one smells great!
The Perfect Addition to my Collection!
By T_Carlson
December 3, 2018 5:52:34 PM MST
I love diffusing oils, especially in the winter, and this was the perfect addition to my collection. Smells incredible, very warm and inviting. Super happy I invested in it!
Allspice review
By Kate
November 28, 2018 9:29:28 AM MST
I initially purchased a sample bottle because I wasn't sure about it. Man oh man do I wish I had gotten a larger bottle! I love diffusing it because it makes the house smell warm and snuggly. It's also calming and smells just like gramma's kitchen during the holidays!
All spice
By Melissa
November 7, 2018 10:55:51 AM MST
I decided to try this one to use in my holiday blends. Love it with orange and a conifer scent its exactly what I was looking for
allspice
By Rosy
February 7, 2018 3:07:05 PM MST
I absolutely love the smell of this . I it smells like clove and cinnamon and nutmeg... absolutely amazing

Summary
By Name
January 18, 2018 2:00:02 PM MST
nice
By Karen Madera
November 12, 2017 5:26:27 PM MST
I like diffusing it at this time of year along with clove and cinnamon
Summary
By Tyffani
October 28, 2017 5:35:01 PM MDT
I like the smell of this oil!
I love them warm spicy smell
By Paula
October 1, 2017 9:44:48 AM MDT
I love to put a couple drops in my coffee in the morning and as well I make a cream cheese spread for the holidays and I use a drop of this in it. There are so many things you can use it with in kitchen and diffuse to make your house smell wonderful and amazing
Mmmmm....
By Alex
August 29, 2017 12:54:29 PM MDT
Smells like a kitchen with yummy food baking in the oven.
Warm spicy scent
By Maria
July 31, 2017 11:05:54 PM MDT
If you love warm spicy scents like cinnamon, or cloves. You will want Allspice in your oil collection.
Great oil
By LuAnn
July 7, 2017 8:32:50 AM MDT
Another good oil from jade Bloom
love it!
By heather
May 12, 2017 8:22:58 AM MDT
Great smell, just wish the bottle was bigger.
Great stuff
By Rebecca
December 13, 2016 9:10:02 AM MST
I love, love love this. Great aroma. Ordered some from another company...This is MUCH better.
Absolutely Love This!
By Dawn
September 4, 2016 2:24:42 PM MDT
One of my very favorite oils! I diffuse in my office and have people stop in & ask what smells so good! Love Jade Bloom Oils!!
Ahhhmazing!
By Dawn
May 21, 2016 1:58:24 PM MDT
I LOVE this oil! Has a wonderful scent, diffuse it at work and get lots of comments, like..."What smells so good in here!"
just like the spice
By Jillian
May 3, 2016 10:52:26 AM MDT
Lovely oil, smells just like the spice. This will be fantastic to diffuse in fall and throughout winter.

I think you could really play with some lovely blends with this!
See all
Hide all