Details


Healing Ointment
Lavender Infused
Lavender has been associated with purity and cleanliness since its infancy with the etymology stemming from lavare "to wash." Contemporary aromatherapy as we know it today is invariably intertwined with lavender. The French chemist Rene-Maurice Gattefos was in his lab when he accidentally burned himself badly. With no time to waste, he submerged his hand into the closest liquid to him, lavender oil.  Astonished at the rate of recovery and minimal scarring from the burn, Rene began to study essential oils and applied oils on soldiers during World War I. 

We created this ointment with a blend of Sweet Almond Oil, Beeswax, Shea Butter and Lavender Essential oil with this in mind.  This all-natural healing ointment is sure to give you ample health benefits. In its 2oz frosted glass jar, this product is both easy to travel with and easy to use.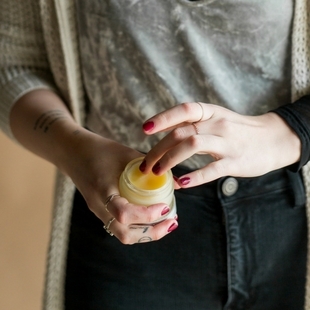 Benefits:
1. Soothes inflamed skin
2. Heals burns
3. Disinfects wounds
4. Leaves Skin Feeling Clean, Soft, Silky Smooth, and Healed

Ingredients: Sweet Almond Oil, Beeswax, Shea Butter and Lavender Essential oil
Disclaimer
The above statements have not been evaluated by the FDA
This information is for educational purposes only, it is not intended to treat, cure, prevent or, diagnose any disease or condition. Nor is it intended to prescribe in any way. This information is for educational purposes only and may not be complete, nor may its data be accurate.
Safety precautions: Extremely potent use with care.  Consult a professional reference for correct dilution ratios prior to application.
Avoid in pregnancy and lactation. Keep away from eye area. Keep out of reach of children.
You won't find a higher quality more effective Healing Ointment like our Lavender Ointment anywhere
Additional Information
| | |
| --- | --- |
| UPC Barcode | 641990785630 |
| Scientific Data | No |
Customer Reviews
Lavender ointment
By Love it!
May 18, 2019 12:41:13 PM MDT
I totally recommend! It works great and it smells amazing!
Lavender healing ointment
By Miracle ointment!
May 18, 2019 12:37:14 PM MDT
This is perfect for my eczema. I love it!
Eczema help
By Carrie
March 15, 2019 6:43:38 PM MDT
Lavender healing ointment has been a game changer this winter. I have developed eczema on my hands and they were dry and cracked, very painful. I began putting this on every night before bed and have seen an amazing improvement.
Good product
By Sherrie Dillon
October 24, 2018 3:12:32 PM MDT
Use this for my granddaughter a lot. Helps heal her boo boos :)
Must have
By Norma
September 28, 2018 3:22:18 AM MDT
This ointment is a must have. Family members have been calling me to order their own jar and they experience its healing power. Soothes spider and insect bites and heals cuts quickly not to mention burns
5 Stars
By JB
September 12, 2018 8:56:36 PM MDT
Loving this product; I use it with other products for my rashes and other skin ailments and it works fast and leaves my skin soft.
For me; it's not working as fast ( to take away my rashes ) as I'd hope it would but it's still an amazing product and my rashes are healing with this product.
Love it for burns and bug bites
By Eileen G
August 15, 2018 5:16:02 PM MDT
This has soothed a minor kitchen burn I got the other day. We have used on my son's legs to soothe the itch associated with his bug bites.
Summary
By Leslie
March 21, 2018 10:10:21 PM MDT
Great way to have your lavender on hand for burns!
5 Stars
By Brandi
March 7, 2018 6:04:35 PM MST
Great Product
By Larry Aikman
January 10, 2018 8:07:37 PM MST
I frequently work in the outdoors and used to have cracked skin from dry conditions as well as small cuts from working around brush. My daughter started me using this for my hands. It moisturizes and it heals. It also keeps your hands feeling great. A good product.
I use it a lot
By Kristy
January 10, 2018 9:54:02 AM MST
I actually use this product and the helichrysum oil on my red cheeks twice daily. The lavender salveolar smells wonderful. It does leave an oily residue but I use a cream for my face over it and it completely blends in with the cream. My daughter also uses it on scrapes and it's wonderful for her bc it doesn't sting. I love this stuff and when i empty the container, I'll be buying another one.
Such a great product!
By Alesha
December 23, 2017 12:28:54 PM MST
I really really like this product. It really makes a difference with my son's severe eczema.
JUST what I needed!
By Veronica
November 8, 2017 9:39:31 PM MST
I work in retail and am often unpacking boxes and plastic packaging. Between dust, packing materials and scrapes from paper and cardboard, my skin often gets random rashes and/or areas of redness, etc. I apply this ointment and it instantly calms my skin, takes away the redness and itching, and seems to act as a protective layer even, if I apply it beforehand. I love it! My husband also just started using it under his knee brace sleeve to keep his skin from getting irritated and it's been a godsend! This is now a staple in our house. I need to get extra jars for my purse and both our work lockers!
Great Im Sold
By Victoria
November 7, 2017 11:36:31 AM MST
I had my daughter use this on her two boys as they had red inflamed bumps on their cheeks . Within a matter of minutes their cheeks were not inflamed and within the hour the red bumps has disappeared. Needless to say she was amazed. Since I gave her my jar, I now have to reorder for me to keep at the house.

Thank you Jade Bloom
Lavender healing ointment
By Sherri
October 30, 2017 10:18:32 PM MDT
This product is awesome. Cleared up a skin irritation in 2 applications that a prescription cream did nothing for after 2 weeks...
WOW!!!
By Karol
October 29, 2017 6:34:16 PM MDT
I'm in love with this product :) Pain meds after a surgery that makes me itch bad & caused "blood bruises" I call them, to different areas of my body; within 2 days those spots are gone! I also LOVE the "Soothe" salve & oil blend! The salve turned my sister & a friend of ours into believers & users :)
Healing.
By Alex
October 23, 2017 10:22:20 AM MDT
This is perfection in a jar. Simple. Effective. Natural. I use this on scrapes and scratches, especially on my kids. Part of our nighttime routine includes applying EO's (diluted, of course) and diffusing essential oils, and treating any wound from the day with this. Love.
Works wonderful
By Angela
October 22, 2017 3:22:04 PM MDT
This product works wonderful and it smells so good.
Excellent
By 'Niter
October 20, 2017 1:26:11 PM MDT
I'm not a lavender fan, one of the few out there. Gifted this ointment to a good friend, who swears by it! She reports: great scent, wonderful consistency, very versatile, and a joy to use. Guess what she's getting as her next gift?
My shins thank you
By JESSICA
October 20, 2017 8:03:03 AM MDT
I absolutely love this ointment. It has been a life saver.
A must have!
By Robin61970
October 19, 2017 12:10:40 PM MDT
My daughter cut her toe and it was swollen/hurt to put pressure on it so I put some of this on it. An hour later she came running outside to tell me that I had bought some miracle ointment...definitely buy it.
Love this for my cuticles
By Robin
October 15, 2017 1:02:46 PM MDT
This is great to rub into your nails and cuticles. I usually have dry cracked nail beds during the winter, but since purchasing this, my nails are healthy and my cuticles are soft and moisturized. I do this at night. I also rub this on my kiddos bug bites for relief, or on chapped dry skin. I cannot say enough how soothing this product is. I highly recommend it.
Great Product
By Sherrie Hoyle
October 15, 2017 7:11:54 AM MDT
Got this with my CC. We use it all the time. Worked great when my 2 yr old grandson burnt his fingers. He stopped crying when we put it on him.
Love - use as a skin moisturizer
By Elena Selivan
October 7, 2017 9:09:05 AM MDT
Love this product. It is so good and potent, I decided to just use it as my face/neck/decollete area - if anything needs healing and special touch it is those - but if any burns, cuts, chapped lips happen - it goes there as well :)
smells Lovely
By om
October 6, 2017 4:28:14 PM MDT
another, I am adding to my medicine cabinet
heal all everything amazing
By mary canada
October 2, 2017 7:51:55 AM MDT
what can i not say about this onitment it is wonderful i take it everywhere with me i use it for everything from cuts,burns,itchy skin, chapped lips, wind burns.. my brother in laws calls it miracle cream
FANTASTIC!!! AMAZING!!!!
By Amy
September 24, 2017 7:33:04 PM MDT
Thank you JB this ointment healed my dog that had a skin irritation after being spayed when in 48hrs it was almost 100% healed
FANTASTIC!!!! AMAZING!!!
By Amy
September 24, 2017 7:30:49 PM MDT
As soon as this ointment came out I wanted to purchase it but never got around to it. Well Monday September 18th I got my dog spayed. When she got home she was extremely itchy so I purchased this and prayed it would arrive quickly (Tha
Amazing!!!
By Desiree Davis
September 23, 2017 4:05:38 PM MDT
So everyone knows how wonderful lavender is, right? Well I decided to get this ointment since since my feet does occasionally get swollen and inflamed. Anyway, this ointment smells amazing!!! And it eases that inflammation and makes my feet feel so soft and good! Seriously, this product is great. I have read lots use it for eczema and to ease itchiness from bug bites so I plan to use it for that as well. This ointment I will be keeping in my purse at all times! 5tars!!!
Love this ointment.
By Norma
August 31, 2017 3:00:03 PM MDT
Very soothing and takes the itch out of bug bites. Shared it with a friend. She loved it as well. Thank Jade Bloom
Excellent product
By Cindee
August 31, 2017 9:47:31 AM MDT
I had a rash under my arm and this took away the itching and healed it in only a few days.
Love it!
By Deborah
August 30, 2017 11:47:02 AM MDT
Great ointment! I use lavender for many things and this makes wound treatment much easier. Smells and feels so good. And it works!
Very useful for soothing and healing scrapes, small burns
By Elisa
August 30, 2017 7:06:56 AM MDT
The ingredients are soothing and work effectively to heal small burns, scrapes. I was very happy I bought it.
Awesome!
By Alex
August 30, 2017 1:08:28 AM MDT
This stuff is the best. It is so versatile I use it on pretty much any skin problem. It's safe for the whole family because it's lavender, the most gentle oil. Even our dogs find relief from this product. A++++
My favorite ointment!
By Jodi
August 17, 2017 9:46:55 PM MDT
I got this in my gold package and fell in love! I have already ordered another one because I use it for so many things! It's great for itchy bug bites, healing skin, I even used it on my dog who had some skin issues from an allergy to grass! I put it on scratches, and any area that is irritated on my skin and it relieves the discomfort. I even got my husband to use it for an irritation on his leg and he was skeptical! Now he will ask for " that oil ointment" when he has itchy spots or bug bites! I love Jade Bloom products!
Awesome Lavender
By Karen
August 14, 2017 6:08:47 PM MDT
At first, I didn't really know how I wanted to use this product. But then decided to use it for my massage business. I apply it to my client's neck and shoulders if they are tight and I need to do some trigger-point work. Helps soothe tension and relax those muscles. And of course smells wonderful!
Works!!
By Jazzy
August 13, 2017 11:39:12 PM MDT
I got this in my gold envelope and tried it on three family members for different skin issues and they reported back that what ever I put on them healed their condition!! And they loved the smell! This is being added to my holistic aid kit! I love that everyone comes to me for remedies!
excellent
By Mary
August 13, 2017 2:34:30 PM MDT
I got this for my mom, who is undergoing radiation treatment for breast cancer. She uses aloe gel just after her treatment, and then applies this Lavender ointment before bed. It smells great and is very soothing. So far she hasn't had any major skin issues from radiation, and I think this ointment is really helping keep irritation to a minimum.
love
By outa_control_saturn
August 4, 2017 11:56:39 PM MDT
I use this stuff for everything. it works great. I have even been using it on my bug bites
I wish I had it sooner!
By Tomomi
August 3, 2017 4:35:51 PM MDT
When I burnt my wrist badly with a cast iron skillet, I remembered about this product and immediately placed an order. I had to wait several days and meanwhile I was treating my burn with aloe gel and lavender oil, which worked wonderfully as I was trying to calm the pain. Now that I'm at the point where my burn started to itch a bit, this ointment is just perfect for keeping my skin clean and moisturized at the same time. Highly recommended.
Silky goodness
By Shayne
July 31, 2017 1:52:02 PM MDT
I really like the feel and texture of the ointment! I keep it in my fridge for when I need it for burns. I'm a clutz when baking! It's soothing and absorbs nicely!
Smells amazing
By Becky
July 30, 2017 11:09:25 AM MDT
I received this product in the collectors club package. I had been considering the suture healing ointment but I don't really care for the smell (I own the blend) but then I got this surprise. It smells wonderful! Really helps to soothe the minor scrapes and paper cut on my hands.
Good stuff
By Kteeple
July 28, 2017 7:12:27 PM MDT
I just got this oils in my collectors club this month. And the day it arrives I was covered in bug bites and it helped soothe them. I'm sure I will use it for many more problems but for this season great bug bite relief. Can't wait to find more uses. Must have
See all
Hide all