Healing Ointment - Lavender Infused - Glass Jar


Healing Ointment
Lavender Infused
Lavender has been associated with purity and cleanliness since its infancy with the etymology stemming from lavare "to wash." Contemporary aromatherapy as we know it today is invariably intertwined with lavender. The French chemist Rene-Maurice Gattefos was in his lab when he accidentally burned himself badly. With no time to waste, he submerged his hand into the closest liquid to him, lavender oil.  Astonished at the rate of recovery and minimal scarring from the burn, Rene began to study essential oils and applied oils on soldiers during World War I. 

We created this ointment with a blend of Sweet Almond Oil, Beeswax, Shea Butter and Lavender Essential oil with this in mind.  This all-natural healing ointment is sure to give you ample health benefits. In its 2oz frosted glass jar, this product is both easy to travel with and easy to use.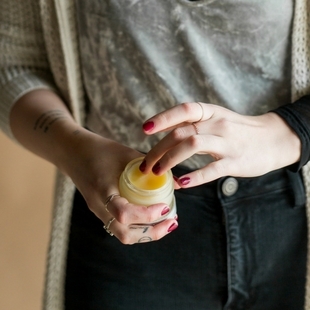 Benefits:
1. Soothes inflamed skin
2. Heals burns
3. Disinfects wounds
4. Leaves Skin Feeling Clean, Soft, Silky Smooth, and Healed

Ingredients: Sweet Almond Oil, Beeswax, and Lavender Essential oil
Disclaimer
The above statements have not been evaluated by the FDA
This information is for educational purposes only, it is not intended to treat, cure, prevent or, diagnose any disease or condition. Nor is it intended to prescribe in any way. This information is for educational purposes only and may not be complete, nor may its data be accurate.
Safety precautions: Extremely potent use with care.  Consult a professional reference for correct dilution ratios prior to application.
Avoid in pregnancy and lactation. Keep away from eye area. Keep out of reach of children.
You won't find a higher quality more effective Healing Ointment like our Lavender Ointment anywhere
More Information

| | |
| --- | --- |
| UPC Barcode | 641990785630 |
| Uses | Skincare |
Customer Reviews
26%
of customers
recommend this product
Featured review(s)
I love everything about this ...
Mar 11, 2023
I love everything about this lavender healing ointment. I've been using it for several years and won't be without it. It has healed every injury I've put it on including a severe dry skin condition that nothing else seems to heal . It is also a great way to have a quick Zen moment by inhaling the lavender sent.
5 Stars
Sep 8, 2019
They were a godsend for her in a very uncomfortable time. Use in conjunction with the Suture Healing Ointment.
I originally bought this for ...
Aug 29, 2019
I originally bought this for my mom to try. When I opened it, it smelled so great I had to try it. I had a callus on my hand from heavy-handed writing, that ended up splitting/cracking. This is the only product that has worked to actually heal the skin.