Details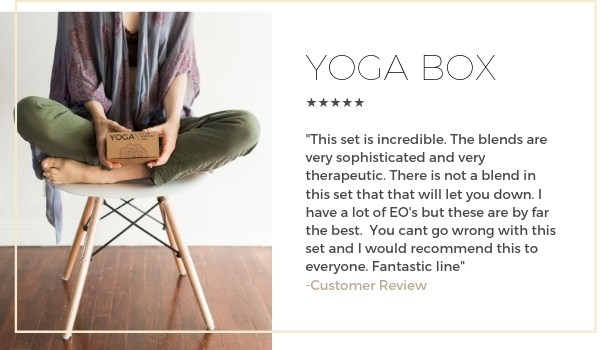 This box set is the perfect gift for the everyday yogi.

It contains 5 of our exclusive essential oil YOGA blends,
1 empty 2oz. spray bottle, instructions on how to create a yoga mat spray
and a convenient kraft gift box for presentation and portability.

Promote Tranquility, Pure Bliss, Mind, Respect, and Presence with this Jade Bloom Exclusive Yoga Blend Pack.
This box set is not only a great way to add to your Jade Bloom Oil collection but also makes a great gift for the Yogi in your life. 
Included in this Yoga Blend Box Set are full sizes of the following:
Yoga OM - A Blend of Presence (Therapeutic Grade) - 10ml
Yoga NAMASTE - A Blend of Respect (Therapeutic Grade) - 10ml
Yoga CITTA - A Blend for the Mind (Therapeutic Grade) - 10ml
Yoga ANANDA - A Blend of Pure Bliss (Therapeutic Grade) - 10ml
Yoga SAVASANA - A Blend of Tranquility (Therapeutic Grade) - 10ml
Additional Information
| | |
| --- | --- |
| UPC Barcode | No |
| Scientific Data | No |
Customer Reviews
Fantastic Line of Oils
By StevEO
December 12, 2018 3:46:10 PM MST
This set is incredible. The blends are very sophisticated and very therapeutic. There is not a blend in this set that that will let you down. I have a lot of EO's but these are by far the best. There is something in here for everyday of the week. You cant go wrong with this set and I would recommend this to everyone, especially people new to EO's so they can experience the therapeutic effects oils. Fantastic line
Wonderful set
By Sherrie Dillon
October 24, 2018 11:39:05 AM MDT
I ordered this not knowing what to expect. Ended up loving all of the blends!
Love it
By Mikayla
October 23, 2018 6:50:36 PM MDT
I love this box of Yoga blends. It is amazing to use during meditation practice and healing practice
Another Gem!
By Laura Reed
July 30, 2018 6:52:41 AM MDT
Like everything from Jade Bloom: a wonderful set. Yoga and meditation sessions just got a lot better with the scent of the Yoga Blend. The fragrances transport you right there where you wish to be when practicing your favorite relaxation therapy. Thanks again Jade Bloom for another excellent product.
Namaste
By MD
May 31, 2018 2:12:32 PM MDT
Namaste!
By RAS
May 21, 2018 10:11:28 AM MDT
I love all of these oils! Kit also comes with a spray bottle for oil misting. :) Supposed to have come with a recipe card, but I didn't see one, unless somehow it got thrown away with the packaging?? Great value purchasing in a boxed set. If you just want to try just one my fav is Citta-peppermint, cardamom, ginger & sweet fennel blend.
Wonderful!
By Tanya
March 16, 2018 5:23:06 PM MDT
This was a gift to my acupuncture Dr and she also instructs Yoga. She was thrilled with the set . She uses them during her acu appts and her yoga sets. Her favorite and mine is Savasana.
Great purchase!
By Alex
March 8, 2018 4:47:37 PM MST
This is a great deal. Not to mention, there is a synergy blend for every mood. I absolutely adore this kit. It has a beautiful presentation, and the glass spray bottle and recipe card are a nice bonus. You will not regret exploring this kit! You don't have to be a Yogi to use this! This will help anybody close thier eyes and take a moment to meditate and be mindful.
Beautiful.
By A purchase you won't regret.
January 14, 2018 12:28:46 AM MST
This is a lovely adorable box with JB's entire Yoga collection. It also includes a spray bottle and instructions for a mat or room spray. It's not just for the Yogi. These scents are great for meditating, and there is a blend for each mood. Very happy with my purchase.
5 Stars
By SG
January 10, 2018 3:09:48 PM MST
beautiful scents
By lauriems
December 28, 2017 7:59:02 PM MST
love all of these scents! just got into yoga so i cant speak on the affects of difussing while doing yoga.
Score
By Tiff
December 14, 2017 11:16:52 AM MST
This yoga set is the perfect compliment for class and my mat! I'm very pleased with these oils! Namaste
Love it
By Elizabeth
December 14, 2017 8:57:00 AM MST
I tried one on its own and loved it so much I had to have them all. Not disappointed! I don't know which one I like best. Too hard to choose; which means the box is the way to go. I waited until I could use my points and got a great deal!
Love these!
By Charity
November 22, 2017 8:58:32 AM MST
These all smell amazing! Definetly think it's worth getting the full kit!
Love these oils!
By Elisa
October 29, 2017 5:10:48 PM MDT
love this set
By Terry
October 15, 2017 9:41:17 AM MDT
So happy with this set.awesome price too
So happy with this set!
By Annie
October 6, 2017 10:59:10 PM MDT
I LOVE this set! I'm so happy with it and so glad I purchased it. I bought it for myself as a gift for working so hard at my yoga teacher training (I'm going for my RYT 200). I can definitely foresee myself using these oils in the classes that I teach. You can diffuse it aromatically, apply topically with a carrier oil, or mix with witch hazel to make a mat spray. I also like to add a couple drops to a sweat towel and place it over my forehead/eyes during savasana. These oils add a whole new level to your yoga practice. I love engaging all my senses during yoga and meditation, and these oils engage my sense of smell in a lovely way. Here is a quick overview of what the oils smell like to my nose:
Ananda: mix of mandarin and lavender
Savasana: ylang ylang
Citta: peppermint
Namaste: lime (not in oil blend - so possibly orange mixed with camphor)
Om: lemongrass with a hint of rosemary.

As with all Jade Bloom oils, these oils are top quality. The price on this yoga oil kit can't be beat. Its such a good deal! I would recommend this yoga kit to anyone looking to enhance their yoga or meditation practice and take it to the next level.
Great purchase!!!
By Amy
October 6, 2017 7:38:33 AM MDT
Just ordered the kit after receiving Namaste from a previous Collectors Club package and it was well worth it!! Super happy!!
Great for personal use or to give as a gift!
By TeaRhapsody
September 18, 2017 11:16:30 PM MDT
How clever Jade Bloom is for developing these signature scents that not only personify the way-of-life found in the yogi journey; but, for also creating scents that are of great use in everyday living. This is a wonderful kit for personal use; but, if you know someone who is into yoga, this would make a marvelous gift! Well done, again, Jade Bloom!
Amazing
By SH
September 12, 2017 9:55:04 PM MDT
I got this from the collectors club and I love the smell of it!!
I use these oils during yoga
By I'm in love
August 29, 2017 9:24:59 AM MDT
Excellent!
By Samantha
August 4, 2017 1:04:37 PM MDT
I purchased this kit to enhance my yoga practice. I was really surprised at how different all the blends smelled and how well they worked with their titles. Citta is my favorite of the bunch. It's very uplifting. The peppermint is rounded out nicely by the sage and other spicy notes. It's great to boost your workout. Namaste is a very grounding blend. The orange and camphor work together to produce a scent that reminds me of a very clean room. Ananda also has a citrus base, but is blended nicely with lavender. It's a calming but happy scent for sure. Om reminds me of my yoga studio. It's very earthy, with fir and rosemary being at the top of the ingredient list. You can definitely pick out the lemongrass as well, but it's not overpowering. This is my go-to for an evening meditation. Savasana is just as calming as you would expect it to be. I don't care too much for ylang ylang, but I do enjoy this blend. It's very nice diffused while I'm trying to sleep. All in all, this is an excellent kit for anyone who practices yoga, meditation, or mindfulness.
Awesome
By Sarah
July 28, 2017 8:56:29 AM MDT
Love the different smells! Very relaxing. I also use them during meditation and sometimes before bed.
Great mix
By ZPS
March 4, 2017 5:24:33 PM MST
What an excellent mix! One for every occasion.
Great set
By Melanie
February 23, 2017 6:44:22 PM MST
I'm a yoga instructor who shares this blend with her students. Very nice. Love these blends
Perfect Gift Idea!!!
By Krista
October 23, 2016 4:10:42 PM MDT
I will be gifting this to a few of my Yogi friends this year for christmas!!!!
Awesome
By Virginia
September 25, 2016 10:39:07 AM MDT
I love these oils.....thank you for putting them all together in a kit. I love Jade Bloom

See all
Hide all