Blog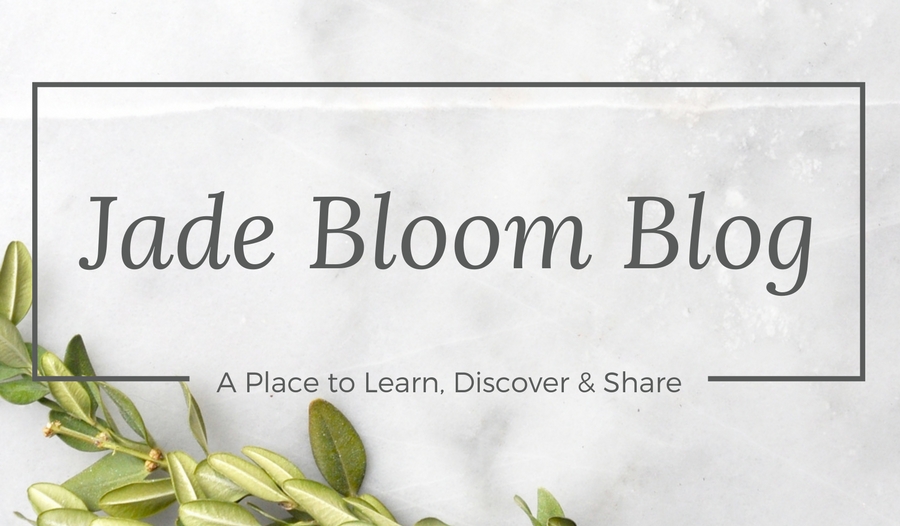 Welcome to Jade Bloom's Blog.....
We love what we do, we love you, and we want to share our story with you.  Meet Jade Bloom's team members, learn about our failures, celebrate our successes, and learn more about topics in Health, Healing, & Happiness™ that interest you, but might not be covered in the Jade Bloom University.  Whereas our University provides a fun structured formal learning platform for you to increase your knowledge in natural health and healing, our blog is intended to provide an informal learning experience giving you behind the scene looks into the heart and mind of Jade Bloom.  Also, learn about why Jade Bloom exists and what our mission is on our "About Us" page by clicking here.
 Join our CEO in our mini-series on Youtube about the toxicity of essential oils. Part 2 of our 8 part series asks the questions, reviews, the science, and presents the case for when you should ingest and when you should not.

PAST BLOGS:
USING ESSENTIAL OILS
May 11, 2016 -- Our first blog post comes from our President and her experience delivering her baby all naturally with the help of essential oils.  

June 2, 2016 -- Modern Medicine & Alternative Medicine Should Co-Exist and some DIY Essential Oil Recipes
September 14, 2016 -- Three Unlikely Sentiments, Some Gratitude from JB Support Team, and Recipes!
February 20, 2017 -- Collectors Club
May 11, 2017 -- Herpes, Cold Sores, and How Essential Oils Can Help
May 18, 2017 -- Detoxify - May Collectors Club
June 8, 2017 -- Do you know what's in your makeup bag?
June 27, 2017 -- Potent Pain Potion & Calming Face Serum
July 7th, 2017 -- You've Used The Oils, Now Play The Game
February 16, 2019 -- Should You Ingest Essential Oils?
SCIENCE BEHIND ESSENTIAL OILS
May 26, 2016 -- Are essential oils a scam, a smell-good hoax, or hocus pocus? 
May 24, 2017 -- Not All Sunscreens Are Created Equal
JADE BLOOM CORPORATE PRACTICES & BEHIND THE SCENES
June 16, 2016 -- Jade Bloom's Mission To Reduce, Reuse, and Recycle!
June 3, 2017 -- Employee Insights Into Jade Bloom Culture - Meet Our President & CEO
November 6, 2017 -- Movember Fun!
November 17, 2017 -- Let's Get Real.  Men's Suicide Awareness
LETTERS FROM OUR PRESIDENT & CEO
June 25, 2015 -- Commitment to the highest quality products, personalized customer service experience, and company updates
July 31, 2015 -- Perfection is in the details
February 6, 2016 -- Update on toothpaste and a peek into Jade Bloom's office
March 21, 2016 -- Improvement to caps and euro droppers
August 8, 2016 -- CEO Letter Regarding Security
August 25, 2016 -- Follow Up Letter From CEO on Security
March 1, 2017 -- CEO Letter - Masterplan in Education
May 20, 2018 -- Master Plan Part 2
February 2, 2019 -- A Big Thank You To The Jade Bloom Community
MEET JADE BLOOM TEAM MEMBERS
June 24, 2016 -- Meet Team Member Ethan Thomson
July 7, 2016 -- Meet Team Member Porter Webster
July 14, 2016 -- Meet Team Member Jake Jensen
July 21, 2016 -- Meet Team Member Jackie Mallett
July 29, 2016 -- Meet Team Member Adam Thomson
August 11, 2016 -- Meet Team Member Lamont Williams
September 26, 2016 -- Meet Team Member Smay Thomson
January 15, 2018 -- Meet Team Member Taylor Bell