Blog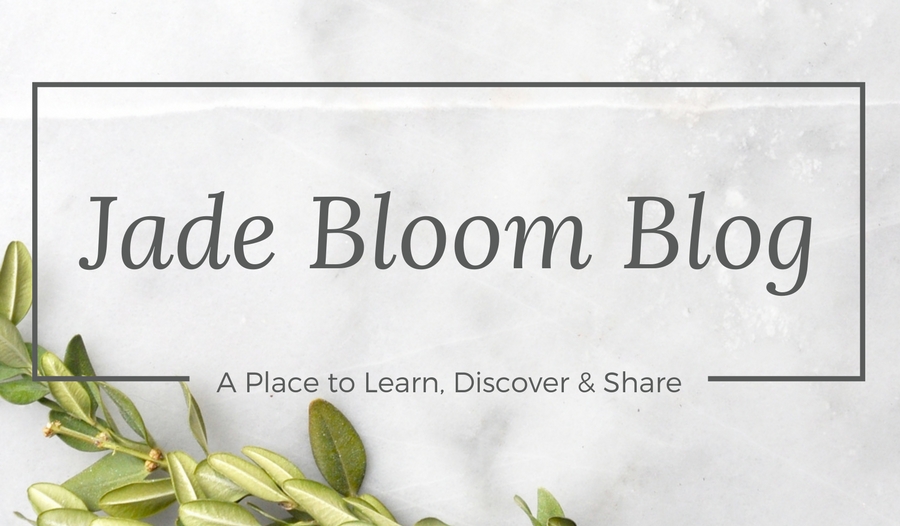 Welcome to Jade Bloom's Blog.....
We love what we do, we love you, and we want to share our story with you. Meet Jade Bloom's team members, learn about our failures, celebrate our successes, and learn more about topics in Health, Healing, & Happiness™ that interest you, but might not be covered in the Jade Bloom University. Whereas our University provides a fun structured formal learning platform for you to increase your knowledge in natural health and healing, our blog is intended to provide an informal learning experience giving you behind the scene looks into the heart and mind of Jade Bloom. Also, learn about why Jade Bloom exists and what our mission is on our "About Us" page by clicking here.
July 7, 2017 -- You've Used The Oils - Now Play The Game


With the implementation of our Referral, Affiliate and Loyalty Point Programs, Jade Bloom consistently demonstrates a pattern of rewarding their customers for their loyalty, as well as their willingness to spread the word about our mission. In accordance with this pattern, we're so excited to announce a whole new and exciting aspect of shopping with us.

The Jade Bloom Game will reward its participants with exclusive Jade Bloom products - some of which aren't currently available anywhere else. There are exciting rewards for moving up in rank and obtaining certain achievements.
A few of the perks for moving up the ranks include:
Exclusive Jade Bloom swag - only available to participants of the Jade Bloom Game.

A free bottle of our luxurious Rose oil

Jade Bloom's staff planting a tree on your behalf.

The manufacturing, distribution, and sharing in the profits of a blend that you create.

An invitation to tour our facility as well as meet our CEO and President.
We know that without our customers, we wouldn't be able to achieve our mission of changing the way people think about health. We want our customers to have tangible evidence of the hard work that it takes to be part in this natural health revolution.

Everything we do here at Jade Bloom is fueled by our "Why". We work tirelessly and in conjunction with our customers to change the way that people think about health. This is the catalyst for everything every Jade Bloom Employee does, from the CEO to part-timers. So why encourage such participation from our customers? As explained by our CEO, it's to reciprocate gratitude and perpetuate positivity: "After one short year of business, the outflow of gratitude we had received from our customers whose lives and health had been forever altered for the better was overwhelming. Every day we hear new stories of people that were in physical, emotional, and mental pain, unable to live their lives as they rely heavily on prescriptions that provide relief, but negatively alter their mental, emotional and physical capacity. We've found ourselves on the receiving end of an outpouring of gratitude for providing natural, plant-based products that provided them relief without the side effects and effectively gave them their life back." We set out to extend this power to you in our mission to change a broken system, as there is greater strength in numbers.
Now that this game is officially announced, you'll be able to do so much more with your Jade Bloom account:
-Personalize your Avatar and Username that, should you decide to make your gaming profile public, can be seen as you move up the leaderboards.
-Increase your Seed Score and even Double Dip (receive loyalty points IN ADDITION to seeds for placing orders, completing JBU, etc.)
-Receive recognition from Jade Bloom and from your peers by reaching certain milestones. Obtain achievements by referring friends, reviewing products, signing up for our Collectors Club, and many more. We will continually add more achievements, so there will always be more ways to increase your Seed Score!
A Healthcare Revolution is coming and we're returning to our roots. Participation in this game is a fun, interactive and rewarding way to join the revolution and make a difference.
Blog Author: Jackie Mallett

PAST BLOGS:
JADE BLOOM CORPORATE PRACTICES & BEHIND THE SCENES
June 16, 2016 -- Jade Bloom's Mission To Reduce, Reuse, and Recycle!
June 3, 2017 -- Employee Insights Into Jade Bloom Culture - Meet Our President & CEO
USING ESSENTIAL OILS
May 11, 2016 -- Our first blog post comes from our President and her experience delivering her baby all naturally with the help of essential oils.

June 2, 2016 -- Modern Medicine & Alternative Medicine Should Co-Exist and some DIY Essential Oil Recipes
September 14, 2016 -- Three Unlikely Sentiments, Some Gratitude from JB Support Team, and Recipes!
February 20, 2017 -- Collectors Club
May 11, 2017 -- Herpes, Cold Sores, and How Essential Oils Can Help
May 18, 2017 -- Detoxify - May Collectors Club
June 8, 2017 -- Do you know what's in your makeup bag?
June 27, 2017 - Potent Pain Potion & Calming Face Serum
SCIENCE BEHIND ESSENTIAL OILS
May 26, 2016 -- Are essential oils a scam, a smell-good hoax, or hocus pocus?
May 24, 2017 -- Not All Sunscreens Are Created Equal
LETTERS FROM OUR PRESIDENT & CEO
June 25, 2015 -- Commitment to the highest quality products, personalized customer service experience, and company updates
July 31, 2015 -- Perfection is in the details
February 6, 2016 -- Update on toothpaste and a peek into Jade Bloom's office
March 21, 2016 -- Improvement to caps and euro droppers
August 8, 2016 -- CEO Letter Regarding Security
August 25, 2016 -- Follow Up Letter From CEO on Security
March 1, 2017 -- CEO Letter - Masterplan in Education
MEET JADE BLOOM TEAM MEMBERS
June 24, 2016 -- Meet Team Member Ethan Thomson
July 7, 2016 -- Meet Team Member Porter Webster
July 14, 2016 -- Meet Team Member Jake Jensen
July 21, 2016 -- Meet Team Member Jackie Mallett
July 29, 2016 -- Meet Team Member Adam Thomson
August 11, 2016 -- Meet Team Member Lamont Williams