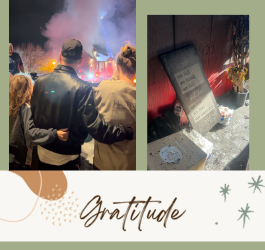 On Giving Tuesday, Stephanie Wilkinson recounts a harrowing yet transformative experience. Recently, while her family slept, their home was engulfed in flames. Miraculously, everyone, including pets, escaped unharmed. In the midst of this tragedy, the overwhelming support from their community became a source of strength and hope.
As friends, family, and customers inquired how they could help, Stephanie and her family were deeply moved. They decided to shift the focus of their Giving Tuesday message, inspired by the profound experiences and the outpouring of support they received.
In the immediate aftermath, neighbors, first responders, and even their State Farm agent provided comfort and assistance. The community's response included everything from shelter and necessities to emotional support, illustrating the incredible power of unity and compassion.
This season, Stephanie's family is foregoing traditional holiday spending, instead choosing to pay the kindness forward. They invite others to join their community efforts and contribute to this mission of support and gratitude. For those unable to contribute financially, Stephanie encourages acts of kindness within their own communities.
In this spirit of giving, Stephanie urges everyone to connect genuinely with those they help, to share stories, and to understand the transformative impact of these actions. This holiday season, they aim to spread joy and warmth, inspiring others to do the same, embodying the true essence of giving.