Details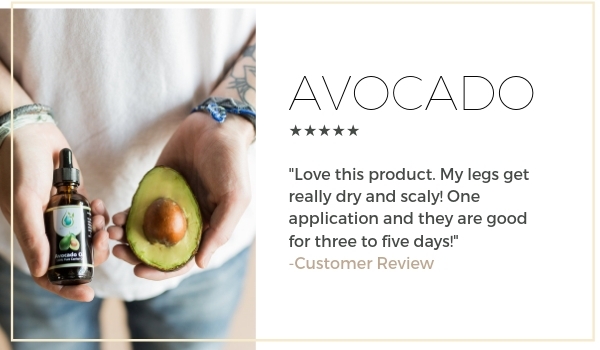 Avocado oil is available in 2oz or 4oz bottles.  To keep our pricing low and to pass along a 15% savings on our 4 oz bottles, we use the same label for both bottles.  Regardless of the bottle size, you choose the label indicates 2oz.
Avocado Oil
100% Pure Carrier Oil
Scientific name: Persea Americana
Extraction: Cold pressed, Extra Virgin, Unrefined
Origin: Brazil
Our extra virgin avocado oil is of nonpareil quality. Cold pressed from the flesh of ripe avocado's, the oil is an olive green and exceptionally emollient. It contains a plethora of vitamins and minerals including copious amounts of Vitamins A, C, and E. Avocado also has the highest protein content of any fruit, making it ideal for undernourished, aging, and lackluster skin and hair. It has a light and soft quality that spreads easily and has a light sunscreen effect. It is also very effective at softening the hair and providing shine. Highly recommended.
Disclaimer:
The above statements have not been evaluated by the FDA
This information is for educational purposes only, it is not intended to treat, cure, prevent or, diagnose any disease or condition. Nor is it intended to prescribe in any way. This information is for educational purposes only and may not be complete, nor may its data be accurate.
Safety precautions: Extremely potent use with care. Consult a professional reference for correct dilution ratios prior to application.
Avoid in pregnancy and lactation. Keep away from eye area. Keep out of reach of children. 
You won't find a higher quality 100% pure Avocado Oil anywhere
Additional Information
| | |
| --- | --- |
| UPC Barcode | 641990785869 |
| Scientific Data | No |
Customer Reviews
Very Moisturizing
By Miranda
December 28, 2018 11:09:46 AM MST
This is a very thick oil but it does do wonders for moisturizing your dry skin.
dislike
By Donna
September 12, 2018 6:51:47 PM MDT
Way to thick for me. Sorry
Mrs
By Donitta
July 4, 2018 9:44:19 PM MDT
Love this oil for all recipes balm, cream & as a carrier
Great Oil!
By Lisa Crowe
June 19, 2018 9:41:41 AM MDT
I received this oil in the Collector's Club package one month. There was a recipe card for aiding with the appearance of stretch marks. I decided to follow this and IT REALLY WORKS! It has greatly diminished the appearance of them. I liked it so much I had to buy more,,,twice now...
I call this my SUPER OIL
By Name
May 10, 2018 1:32:12 PM MDT
Add this to my DIY soaps.
Avocado oil
By Kim
May 3, 2018 6:56:17 PM MDT
Love this with soothe in the rollerball!
Avocado Oil
By April
April 19, 2018 3:23:11 PM MDT
I have never really used carrier oils but received this in my CC package last month and I LOVE IT! I fill my palm with AO and mix a couple of drops of Orange or Lavendar oil to apply over my arms and legs after a shower instead of lotion.
Avocado
By Janelle
April 17, 2018 2:18:59 PM MDT
This is officially my new favorite carrier oil!
Awesome
By Englishgirlinusa
March 30, 2018 2:52:43 PM MDT
Love this product. My legs get really dry and scaly! One application and they are good for three to five days!
youthful
By Cindi
March 20, 2018 10:12:00 PM MDT
I love how this oil feels on my skin, with or without another oil!
SO GOOD
By Brandi
March 18, 2018 7:17:09 PM MDT
I love the avocado oil! I am going to use it for my and my daughters hair! Its really good for hair and skin! Love it!
Very hydrating
By Amy
March 8, 2018 6:36:58 PM MST
Avocado Oil
By Name
March 5, 2018 12:34:19 PM MST
A must add to your collection of carrier oils
My face loves it!!!
By Cheryl
January 22, 2018 11:01:19 PM MST
This oil feels so good on my face!! It makes the perfect carrier oil for any other oils I want to use on my face, and it leaves my skin feeling so soft! It is everything I hoped it would be!!
A must
By Avocado oil
September 22, 2017 7:26:15 PM MDT
An opulent oil!
By TeaRhapsody
September 17, 2017 3:48:40 AM MDT
The first thing I noticed was how rich and almost creamy-like this Avocado Oil feels. It is a beautiful green and makes a perfect carrier oil for using on the face, hands, and hair. I love using it at night since it is so high in Vitamin A. Feels rich going on, but not oily in the least. Simply a must-have in the carrier oil category!
Awesome
By Lilli
September 16, 2017 12:17:36 AM MDT
I am obsessed with avocados, so I knew I had to get this carrier oil! So far, I've mixed a few drops of this oil with the Delight blend and gave a massage. It worked wonderfully and made my hands smell great. I can't wait to try it on my hair as well.
Top-notch
By Alex
September 1, 2017 11:43:23 PM MDT
This is a very high-quality carrier oil. It's a very thick, moisturizing oil. Great for facial serum blends.
Silky smooth hair
By Mary
July 7, 2017 7:00:54 PM MDT
I love to use a few drops of avocado oil in my hair after a shower and before styling. Leaves my hair feeling smooth and looking healthy.
Silky hair
By Mary
March 13, 2017 11:17:48 AM MDT
My hair has never been so soft and healthy looking. I enjoy a few drops on my towel dried hair for extra shine and damage repair. This oil is great to use as a carrier for my other oils as well. Can't wait to see what all this magical oil can do
Wonderful
By Virginia
February 14, 2017 2:43:30 PM MST
I love this oil. I love the quality of it. This is the first time I have used this in my hair regime and so far I am impressed
Amazing
By She\'Cholle
February 7, 2017 1:50:57 PM MST
See all
Hide all