Details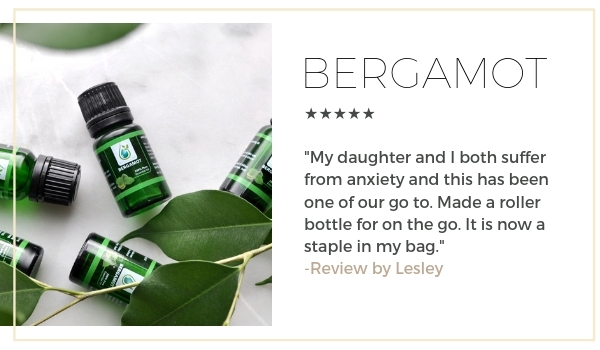 Note: The bergapten has been removed from our Bergamot essential oil that is the constituent known for causing phototoxicity. 
Bergamot (Bergapten Free)
100% Pure Essential Oil
Scientific name : Citrus bergamia
Oil origin : Fruit Peel
Extraction : Cold Pressed
Aroma : Sweet, citrus
Odor strength : Middle
Evaporation : Middle note
Origin : Italy
Bergamot is grown almost exclusively in Italy. It is a citrus fruit similar to orange, but it is not edible.  Bergamot emits a delightfully fruity and floral scent. Bergamot is a central ingredient in many perfumes and colognes and also gives Earl Grey tea its unique taste. As a traditional Italian remedy, the oil was used to combat fever and infection.
Bergamot essential oil is considered an effective antidepressant due to its primary ingredients, Alpha-Pinene and Limonene, both of which inherently have bright in aromas, and actively induce hormones. Bergamot is said to help create feelings of joy and happiness by improving blood circulation.  Bergamot is considered a beauty oil due to its cicatrizant properties, helping to fade scars and acne from prominence. It is also considered antiviral and assists with mouth ulcers and herpes. Because of its heavenly scent and antibacterial properties bergamot is a popular natural deodorant. Studies have demonstrated Bergamot essential having the ability to balance the hypothalamus.
Bergamot essential oil is wonderful to incorporate in cosmetic applications, personal care formulations, soaps, aromatherapy, and perfumery.
Disclaimer:
The above statements have not been evaluated by the FDA
This information is for educational purposes only, it is not intended to treat, cure, prevent or, diagnose any disease or condition. Nor is it intended to prescribe in any way. This information is for educational purposes only and may not be complete, nor may its data be accurate.
Safety precautions: Extremely potent use with care.  Consult a professional reference for correct dilution ratios prior to application.
Avoid in pregnancy and lactation. Keep away from eye area. Keep out of reach of children.
You won't find a higher quality 100% pure Bergamot Essential Oil anywhere.
Additional Information
UPC Barcode
641990784060
Scientific Data

U.S. National Library of Medicine

"BEO [Bergamot Essential Oil] is also used by the pharmaceutical industry, both to absorb the unpleasant smells of medicinal products and for its antiseptic and antibacterial properties."

"For its antiseptic and antibacterial proprieties, BEO has been used as an antimicrobial agent to facilitate wound healing and has been included in preparations used to treat upper respiratory-tract disorders and hyperhidrosis."

"Bergamot essential oil is widely employed in aromatherapy, and has recently received renewed popularity in improving mood and mild symptoms of stress-induced disorders and facilitating sleep induction."

"Aromatherapy massage [with Bergamot essential oil] has been shown to relieve symptoms of anxiety in patients with cancer."

"It has been reported that BEO has both antibacterial and antifungal activity against Campylobacter jejuni, Escherichia coli O157, Listeria monocytogenes, Bacillus cereus, andStaphylococcus aureus and dermatophytes, respectively."

"Several biological activities of BEO were shown, such as antimicrobial, anti-inflammatory, antiproliferative, and analgesic effects, including effects on the central nervous and cardiovascular systems."

Complete Scientific Study Available: http://www.ncbi.nlm.nih.gov/pmc/articles/PMC4345801/

 

"Bergamot essential oil (BEO) is commonly used against psychological stress and anxiety in aromatherapy."


"These results demonstrate that BEO inhaled together with water vapor exerts psychological and physiological effects in a relatively short time."

Complete Scientific Study Available: http://www.ncbi.nlm.nih.gov/pubmed/25824404

  

 

 
Customer Reviews
Love it!
By Mirage
June 12, 2019 4:05:42 PM MDT
I use my bergamot almost daily in my diffuser while I am doing my school work to give me energy, gives me that little pick me up in the morning (not a morning person).
Pain Relief
By Amy P
May 10, 2019 3:15:15 PM MDT
Great alternative to OTC pain medication. Used it on finger joints aching probably from mild arthritis onset. A couple of Bergamot drops & pain quickly goes away & stays away for most of the day.
sweet
By frizzle
May 10, 2019 1:13:50 PM MDT
Great smell blends well with the other citrus oils.
Bergamot
By AngelGirl
May 7, 2019 6:47:34 PM MDT
This is one of my must haves. Is a wonderful oil that I use in my bath bombs & bath salts. Family loves ones that include this oil.
Must have staple!
By Elizabeth Durbin
May 7, 2019 10:57:56 AM MDT
I love the smell! When I am feeling down or having a bad day, I diffuse this and it lifts my spirits and makes me happy! It calms me down when I get upset and lifts my mood! Love this oil!
Love this oil!
By Great!
May 6, 2019 4:04:55 PM MDT
my go to
By Linda Leggio
March 16, 2019 4:32:42 PM MDT
I have always suffered from bouts of depression and anxiety. This has become my go to for those times. it helps to uplift my mood and when anxiety hits, it helps me get calm.. Thank You JB for such amazing oils!!
Mmmmmmm
By Tracy
February 23, 2019 9:29:55 AM MST
I love this gentle citrus to blend with lavender for bedtime!
Beautiful
By Crazy Chicken Lady
February 17, 2019 4:57:51 AM MST
I use this oil in my diffuser, as a relaxing oil. I personally love the smell. It just makes me feel good!
Lovely
By Laura L
February 7, 2019 8:50:23 AM MST
I had never smelled pure Bergamot before this and really enjoy using this oil in my diffuser blends.
My Favorite Bergamot
By Tim L
February 3, 2019 4:49:51 PM MST
Love this in my Nebulizer's and lotions. Very rich aroma.
By Sandra P January 29, 2019
By Sanra P
January 29, 2019 12:05:51 PM MST
Love the Smell I use this in my pain rollers and for calming!
Such a powerhouse!
By Frances
January 15, 2019 1:23:55 PM MST
Amazing smell
By Be Kind Be Well
December 24, 2018 1:25:49 AM MST
This is one of my favorite aromas!
Calms my nerves
By Lesley
December 19, 2018 4:31:45 PM MST
My daughter and I both suffer from anxiety and this has been one of our go to. Made a roller bottle for on the go. It is now a staple in my bag.
Summary
By Linda Turner
December 8, 2018 11:07:40 PM MST
Must have!
By Kate
December 4, 2018 12:58:39 PM MST
This is a must have oil. It is my go to for anxiety. It smells amazing!
Mrs
By Jennifer
December 4, 2018 10:19:58 AM MST
A Client Favorite
By Mama Gaia
November 29, 2018 9:58:13 AM MST
My customers love this oil over the Kashmir lavender (my fav)
Love
By Lindsay
November 18, 2018 12:47:13 PM MST
Love the bergamot! Smells great. Love to use for my anxiety and love that it's not phototoxic.
Use it all the time
By Karen
November 18, 2018 12:43:14 PM MST
Use it in my homemade deodorant, to refresh the air, and prevent sickness
Love it
By Val
November 15, 2018 5:43:55 PM MST
Bergamot is a great oil to promote relaxation. Smells divine!

Very Refreshing
By Kendra
November 12, 2018 6:35:13 PM MST
Love this oil for aches and pains
Uplifting
By Crystal
November 7, 2018 3:36:54 PM MST
I ordered this because my daughter loves bergamot and earl grey tea. It is very uplifting and a nice aroma. Another fantastic jade bloom oil.
Sure helps a sore throat
By Mary Lou
October 29, 2018 6:38:35 PM MDT
I followed the directions for mixing Bergamot and Clary Sage in water to gargle. My throat was so sore I could hardly swallow. I gargled 3 times the first day and thought - "this is doing nothing". The next morning I gargled before leaving for work. Sometime in the afternoon I stopped short and realized my throat wasn't hurting. I was shocked and impressed. Later in the afternoon it was a little bit sore so I gargled again when I got home. This will be my "go to" in the future.
Summary
By Kristen Shearer
September 7, 2018 1:38:24 PM MDT
5 Stars
By AR
July 17, 2018 4:50:20 AM MDT
Earl gray uplifting bath
By Kerri
July 4, 2018 3:41:55 PM MDT
Bergamont is one of my favorite scents and this one is perfection. Makes a wonderfully uplifting, destressing earl gray bath bomb!
Love!!
By Smells like summer
June 23, 2018 9:44:42 AM MDT
I like to put this in my diffuser by itself. It has a fresh citrus scent that is always good for relieving stress and anxiety!
Refreshing and invigorating.
By Rkat12
June 9, 2018 9:25:19 AM MDT
Another versatile oil and theirs has such a great aroma. Love it.
One of my favs
By Bethany
June 7, 2018 2:40:02 PM MDT
Bergamot is one of my favorite oils and I love the fact that Jade Bloom has taken out the bergapten which helps keep this oil from being photosensitizing. It's such a wonderful, uplifting oil that has a plethora of uses. A must have in any essential oil kit.
Great for skincare
By Kim
June 4, 2018 10:41:44 AM MDT
Just ordered this after using the Smoothe blend - it helps keep my skin clear and since I already have the other oils in the blend I purchased this to start making my own.
Bergamot
By Tamela
May 31, 2018 1:35:37 PM MDT
smells wonderful. Cannot wait to try mixing it with other oils
Bergamot
By Stephen
May 18, 2018 9:55:42 PM MDT
I love this, it's one of the best citrus oils. It smells like a citrusy Earl Grey tea (for obvious reasons).
Wonderful!
By Elizabeth Ewing
May 16, 2018 12:22:15 PM MDT
This oil is so uplifting! I love it!
Delightful!
By Jenn
May 15, 2018 4:07:27 PM MDT
Love how uplifting the smell of this oil is.. Added bonus that I don't have to worry about the phototoxicity!
Awesome oil
By Ruthy Esbeck Nahrgang
May 14, 2018 6:30:34 PM MDT
I'm really enjoying all the different ways that you can use this oil. I originally purchased it to help with mouth sores which it is greatly improving the swords that I do get in my mouth.
My Favorite
By Weena
May 11, 2018 7:28:53 AM MDT
This is my favorite of all of my essential oils. This oil is so versatile. The best deodorate around. I LOVE IT!
Favorite office oil!
By Whitney Marlin
May 9, 2018 2:21:58 PM MDT
This is my favorite oil for the office. My coworker and I diffuse it in our space daily and get so many compliments from those who come in. It smells like Earl Grey tea (or vice versa) so that's probably why I love it so much.
One of my favorites
By Jennifer Knight
May 9, 2018 6:47:16 AM MDT
This is one of my favorite oils. Before using JadeBloom, I had never heard of Bergamot. I add just a little to my allergy blend inhaler.
Mental clarity oil
By Dana Paull
May 3, 2018 5:20:24 PM MDT
Bergamot has to be one of my favorite oils. I find it great for mental clarity and am always looking for new oils to blend with it. Great quality
One of my favorites!!
By Amber Fiscus
April 30, 2018 4:00:15 PM MDT
I love to use this in the summer and spring. It's a great scent.
bergamot
By roxanne
April 22, 2018 3:21:48 PM MDT
a great addition to my citrus collection , very uplifting. I like to diffuse it
Dual Benefit
By gdaltonbryant
April 22, 2018 6:53:40 AM MDT
I love the fresh, uplifting scent of Bergamot. It gives me a unique balance of energy and relaxation, making it easier to enjoy work while lowering my stress level.
Uplifting
By Lisa Gober
April 18, 2018 6:42:02 AM MDT
This is a great oil to use for ground and uplifting blends!
I want to love it......
By APRIL HUBBARD
April 16, 2018 11:21:32 AM MDT
I really like the light sweet smell BUT I can't say it did anything for the depressive episodes I use to have. I have found other essential oils that worked better for me. Different for everyone though.
Love this scent!
By Michael Munici
March 10, 2018 1:32:28 PM MST
This is one of mine and my wife's favorite!
Fresh and Clean
By Laura Buondelmonte
March 7, 2018 7:16:06 PM MST
The oil is pure, like all of Jade Blooms products. The Bergamot is diffused throughout our home, and are always asked what the fresh aroma is? It might be Winter, but close your eyes and you will be transported to a botanical garden. Love Love Love and trust these oils, enjoy
Summary
By Name
March 5, 2018 6:42:26 PM MST
Smells amazing
By Shannon
March 2, 2018 7:32:37 AM MST
Love to diffuse! Calming and love the scent!
5 Stars
By EB
February 23, 2018 5:45:52 PM MST
Bergamot has a delightful orange scent. It is refreshing and also calming. Great to diffuse with other calming essential oils for sleeping.
AWESOME oil
By Donitta cody
February 17, 2018 6:38:30 PM MST
Love the smell Great for many uses I like to diffuse it for the smell I add it to my lotions for aid in pain & overall feeling good
Smells so refreshing!
By Carla
February 16, 2018 11:07:39 AM MST
Love this Bergamot the smell is so light and refreshing. It mixes great with many oils for diffusing.
Bergamot
By Amy
February 15, 2018 6:47:40 PM MST
If you don't have this in your collection yet, get it you won't be sorry! I promise you, you Will use it A lot!!!!!
Bergamot
By Jen
February 15, 2018 3:06:39 PM MST
Smells amazing and blends well. Smells amazing blended with Rose, Jasmine, and Damiana
My favorite!
By Wendy
February 10, 2018 8:01:55 PM MST
I absolutely love bergamot! One of my all time favorite oils! This oil is so uplifting and fragrant!
My Fav
By Weena
February 9, 2018 9:45:53 PM MST
I love this oil. I mix this with some ylang ylang in my diffuser necklace as a daily pick me up!
Awesome oil
By Kate
January 26, 2018 6:26:42 PM MST
I love how well it blends with other oils.
Bergamot
By Pam
January 26, 2018 11:43:16 AM MST
I diffuse this together with ylang ylang! It helps my mood and is hopefully helping with hormones.
Great aroma!
By Cheryl
January 21, 2018 9:38:20 PM MST
I bought this oil as part of the high blood pressure kit, and I am very pleased with it! The aroma is very pleasant and blends well with the other two oils I got in the kit!
Summary
By Louise
January 12, 2018 2:05:17 PM MST
I like this oil. Bergamot blends nicely with other citrus and florals like ylang ylang and Jasmine. Smells wonderful in my diffuser
Bergamot is great
By Mitchell
January 9, 2018 10:03:35 AM MST
Use it in my homemade soap along with lavender. Great for calming and relaxing.
Summary
By Name
January 3, 2018 5:44:12 PM MST
works great
By shingles
January 2, 2018 5:36:50 PM MST
Mixed with a carrier oil (almond / coconut) dab on shingles and you're good to go
A MUST HAVE!!!!
By Kaitlyn
January 2, 2018 8:50:57 AM MST
This oil is amazing. It has helped me so much with my sleep and relaxation. The only thing I dislike is the bottle because it pours out instead of drips out. I go through it quickly.
Love the oil..Not the bottle
By Herring
December 21, 2017 7:18:34 PM MST
The oil smells wonderful. I have used it in my hair and on my skin, my only issue was the bottle. The little drip part let him oil pour out instead drip making it almost impossible to get less than 3-4 drops each time. Again I love the smell but it drops out to fast....
Nice oil
By Shelly
December 21, 2017 4:40:18 PM MST
This was nice, but not my favorite smelling. I heard it was a good respiratory oil though, so I use it at night in my diffuser.
very happy
By lisag
December 14, 2017 3:16:27 PM MST
i am very happy with this oil. it is everything that i needed
Great!
By Allison
December 13, 2017 9:13:20 AM MST
This is a great oil to have. I recently put together several "starter kits" of my own to give as christmas gifts. While asking my other oil friends what would be in there "must haves" bergamot came up on every single list. So many uses for it!
Wonderful scent
By Jelena
December 12, 2017 8:20:26 AM MST
I can see why some people may not love the scent, but I am obsessed with it! It smells like sour citrus, but it's not overwhelming. Makes me feel calm and grounded.
Light and relaxing
By Robin61970
December 5, 2017 4:38:00 AM MST
Love the smell and it mixes well with so many other oils. It is a very relaxing oil.
great oil
By lisa grinder
November 30, 2017 9:38:26 AM MST
this is a great oil with so many different uses
Smells great
By Cherilyn
November 23, 2017 10:35:29 PM MST
Honestly, until Jade Bloom and JB University, I had no clue what a Burgamot was LOL. Now I know, and I love it! It has a lovely fresh scent and is great for many uses!
fresh
By jessica
November 21, 2017 6:29:39 AM MST
Lightly scented, great to add to a diffuser with cedar wood
relaxing
By Karen
November 12, 2017 6:00:55 PM MST
Excellent
By 'Niter
November 12, 2017 12:18:23 PM MST
Love bergamont! Wonderful strength, great scent, useful in a variety of recipes.
Bergamot smells wonderful
By Kidron R.
November 3, 2017 7:53:53 AM MDT
This was my first time trying Bergamot. I absolutely love the scent!!
Awesome
By Sherry
November 2, 2017 8:44:24 PM MDT
Love it,great price,smells great,shipped quick.
Love the Scent
By Pam
November 2, 2017 3:17:37 PM MDT
I add this to my shampoo and conditioner. Love the smell... so does my husband so I just added it to his shampoo and conditioner. Also, use it in my homemade laundry soap and add to vinegar as a fabric softener!
Great
By Lori
October 29, 2017 3:39:40 PM MDT
Not just great for tea
By 'Niter
October 20, 2017 1:15:19 PM MDT
What a sweet treat in blends! Have always loved Bergamot, and this oil is wonderful. Will reorder.
Love
By Michelle
October 19, 2017 10:05:49 PM MDT
Like this one
By 'Niter
October 18, 2017 5:45:23 PM MDT
Bergamot is a strong scent that I enjoy using for relaxation and in many blends.
Best for stress
By Marlyn
October 4, 2017 5:19:02 PM MDT
I am so happy with bergamot essential oil, beside that it is free of phototoxicity it is strong aroma it is so relaxing , it is helping me with my insomnia.
Strong aroma
By Paula
October 3, 2017 12:17:30 PM MDT
I like it helps with my scared however it is really strong.
Awesome one
By Daniel
September 26, 2017 9:28:52 PM MDT
I like this one. It helps to calm the kids too.
HEADACHES
By : Bergamot 100% Pure Essential Oil - 10ml
September 26, 2017 4:27:03 PM MDT
this is good for my headaches

Refreshing
By Brooke
September 25, 2017 10:31:13 PM MDT
This has turned out to be my favorite of the fruity smells. It's aroma is uplifting, but yet has an unexpected depth of smell. You have to try it! Great for stress away blends!
Nice
By Ashley
September 25, 2017 7:10:58 PM MDT
Smells very good diffused
smells great!
By Jenifer
September 20, 2017 7:15:15 PM MDT
I love using this in my homemade deoderants!
Simply tealightful!
By TeaRhapsody
September 18, 2017 11:41:48 PM MDT
Being a tea lover, I adore the fact that I can place a couple/three drops in any black tea and have an immediate earl grey! It wasn't until Jade Bloom came along, though, that I learned how fabulous it is for healing scars! I use it twice a week blended with my nightly carrier oil and couldn't be more happy with the results. Maybe this should be called scar-begone. (:
I love this oil!
By Lilli
September 15, 2017 1:24:50 PM MDT
I've always liked Earl Grey tea, and we've been adding a drop or two of this lovely oil to our tea at my house to make it extra strong and delicious. I might try using some on my face, as I just read that it can also be good for skin.
shingles
By donna
September 13, 2017 3:54:52 PM MDT
I gave it to my friend diluted with coconut oil. She used it on her shingles. Wored great
Wonderful
By Kayla
September 8, 2017 7:15:27 PM MDT
This is such a beautiful sweet smell. Love it! Have used it at night time to relax when going to bed
Interesting scent
By Adrea
September 7, 2017 1:58:25 PM MDT
I'm not sure I'm a Bergamot fan but my sister is- It is now her's and she loves it
Excellent
By Holly
September 5, 2017 10:12:50 AM MDT
I've always loved the smell of Bergamot, and combining it with the Geranium has been such a delight! Thank you!
Citrus joy
By Dawn
September 4, 2017 1:51:36 PM MDT
Love this oil! Smells so fresh!
Amazing
By Geralyn
August 28, 2017 6:28:59 AM MDT
My grandson recently had some boils pop up. We applied bergamont to boil and within a couple of days they were gone. Amazing how quickly the inflammation was gone.
Everyone needs this!
By Alex
August 27, 2017 3:56:35 PM MDT
This is a basic oil that everyone needs. It is calming for the mind, and works well with children too. Smells very nice too.
Love the calming effect
By Faye
August 13, 2017 3:39:58 PM MDT
I plan to never be workout this oil. It is good for so many things. I love it's calming effect. It's also good on your skin.
Must have
By Shayne
August 2, 2017 10:11:21 PM MDT
Sweet, fresh, versatile complex and wonderful! One of my go to oils for adding a citrusy note to blends!
Energizing
By Maria
July 31, 2017 11:18:38 PM MDT
Bergamot is energizing. I diffuse some on Mondays to keep the Monday blahs from setting in.
So uplifting
By Miracle
July 18, 2017 8:15:52 PM MDT
This oil smells so great. I love how positive and uplifting it is. It blends so well with other oils because of how light it is. Definitely not your typical citrus oil.
I Love JadeBloom oils.
By Donna
July 17, 2017 11:36:34 PM MDT
Beramont is calming and smells lovely. I dufuse it with Cassa, Ylag Ylan and Ho Wood, smells wonderful and calming.
Superb
By Lisa
July 17, 2017 11:41:45 AM MDT
Great great products and company
Relaxing
By Mandy
July 10, 2017 2:56:00 PM MDT
This is so relaxing. I love to diffuse this at night with some lavender. It calms my mind and prepares me for sleep.
Favorite!
By Angela
July 8, 2017 10:17:40 PM MDT
Totally in love with Bergamot. I want to bathe in it. So energizing and clean smelling. The soft citrus scent blends well with many other oils. Love using it for skin solutions and bug spray. Fave!
Excellent!
By Toni Lynn
July 8, 2017 4:53:33 PM MDT
Great as an anti inflammatory!!
Love this!!
By Sandra
July 8, 2017 12:03:50 PM MDT
I diffuse Bergomot with Lavender and Ylang Ylang at night to help me sleep. Love it!! Jade Bloom is11 the only oil I buy!! No need to spend a fortune for quality oils
Delightful Scent!!
By Kimberly
July 6, 2017 1:22:43 PM MDT
Amazingly effective at reducing stress in our house!! I usually use a couple drops of this in the diffuser right before husband and kids get home along with other oils that call to me on any particular day. Works WONDERS!
I love to put a couple drops in the bath with lavender and peppermint!
wonderful
By Lydia
May 25, 2017 6:36:11 PM MDT
i love the bright citrusy scent. it really gives me a lift when i inhale its fragrance. it is really great if you are feeling down.
First time using this oil. Very light scent. Love it.
By Myra
May 1, 2017 5:58:02 PM MDT
This is the first time using this oil to make a Beard Oil for my husband. We both love it's light scent, but especially the softness and manageability of it now.
Awesome
By Diana
May 1, 2017 10:29:44 AM MDT
I use Bergamot almost every day for allergies!!
Wonderful, Bright and Earthy
By Melinda
April 26, 2017 7:00:32 PM MDT
I bought this oil as part of an attempt to recreate my husband's favorite shave oil blend that has been discontinued from another company (hint hint, Jade Bloom: if you come up with a shave oil, we'll be among your first customers). I just read the list of ingredients and this was one of them. I haven't quite recreated the blend yet, but I'm glad I have this one in my collection because it works so well on its own and blends nicely with so many other oils!
Great oil
By Robert A Baxley
February 16, 2017 2:16:10 PM MST
I love diffusing this alone or with other oils.
Wow!
By Marlisa
January 27, 2017 4:44:05 AM MST
Another great Jade Bloom oil. Wonderful citrus fragrance. Great diffused. Might be my new favorite!
Mediocre
By Jacquelyn
January 7, 2017 10:26:35 AM MST
This bergamont seemed to be lacking the umph pleasant scent that bergamont usually delivers. It is one of my favorite citrus scents. Not this one. But it also has the benefit? of lacking the alleged ingredient that causes sun sensitivity that most citrus oils are guilty of. Maybe that is what causes the loss scent-wise. If using the oil for its chemical constituents vs it scent capabilities, you should be fine with the oil. It might be a trafe off.
This oil is a keeper
By Deborah
January 7, 2017 9:51:43 AM MST
I love the scent in my diffuser all day. I also added to vinegar as a fabric softener. Even Spray on Linens mixed with purified water.
Great
By John
January 2, 2017 6:43:33 PM MST
Another great oil
By Catherine
January 2, 2017 3:38:17 PM MST
I love diffusing this alone or with other oils. Very delicate scent and uplifting and clean. I recommend to anyone.
Smells good!
By CL
December 26, 2016 8:23:00 AM MST
Has a light lemony scent. I've used this for colds:)

Bright
By Robin
December 9, 2016 5:32:44 PM MST
Love it!
By Marlaena
December 9, 2016 1:40:36 PM MST
Totally in love with all the products I have tried so far!
Bergapten
By Tamera
December 9, 2016 10:48:07 AM MST
I love this oil has a nice fresh smell! I love it and will definitely order again!
Great product
By Jennifer
December 9, 2016 9:39:49 AM MST
I love all of Jade Bloom oils this is the best company out with great prices. I recommend to everyone.
Great product
By Jennifer
December 9, 2016 9:32:08 AM MST
I gave 5 stars because that was as high as I could rate, but this product deserve above the 5 stars because it's not just a gear product, the pice is reasonable, the quality is excellent, and I just love the kindness of the staff. It's the little thing like hand writing thanks with a smile when open my box. I've used many essential oils who say don't use internal. Now some oils I understand but the oils like black seed and other wellness oils I take everyday and I can feel the difference in my body. For the companies who are against it , I'm again using any of your oils because they must not be pure. I Lupus and these oils help, and I
am always recommending them to every even the nurse at my doctor's office. I think I may have every oil but it's well worth the investment. I give Jade oils 5 plus stars , because they are the best.

Helps enhance mood
By Rosemarie
December 1, 2016 11:34:43 AM MST
I ordered this essential oil because I read it was helpful as a mood enhancer. Since my mom passed away suddenly earlier in the year, I've been dealing with deep grief. The holidays are the worst...our first without her! I was struggling just to keep up with my normally busy lifestyle. I bought an ultrasonic diffuser and started using cypress oil and bergamot oil at night when I went to bed, setting the diffuser for 2 hours. (My perfect ratio is 3 drops cypress + 7 drops bergamot.) Within two days, I started feeling better. After a week, I took some time off from the mixture. After a few days, I started feeling low again, so back to my recipe. Again, within 2 days, I started feeling better. Of course, no essential oil can take away the grief I bear over the loss of my mother, but it does help me function, sleep well at night, and feel better. No need for pharmaceutical antidepressants. USE BERGAMOT OIL!
Great product
By Andrea
November 28, 2016 2:41:21 PM MST
Bought this oil to help with a slight cold everyone in the house seems to be getting. Smells great & works well.
Great
By Brenda
November 21, 2016 4:56:10 PM MST
Happy oil
By DANA
October 3, 2016 3:21:35 PM MDT
So happy to have this oil and be able to get it for a reasonable price so much better then the "others"
Spicy sweet aroma
By Diane
September 4, 2016 7:26:03 PM MDT
This is a very versatile essential oil.
I love it diffused with peppermint and lemon.
It is calming.
It can be used for skin and digestive issues.

Bergamot
By Michie-Florida-Realtor
July 22, 2016 1:39:40 PM MDT
This is a wonderfully smelling oil! It has a great fresh, light, slight citrus smell! I love to place it on my wrists and palm of my hands for a quick pick me up during the day. I have also added this to a 2ounce spray bottle with lime and distilled water for a refresher as well. Wonderful Oil!
Nice Pits
By Denise2
May 27, 2016 11:52:37 PM MDT
My deodorant, kept in a dark green jar, is organic coconut oil + baking soda. After applying it, I put a drop or two of Bergamot on one or two fingertips and apply on top of the deodorant. It's lovely fresh smell to my now nice fresh pits. (age over 60 if that matters) :-)
Basil
By Granny B
March 7, 2016 6:02:30 PM MST
Truthfully I love this oil, as I do all of Jade Bloom's oils. I use Basil for knee and muscle aches. Works great.
If I have one complaint about the oils, it would be the droppers. Not every bottle, but enough for it to be aggravating, the droppers do not dispense one drop at a time. Often many drops come out before I can stop or control the flow. I went through a bottle of Thyme way too fast this way. This is disappointing. But I love the oils, the price, the free shipping, the fast shipping and great customer service way too much to let one thing stop me from ordering and using Jade Bloom. (Although I do wish this could be fixed!)
Refreshing!
By Dawn
March 7, 2016 5:38:07 PM MST
Started using this with Lavendar in my diffuser at bedtime and love the scent. Also just like to put a drop or 2 on the back of my hands to smell throughout the day! Refreshing!
New favorite
By Heather
March 3, 2016 7:58:48 AM MST
I love the scent of the bergamot! It is my "happy" oil.
Smells Amazing
By Kimberley
March 1, 2016 6:57:41 PM MST
It smells amazing and will lift your spirits! Love this stuff!
Amazing
By Sasha
February 1, 2016 7:03:18 AM MST
Must have for a sore throat
By Melanie
November 15, 2015 12:52:39 PM MST
Place a few drop in a cup of warm waters gargle to help relieve a sore throat
Incredible scent
By Debra
September 21, 2015 2:26:36 PM MDT
This oil smells amazing!!! I love the uplifting scent. I have mixed this with Russian Clary Sage when making soap and the scent is amazing!
Great for sore throats
By Melanie
September 17, 2015 7:41:02 AM MDT
This works amazing if you have a sore throat a few drop to a cup of warm water a gargle and numbs the throat
LOVE
By Felicia
September 15, 2015 6:08:02 PM MDT
This oil smells good enough to wear as a perfume !
FAVORITE
By Karen
September 2, 2015 5:57:41 PM MDT
Bergamot has become my favorite oil for smell. I use it as perfume every day and get tons of compliments ! Love this oil !
GREAT QUALITY
By Karen
August 18, 2015 6:38:50 PM MDT
I have used other more expensive Bergamot oil and Jade's quality is excellent and much more affordable ! Thank you Jade Bloom !
CITRUSY
By Dale
August 2, 2015 11:38:33 AM MDT
Great citrus lemony smell. Good mood balancer.
GREAT FOR FEVERS
By Karen
August 2, 2015 11:37:57 AM MDT
I use this oil to help lower fever in my grandson. Put it on the bottom of his feet with socks on. Love this oil !
Bergamot
By Jeanne
June 25, 2015 4:23:48 PM MDT
Just received bergamot....so uplifting!! Just as good or better than the high priced oils...
awesome
By Karen
June 14, 2015 2:35:05 PM MDT
Love this scent in my diffuser or on my wrists and behind my ears !
WONDERFUL!!
By Amanda Jo
June 13, 2015 4:51:37 PM MDT
This has such a wonderful aroma!!! Wow!!
10
By DawnDeven
May 12, 2015 12:50:48 PM MDT
this smells wonderful and again, the quality of these oils are amazing...

Smells wonderful!
By Dawn
May 5, 2015 5:54:54 PM MDT
I had no idea what this would be like but had read about Bergamot for quite some time...I LOVE the way it smells!
Amazing!
By Hillary
April 10, 2015 12:42:37 PM MDT
LOVE the smell. I LOVE to blend it with other citrus oils in my diffuser!
Wonderful smell!
By Kellie
April 2, 2015 6:38:00 AM MDT
I wear it like perfume, it smells so good! Wonderful in the diffuser for energy boost and everyone comments on the nice smell in the house
Bergamot
By Charity
March 10, 2015 5:40:01 PM MDT
I love this! It smells wonderful! I am happy with it.
citrus?
By Adrianna
February 18, 2015 6:48:17 AM MST
Did not know this was a citrus oil. Goes great in uplifting blends!
See all
Hide all