SHIELD - All Natural Sun Protection (Reformulated May 2022)


Shield
All Natural Sunscreen SPF 27+
Plant Based - Paraben Free - Gluten Free - SLS Free - REEF SAFE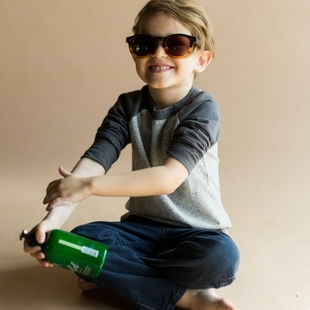 100% All Natural & It Works!
Blocks harmful UVA & UVB rays with an SPF of 27+

Water resistant & easy to apply

Nourishes & moisturizes — your skin will thank you 

Made from natural ingredients that don't compromise quality
Sunscreens in general, as well as the specific ingredients used in the production of them, have been the subject of a lot of discussion and controversy over the last decade. While it's generally agreed upon that chemical sunscreens have short-term as well as long-term health risks, more companies are utilizing mineral ingredients in their sunscreen formulations.
While most sunscreens claim to use either mineral barriers or chemical barriers in their formulations, seeing the words "Mineral Ingredients" on a label is not an automatic indicator of its efficacy or safety. Even sunscreens that boast their use of "Natural Mineral Ingredients" on their label will more often than not use harmful chemicals in conjunction with those minerals in the interest of either boosting their SPF or lengthening the formulations shelf life.
When selecting a sunscreen that's right for you and your family, it's important to consider the following:
-Typically, sunscreens on the market currently use 1 method of filtration of UV rays: Chemical and Mineral. They are vastly different from one another, and generally, mineral sunscreens are considered the safer option.
-More than half of the commercial sunscreens that are allowed to be on shelves here in the US would never make it to market in most European countries due to the more stringent standards overseas regarding UV protection.
-As indicated by the recent Environmental Working Group (EWG) study, 72% of sunscreens tested contained either inadequate or falsely advertised) sun protection or contained ingredients considered harmful by the FDA.  ( https://www.ewg.org/sunscreen )
-16% of sunscreens advertised as "Sport" sunscreens contained Retinyl Palmitate, which is a Vitamin A derivative linked to speeding up the growth of cancerous cells by 21%. The inclusion of this ingredient allows companies to put the words "Anti-Aging" on their labels, but the minuscule anti-aging properties of a Vitamin A derivative does not counteract it being a cancer-causing agent.
-65% of non-mineral sunscreens contain oxybenzone, which is especially concerning, as it is an "endocrine disruptor" meaning it leads to the reduction of sperm count in men and endometriosis in women.
-While convenient, spray sunscreens should generally be avoided, as most ingredients used in sunscreens (even mineral sunscreens) are harmful when inhaled. However, mineral sunscreens in lotion form do not pose this risk of airborne mineral inhalation. Mineral sunscreens that do not use micronized or non-nano minerals also do not pose the same risk of unintended absorption. If using a mineral sunscreen, micronized or nano zinc oxide/titanium dioxide should not be used, as those smaller particles can be absorbed into the skin and have been shown to cause damage to the liver, spleen, stomach, and pancreas.  
( https://link.springer.com/article/10.1007/s11051-007-9245-3 )
While it's safe to assume that mineral sunscreens are generally a safer bet than chemical filters, it is not safe to assume that all mineral sunscreens are created equal. Titanium Dioxide is a commonly used ingredient in mineral sunscreens and while it protects the user from UVB rays, it doesn't come close to providing the UVA protection that zinc oxide is able to provide. Non-Nano-Zinc Oxide is widely considered the most effective and safest active sunscreen ingredient when it comes to mineral sunscreen, as it is broad spectrum (meaning it protects from UVA, UVB, and UVC rays.)
As part of our commitment to provide our customers with the highest quality ingredients, we have decided to utilize non-micronized/non-nano Zinc Oxide as our primary active ingredient in our SHIELD sunscreen.
REFORMULATED VERSION: Jade Bloom All Natural Sunscreen Ingredients:  Ingredients: Non-nano Zinc Oxide, Red Raspberry Seed (Rubus idaeus L), Carrot Seed Carrier Oil (Daucus Carota), Avocado Oil (Persea Americana), Jojoba Seed Oil (Simmondsia Chinensis), Beeswax (Cera alba)
Jojoba, Carrot Seed, Red Rasperry and Avocado oils in our subscreen contribute to the formula's moisturizing benefits and it's emollient nature.
We use non-micronized/non-nano Zinc Oxide, as it is the safest broad-spectrum mineral sunscreen ingredient on the market. Our use of non-micronized/non-nano Zinc Oxide ensures that the particles are not too small. This prevents the Zinc Oxide from ever absorbing completely into the skin, which can pose health risks.
So many sunscreens on the market artificially fragrance their formulas with "beachy" scents like bananas or coconuts. As our customers have come to expect, harmful artificial fragrances are not something we'd ever incorporate into our products. For this reason, we do not scent our sunscreen.



More Information

| | |
| --- | --- |
| UPC Barcode | 641990786477 |
| Uses | Skincare |
Customer Reviews
0%
of customers
recommend this product