Details
Pumpkin Pie Kit
Aroma Of Autumn Kit - Cinnamon Bark, Vanilla, Blood Orange
 Included in this pack are the following 3 items:
1. BLOOD ORANGE - 10ml (click here to read reviews)
100% Pure Therapeutic Grade Blood Orange Essential Oil
Scientific

name:

Citrus

Sinensus

Oil

Origin:

Rind

Extraction:

Cold Pressed

Aroma:

Exotic Citrus, Deep Orange/

raspberry-like

Odor

strength:

High

Evaporation:

High

Origin:

South Africa
The blood orange is a breed of orange with a literal blood like-color that is most beautiful and striking. The anthocyanins are responsible for the red/purple color and are a testament to the abundance of antioxidants contained within. The essential oil extracted by cold pressing the rind. 
The essential oil is wonderfully fragrant. It has demonstrated significant antibacterial capacity which makes it appropriate for natural disinfectants. It also clears the lymphatic system, improving immune function. The oil is also reputed to rid termites without the use of harmful chemicals. This oil is suitable for practically all applications and is a sure bet with it's invigorating and unmistakable aroma
2. Cinnamon Bark Ceylon - 10 ML (click here to read reviews)
100% Pure Cinnamon Bark (Ceylon) Essential Oil
Scientific name: Cinnamomum zeylanicum
Oil origin: Bark
Extraction: Steam distillation
Aroma: Spicy, warm
Odor strength: High
Evaporation: Top note
Cinnamon Bark (Ceylon) is of nonpareil quality, containing the highest therapeutic content of any cinnamon on Earth. Native to Sri Lanka, pure cinnamon bark essential oil is rare and precious.
This oil is strongly antiviral and powerful. It promotes robust circulation and is said to improve libido and sexual prowess. Its strong properties create for an effective analgesic tonic to help mitigate the pain of chronic afflictions.
3. Vanilla Oleoresin- 10 ML (click here to read reviews)
Botanical name: Vanilla Planifolia
Plant origin: Fruit
Extraction method: Solvent Extraction
Aroma: Rich, Sweet
Odor intensity: High
Evaporation Rate: Top Note
Origin: India

This oil

 has

a quintessential vanilla scent that is a 100% pure and natural. It has a dark brown hue and fluid liquid viscosity. It is wonderful to use alone or incorporate into beauty products. Extracted from the Vanilla planifolia species.
Native to Central America and Mexico, it is a perennial climbing vine that can grow up to 25 meters (82 feet) tall. When cultivated its deep trumpet-shaped flowers must be hand-pollinated; in nature, hummingbirds do the work. The green capsules or fruit are picked, and the immature vanilla pod or bean is fermented and dried to turn it into a fragrant brown vanilla bean. Our oleoresin is the superior bourbon variety; that it is 10 fold relates to its concentration. One of the most popular flavors in the world, it is used in cuisine, cosmetics, and perfumery. However, the constituent vanillin makes it difficult to use in soapmaking and candles. Because of reduced availability due to regional conflicts, the price of Vanilla oleoresin has risen to the point of most absolutes. Nonetheless, the true oleoresin is recognized as being well worth the price.
Note: This oil is immiscible in water and oil; soluble in ethanol only, it will leave a sediment. This product contains vanillin, an organic aldehyde which will affect the color in soaps and body-care products. Not suitable for candle use. Avoid very high concentrations in skin-care products.



Recipe card for a diffuser blend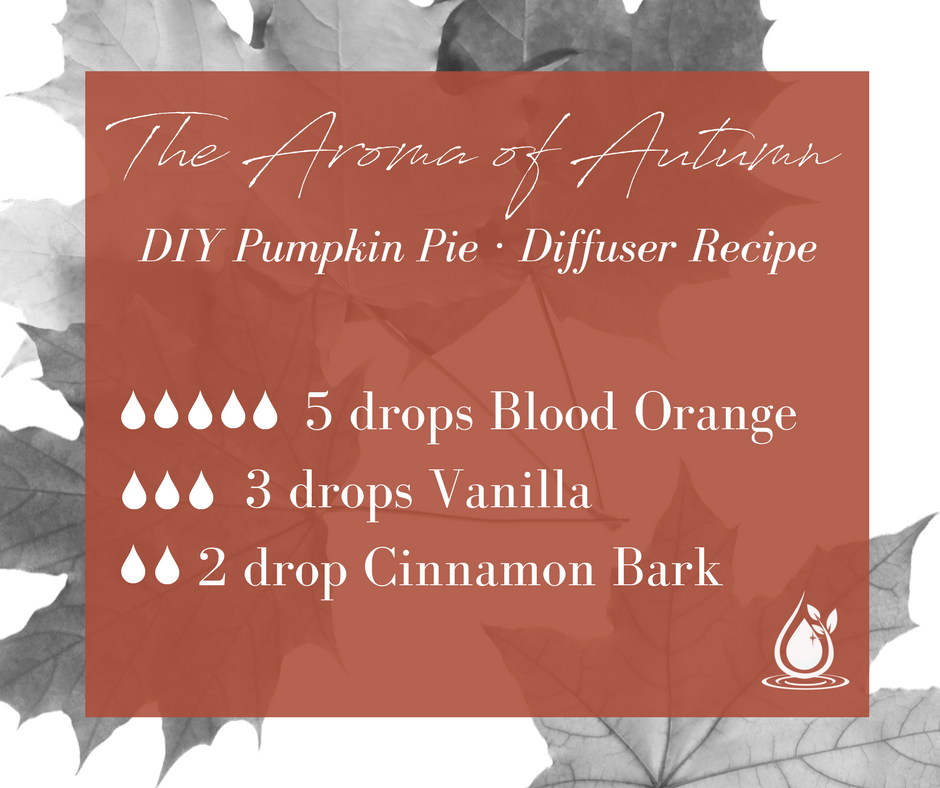 You will love having the Aroma of Autumn Kit. When the recipe is followed, it smells like fresh baked Pumpkin Pie!
Additional Information
| | |
| --- | --- |
| UPC Barcode | No |
| Scientific Data | No |
Customer Reviews
LOVE IT!!!
By Pumpkin Pie Kit
January 7, 2019 5:54:59 AM MST
ABSOLUTELY LOVE THIS!!! It smells wonderful, just like pumpkin pie & I discovered a new favorite Orange E.O.!
Great!
By Timothy Curtis
December 11, 2018 6:00:55 PM MST
Honestly I only tried them together a couple times. However they are three of my favorite oils so it was great!
Pumpkin Pie Kit
By TL
November 7, 2018 4:51:53 PM MST
It smells so awesome in my diffuser
Pumpkin pie
By Yummy pie
October 25, 2018 3:16:43 PM MDT
I was very amazed with this mixture... Relaxing & calming effect.
Love it
By Karen
November 22, 2017 8:29:48 AM MST
Every smell is good alone but combined it is awesome. The orange is very uplifting, vanilla us calming, and th e cinnamon is both!
See all
Hide all