Details



Facial SprayAloe Vera Gel Juice + Rose Water
 ***It's important to remember that preservative-free, natural products may not stay fresh for as long as commercial products do.  For this reason, we make this product in small batches to be used up within a short period of time.  Without refrigeration, this product lasts 3-6 months from the date it was bottled.  With refrigeration and proper storage, this product can last up to 2 years.***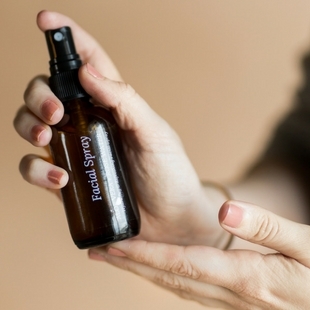 The Perfect Addition to your Beach Bag This Summer!
Jade Bloom's Facial Spray with Aloe and Rosewater is just as hydrating as it is refreshing! The Aloe moisturizes and calms skin while the Rosewater minimizes redness and rejuvenates skin. The Rosewater is a non-GMO, steam distilled, pharmaceutical grade, and selectively sourced hydrosol. Its mild astringent properties help to tighten pores and gently tone skin, and it's so refreshing! The Aloe Vera Gel Juice is Cold Pressed, Non-GMO and Pharmaceutical Grade. It can be used topically to heal wounds, moisturize, kill bacteria, protect the skin and reduce inflammation.
How to use: Mist face, neck, and hair for a quick refresher. This spray will hydrate your skin, and will not disturb make-up.
Highlights
-- Strengthens skin cells and regenerates skin tissue
-- Anti-inflammatory properties reduce redness, acne, and eczema
-- Helps skin maintain natural pH
-- Anti-aging properties reduce the appearance of fine lines and wrinkles.
-- Hydrates and Soothes Irritated Skin
Minimalism is something we're big advocates of here at Jade Bloom. For this reason, we try to create simple, yet effective alternatives to common products consumers utilize daily. From our toothpaste and deodorants to our lip balms and pomades, we've set the bar high in regards to quality and well-researched, simplistic ingredients lists. Our brand-new Facial Spray is no exception.
Our Ingredients
Aloe. Rosewater. That's it. Seriously.
Our Packaging
High quality Glass Bottle with our Convenient Spray Top Lid.
Our Commitment to Quality and Affordable Pricing
Made in Small Batches to Ensure Quality
Disclaimer:
The above statements have not been evaluated by the FDA
This information is for educational purposes only, it is not intended to treat, cure, prevent or, diagnose any disease or condition. Nor is it intended to prescribe in any way. This information is for educational purposes only and may not be complete, nor may its data be accurate.
Safety precautions: Extremely potent use with care. Consult a professional reference for correct dilution ratios prior to application.
Avoid in pregnancy and lactation. Keep away from eye area. Keep out of reach of children
You won't find a higher quality Facial Spray with Aloe Vera Gel Juice and Rose Water anywhere
Additional Information
| | |
| --- | --- |
| UPC Barcode | 641990786507 |
| Scientific Data | No |
Customer Reviews
All day freshness
By Kaitlynn Curtis
July 20, 2019 7:24:50 PM MDT
This is a life saver! I normally have a full face of make-up on and this summer heat kills my foundation. With the facial spray it gives me a boost of freshness and cools me down without ruining my make-up. I've noticed changes to my scaring as well in only 48 hours of use.
Noticeable improvement to my skin
By Angel B
April 30, 2019 1:20:26 PM MDT
After using this spray for just a week, I noticed my skin improving. After a month, I've noticed my acne scars have faded and lines and wrinkles are diminishing. And it smells wonderful. It's must have for your daily skin care routine!
So in love
By Joyelle
February 14, 2019 11:29:00 AM MST
I absolutely love this!! Rose is one of my all time favorite scents and this spray feels amazing on my skin.
Great for scalp and hair
By Miranda
December 28, 2018 11:07:39 AM MST
I use it to moisturize my dry scalp in winter after a shower.Leaves my hair smelling great without the oiliness.
Wonderful Spray
By Angela
October 21, 2018 2:24:49 PM MDT
I really love this spray. I use it as a refresher and a moisturizer. It is great in the am to wake your face up. After using it at night my face feels so soft the next morning.
Great for my face!
By Marty
September 12, 2018 8:13:05 PM MDT
I absolutely love this product. I use it every morning under moisturizer. My acne scars are almost gone after using 1 bottle. I'm on my second and will use this forever, I hope! I started using it on other scars, will update on that progress in a few weeks. (Surgery scars) I highly encourage this product! I am not having new adult acne for the first time in forever, literally. You won't be sorry for using this natural product!
Amazing spray
By Oily Princess
August 24, 2018 11:26:11 AM MDT
Love that this is a cooling and refreshing spray in the summer heat
Love it!
By gaudetam
June 6, 2018 11:19:43 AM MDT
This stuff is amazing. I love it!
Wow!
By Teresa
May 9, 2018 7:12:51 PM MDT
Being in a dry climate, using it throughout the day is very refreshing. Not to mention, the smell reminds me of the rosewater lotion my grandmother used to use, meaning, the scent takes me back to happy childhood memories.
Oh So Wonderful!
By Ruth K.
April 26, 2018 1:51:19 AM MDT
I just got this & tried it out & I love it! It was recommended to me by Jacqueline when I had some questions online & she gave me a great item to try. Smells great & I really felt the refreshing moisture on my face & hair. (So did my kitty!) Looking forward to results after a week or more of use. Any suggestions on how often to use & when during the day?
Summary
By Jennifer Sutton
April 3, 2018 5:25:08 PM MDT
Love the way it makes my skin feel and the dewey look it leaves behind. I usually spritz after apply my foundation and it lasts all day.
Can't live without this!
By Sarah W
March 25, 2018 10:05:40 PM MDT
Amazing scent and an amazing product for my changing skin! Definitely noticed a difference since I started using this! Definitely recommend!

❤❤❤
By Amazing
March 22, 2018 10:06:02 PM MDT
I love this product! It makes my face feel so amazing!
IT Really Works
By Amazed Grandmother
March 19, 2018 2:02:44 PM MDT
I bought this to spritz on my face for the smell. I'm 60 plus and discovered how great this product is by accident. I always moisturize etc., but during an emergency I only had time to wash and spritz my face. Hours later I looked at my skin and it was glowing. I won't do the no moisturizer again but it certainly speaks for this product.
Super AMAZING product
By Laverderlu
March 18, 2018 2:23:03 AM MDT
I couldn't speak enough positive words about this product. I purchased it originally for anti-aging benefits. But found by accident that it actually cured styes in my eyes that I tend to get with allergies and colds. I swear by it, granted it is not sold intended for that purpose nor is it intended to treat any specific ailment or disease. It just worked for me and I love it for its multiple uses. Would give more stars if I could
Summary
By Fantastic facial spray
March 12, 2018 9:39:13 PM MDT
This spray is not only refreshing but it also helps keep my skin moist even with makeup on! It smells great it refreshes your skin it feels wonderful I catch myself using it several times a day that's how much I love it :-) try this you won't regret it and my skin has noticeably been more toned and not dry since I started
Love it just not a rose fan
By Lindsay
February 26, 2018 6:50:32 PM MST
This spray is very refreshing I spray on my face and hair first thing in the morning and at night. I'm not a huge floral fan but hope to get use to the rose smell.
Love it!
By MichelleC
February 16, 2018 10:36:32 AM MST
I love this spray. It's refreshing and smells great. It also helps set my mascara which I love!
Summary
By Mindy Schrank
February 3, 2018 2:08:39 PM MST
I love this spray! I like it so much I add a bottle to almost every gift I give to a female. It tightens and smooths my skin and just feels so refreshing. I use it morning and night on my face and neck and chest and my skin seems softer and smoother. If I could only have one thing from Jade Bloom, it would be this product!
Facial Spray - Aloe Vera & Rose Water
By Pam
January 24, 2018 3:15:19 PM MST
I actually purchase this for my Golden Retriever. He has so many seasonal allergies that we want the winter freeze to happen! LOL! I have been spraying this on him wherever he starts to scratch and it has been helping. I am waiting for a bigger improvement but am very pleased thus far.
Summary
By Ashe
December 15, 2017 9:50:47 AM MST
I'm in love with this product i wish it came in a bigger bottle.
5 stars
By JH
December 9, 2017 12:20:32 PM MST
Aloe Vera/Rose Water Facial Spray
By Gayle
December 5, 2017 8:26:36 PM MST
Great product. Genius combination, not sticky, great for hair and skin. Even used it on the puppy's dry skin problem!
refreshing
By dbyler
December 2, 2017 2:22:38 PM MST
fresh
By Ashe
November 1, 2017 10:04:12 AM MDT
I keep my facial spray in the refrigerator and spray on my face after I wash my face in the morning. awwwwwww feels so good!
Smells beautiful
By Em
November 1, 2017 5:21:45 AM MDT
I loved this for the first few days, but unfortunately developed a sensitivity to it. Maybe instead of using every day, will try once a week. It was very moisturizing and softening.
Smells wonderful!
By JoAnn
October 29, 2017 7:18:10 AM MDT
I got this product for my daughter, she loves it!
Skin feels amazing!
By Cherilyn
October 29, 2017 2:25:52 AM MDT
I love this spray! I have super oily skin, acne prone, huge pores, and have a hard time with facial products but this has worked wonders for me! I must admit I am not a HUGE fan of the smell of rose (other than smelling a real live rose) but the smell of this spray is nice and it fades fast enough that it does not bother my sensitive sniffer. It has really helped with oil control and just making my skin feel great!
Makes my skin feel amazing!
By Cherilyn
October 29, 2017 2:14:05 AM MDT
I love this spray! I have super oily skin, acne prone, huge pores, and have a hard time with facial products but this has worked wonders for me! I must admit I am not a HUGE fan of the smell of rose (other than smelling a real live rose) but the smell of this spray is nice and it fades fast enough that it does not bother my sensitive sniffer. It has really helped with oil control and just making my skin feel great!
Great refresher!
By Kim
October 24, 2017 8:43:54 AM MDT
Been using this for three days and I already love it! I use it for an afternoon face refresher and also spray on my hair after washing. Leaving it feeling extra smooth and smells wonderful =)
Love it
By Sherrie Hoyle
October 15, 2017 7:09:10 AM MDT
I use it at night and it makes my face smoother and I live the smell of rose.
will have to buy more!
By Fabulous product!
September 26, 2017 7:31:16 AM MDT
This stuff is the best. I have used it for a little over a week now and I have to say WOW my skin feels so soft and smooth its just amazing. I would absolutely recommend this to anyone that needs a little extra moisture like I do
WOWZA!!!!
By Alex
September 23, 2017 11:27:34 PM MDT
This stuff rocks!!! It will immediately make your skin feel better. I put some on my face before I went to bed and when I woke up, my face looked so much smoother and fresher. It feels so good too. Nice beautiful glass bottle with two simple magnificent ingredients combined to do amazing things for our skin. I keep mine refrigerated, so refr
Fabulous stuff
By juanita
September 1, 2017 5:31:50 PM MDT
I am addicted to this spray. It is so refreshing and has such a wonderful fragrance, I find myself spritzing my face whenever I am near the bottle. I think it has helped somewhat with my complexion. But even if it did nothing for my actual skin tone or texture, I would want to have this in the house ALL THE TIME. I have gone through two bottles and bought another for my sister - to keep the love going.=)
Refreshing
By Catherline
August 21, 2017 10:55:28 AM MDT
It's simply refreshing and smells great!
Aloe Vera/ Rose Water
By Katie
August 4, 2017 2:15:49 PM MDT
I wish my skin loved it! But when I used it my face burned and broke out into a rash. I use the Rose Water and never had a bad reaction using that. Too bad my skin didn't like it! But over all love Jade Bloom products. I've never had a bad reaction to their stuff before.
nice smell
By Kim
July 30, 2017 10:06:47 AM MDT
I love the rose smell. I just wish the scent lingered longer.
I just ordered the rose EO and I am eager to receive it to see if the scent is a little stronger and longer lasting.
Lovely Smell
By Patty
July 23, 2017 4:27:39 PM MDT
I love the way this spray feels on your face. It cools you down and makes your face feel hydrated. I have very dry skin and this seems to be helping. Currently I have dry patches near my nose and when I spray this it seems to keep it from feeling dry and rough. I would recommend this product.
My skin feels smoon very soft....and great way to keep hydrated especially during hot summer days
By Marilyn
July 20, 2017 9:11:32 AM MDT
Skin so soft and smooth...great way to stay hydrated during hot summer days
Wonderful
By Jamie
July 18, 2017 4:23:31 PM MDT
I love using this throughout the day, I put it in my bag when I am away from home. It is a great way to quickly cool down. It really moisturizers the skin. I even spray my arms with it! In my opinion, this product is a must have!
Love the hydration
By Teresa
July 17, 2017 9:56:11 PM MDT
Absolutely love this product for instant hydration on my face, neck and chest, especially now because I'm outside in the sun alot. It feels amazing!
Facial Spray-Rose & Aloe
By Fay
July 17, 2017 11:05:20 AM MDT
I added this to finish off my order. It's a very nice, refreshing spray. Love the rose fragrance and what rose does for my skin.
Amazing
By Kelly
July 16, 2017 9:40:04 AM MDT
This spray is amazing. It feels refreshing and then when it dropped my skin feels soft. This is a must have.
Incredible
By Michele
July 11, 2017 11:23:08 AM MDT
I use the Rose water aloe vera facial spray in place of night moisturizers at night. Not olny is it refreshing but much lighter than the night cream that I previously used. I highly recommend this product. Thanks Jade Bloom
Perfect pick me up
By lucy
July 10, 2017 2:32:38 PM MDT
This spray is wonderful on the skin...just the right balance- so simple..nothing harsh on the skin. I used it every day and keep it in my purse to freshen up.
Very soothing
By PeggyW
July 9, 2017 2:11:57 PM MDT
I have been using the rosewater as a toner for several months so wanted to try this since I know aloe is good for the skin. This didn't disappoint. So refreshing and my skin feels amazing, toning but not drying.
Can't live without it!
By Catherine
July 9, 2017 11:12:40 AM MDT
I purchased this knowing I needed it and would love it, but it surpassed all expectations. I keep it refrigerated. Great after cleansing my face, and as a refreshing pick me up at any time.
Delightful
By Lilli
July 9, 2017 1:00:52 AM MDT
Very refreshing and lovely scent. I always spray my face, neck, and even hair before putting on makeup or after a shower.
Wonderful!!
By Sharon
July 8, 2017 5:56:56 PM MDT
I am so glad to have this. i use it in the morning before make up and before bed. i have stopped using moisture creams on my face and just use this.
great for acne even!
By Morgan
July 7, 2017 11:41:54 AM MDT
I have pretty bad pregnancy related cystic acne and this spray helps a lot. It smells amazing and is so refreshing. I notice it helps my breakouts to not be so bad. just don't open your eyes too soon lol
Miraculous
By Jessica Lynn
July 4, 2017 11:41:27 AM MDT
Jadeblooms 'Aloe Vera & Rose Water Facial Spray' is the best product I've ever used in my 32 years. I've always suffered from acne, so needless to say my pores don't look the best. Let's face it, we all get older so our skin gets wrinkly and loses it's elasticity. I've tried every product you can think of to help these pesky inevitable problems and nothing has ever impressed me or made a dent in anything but my bank account. That was until about two weeks ago when I got FREE products, for taking some very intriguing and educational courses on natural oils. One of the products I ordered was the Aloe vera & Rose water Facial Spray and it's miraculous to say the least! The smell is a rose garden heaven with the feeling of a perfect cool, soothing mist on your skin. My acne is non existent and my pores are normal. The scars from my acne are almost completely gone and my face looks five years younger. I couldn't wish for a better product. The added benefits from using a natural product and saving tons of money couldn't make me more satisfied. I will never use another product on my skin again. Thank you so much Jadebloom!!!!
This will only last a month! It's THAT wonderful!
By Teresa
July 3, 2017 7:39:10 PM MDT
Love this! It is great as a cool down in the hot weather, great for hot flashes, great as a skin toner! Please make a larger size!!
Sooo refreshing!
By Teresa
July 3, 2017 3:07:06 PM MDT
I love the rosewater facial spray! heavenly fragrance, subtle and clean. It's such a great price that I feel free to use it as many times a day as I would like.
Lovely smell
By Chery
July 2, 2017 1:13:44 PM MDT
Smells great and is really refreshing and soothing. Nice pick-me-up in warm weather. Will buy again.
Really Refreshing for Hot Summer Days!
By Tammis
June 30, 2017 9:36:33 AM MDT
I purchased 3 of these for myself and family. The bottle tucks nicely into my purse. When I'm errand running and climbing in and out of my car on a hot Texas summer day the spray feels wonderfully refreshing. It's also great out by the pool or at the kids' sports... just keep it in the cooler with the drinks and spritz away! Smells divine!
Soothing
By Carole
June 28, 2017 3:22:45 PM MDT
A very soothing spray. I have roasacea and it helps to cool.
Spa in a spray
By Darla
June 28, 2017 1:41:59 PM MDT
I really like this spray on my face - my chest area did not like it - the gave me a rash.
I don't know why it reacted to the skin on my chest that way, but I continue to use it on my face.
Spa in a spray
By Spa in a spray
June 19, 2017 10:10:48 PM MDT
I have not used this product long enough to know the long term effects however as soon as I put this on my face my stress level went from 5 to 0 and my skin felt amazing. I love JadeBloom.
See all
Hide all