Details
NOTE: This formulation of GROOM beard blend is proprietary to Jade Bloom and comes in our large 2oz glass bottles with a screw cap dropper top equivalent to a 10 week supply using daily.
Don't let high priced oil company advertisements fool you!  High quality & low price oils do exist...and you just discovered it.  We know you will love our oils and we put our money where our mouth is with our Double Guarantee.  Click here to learn more....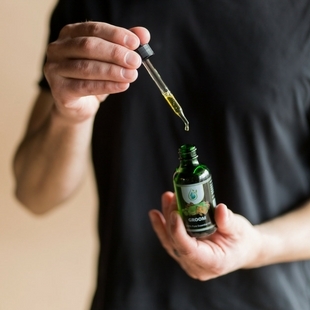 Groom - Beard Blend
100% Pure Blend of Essential Oils
HOW TO USE
For an awesome beard that is soft, full of color, and filled out, use GROOM daily.  Remove a full pipette of GROOM from the bottle and distribute it equally between your hands.  Massage your beard for 30 to 45 seconds and ensure GROOM equally coats your beard.  Do not immediately rinse.  GROOM is intended as a leave-in conditioning oil.
PRODUCT TIPS
For best results apply in the morning after a shower and in the evening before bed.
If skin irritation occurs reduce daily use to once or discontinue use altogether.
INGREDIENTS
All Jade Bloom 100% Pure Oils
Amla Fruit (Phyllanthus emblica), Castor (Ricinus communis), Texas Cedarwood (Juniperus Mexicana), Atlas Cedarwood (Cedrus atlantica), Patchouli (Pogostemon patchouli), Peppermint (Mentha piperita), Bergamot (Citrus bergamia), Sandalwood (Santalum Album), and Vitamin E (D-Alpha-Tocopherol)
Disclaimer:
The above statements have not been evaluated by the FDA
This information is for educational purposes only, it is not intended to treat, cure, prevent or, diagnose any disease or condition. Nor is it intended to prescribe in any way. This information is for educational purposes only and may not be complete, nor may its data be accurate.
Safety precautions:  Consult a professional reference for correct dilution ratios prior to application.
Avoid in pregnancy and lactation. Keep away from eye area. Keep out of reach of children.
You won't find a higher quality more effective Beard Oil for men like Groom anywhere
Additional Information
| | |
| --- | --- |
| UPC Barcode | 641990784930 |
| Scientific Data | No |
Customer Reviews
Great beard oil
By Ashley
April 21, 2019 6:52:21 PM MDT
As long as I've known my husband, his facial hair has been very coarse; he had red hair and I always assumed that was why. I bought this in hopes it would help, and it does! First, I absolutely love the smell! Secondly, his beard is so soft now! Win win for me lol. We've bought it twice now, and I'm sure we will continue.
so soft
By Brie
April 17, 2019 3:58:02 PM MDT
and finally kissable. Man I was so tired of my husbands mustache and beard being rough to the touch, now when we are intimate no more rough skin. ANYWHERE
Summary
By Nancy
February 26, 2019 1:08:34 PM MST
I bought this for my husband but he did not care to use it...as he prefers TAME. So one day my legs were dry and I grabbed the groom and slathered it all over my legs. It is a very strong and masculine scented product. I only used it that 1 time because I HATE patchouli.
Groom is GREAT!!
By bkindbwell
February 16, 2019 9:32:26 PM MST
I got this for my husband because he had the most course beard hair! So, I decided to have him give it a go & after a week of use his beard was 85% softer!! This stuff is the real deal!! It's well worth the cash and we will be purchasing more when this bottle runs out! The smell is woodsy and perfect for men!
Summary
By Name
January 31, 2019 7:12:18 AM MST
Bought this for my husband and we both love the smell and his beard is looking great! A little goes a Long way!
Nice product, but my men were put off by the fragrance - patchouli strikes again
By Dana Paull
March 22, 2018 5:19:01 PM MDT
I bought the beard oil during one of the specials. As both my husband and my son were sporting beards the time, I thought it would be the perfect add to their routine. Unfortunately, the fragrance was too strong for my most manly of men (hubby and son). If it didn't have patchouli in it, might have been more successful, but I couldn't get either of them to use it.
My husband now uses oils!!
By 'Niter
November 20, 2017 9:14:13 PM MST
My husband isn't one to fuss about his appearance. He would never grow a beard, saying it was too thin. Groom has changed that! Now I have to share my other oils, too.
My Brother LOVES This Product!!
By Juliette
October 21, 2017 2:53:29 PM MDT
He has always had problems with very dry skin on his face due to Type 2 Diabetes. The medications his doctors have prescribed him have never worked. After just 3 days of using Groom his skin is moist and glowing....this is his second bottle and I assume he will be using it as long as it is available
enjoyed it
By Angie
October 21, 2017 10:50:42 AM MDT
I received it in my Collection Club. Perfect timing since my young men were asking for beard oil. They love it
Hubby loves this
By 'Niter
October 20, 2017 1:21:58 PM MDT
My husband was excited that there was something 'just for him' in my collector's club. Well, he can think it's just for him; I think this is a great product, too!
Has a wonderful aroma
By Robin
August 25, 2017 6:39:47 PM MDT
This oil smells great. It has all the right ingredients in it too!
Love the smell
By Sarah
August 7, 2017 10:29:24 PM MDT
My fiance and I love the smell.
Very Pleased
By Deborah
October 28, 2016 9:48:04 AM MDT
My husband says he does not like the smell while I think it smells good. To me it's like he's wearing cologne which is a good thing. I do notice when he does Not put this in his beard because it looks like dandruff falling.
Makes beard very soft & calms itchiness.
By Leslie
September 11, 2016 5:05:58 PM MDT
The oil is very nice & makes beard very soft & stops drying of skin. The smell isn't very strong & smells just like oil itself. My son feels that some citrus, lime maybe would enhance the smell. I
He loves the way it makes his beard feel & notices when he doesn't use it. He suggests lime & peppermint or orange & vanilla.
See all
Hide all