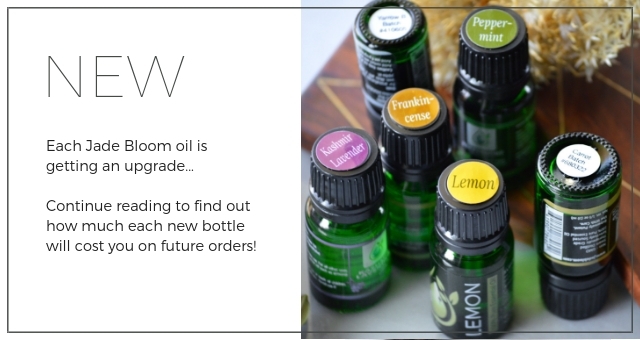 Each bottle of Jade Bloom oil is getting an upgrade...

You may have noticed that some of your bottles have started to come with
top labels already applied. In addition to this fantastic change, we are
adding batch numbers to the bottom of each bottle.



Individually labeled batch numbers on every bottle are representative of Jade Bloom's continuing commitment in quality control and assurance that you only get the highest quality essential oil in every bottle from our company.

A new website feature will now allow you to type in the number
on the bottom of your bottle to pull up the exact GC/MS test for that batch. Have you received a bottle with a batch number? Get instant access to the GC-MS test and Certificate of Analysis now by typing the batch number in this field below:


So... how much more will the big upgrade of both top labels and batch
number labels on each bottle will cost you?

$0.


Please note, we currently do not have custom top labels for the following list of oils, but we will provide a blank label for these oils for you to provide your own identification:
- Angelica root
- Balsam fir
- Bitter orange
- Calendula
- Carvacrol
- Cognac
- Entice for women
- Entice for men
- Himalayan Cedarwood
- Holy basil
- Laurel leaf
- Manuka
- Norway spruce
- Palo santo
- Peru balsam
- Pink lotus
- Ravensara
- Rejuvenate
- Sacra frank
- Templin Fir Cone
- Tobacco
- Verbena