WELCOME TO JADE BLOOM'S NEW & MUCH IMPROVED AFFILIATE PROGRAM
Help spread the word about the fastest-growing essential oil company in the U.S. and get paid in cash as well as earn unique personal discounts for your own orders.
Please note, this is not a multi-level marketing opportunity that incentivizes you to get others to join a "business opportunity." This is simply the best affiliate program on the internet that pays generous commissions on first-time orders. We then take it to a whole new level that's unheard of in affiliate marketing with "Lifetime Commissions" that allows you to build a recurring stream of revenue. Keep reading to learn how this works.
What's New
With the re-launch of our popular affiliate program, we are bringing a higher level of trust with the security and data accuracy that our Magento 2 platform, by Adobe, has to offer. Additionally, we are extremely happy to offer the following improvements and changes:
1. Better income-earning opportunities with tiered commissions
2. Personal rewards each month to recognize your performance
3. Customized coupon codes for your audience that are only available from you
Here are the 4 commission tiered levels available in our new program
*A new sale refers to a recently referred customer that places their first order at JadeBloom.com
All new affiliates start at Bronze earning level and with just 1 new customer per month, can achieve and maintain Silver level where the real fun for performance begins. In addition to a bump in commissions from new referred customers, Silver level affiliates also receive a once a month 35% personal coupon code for the steepest discounts possible, not available to the public. We will also provide a personalized coupon code during that month for you to offer a 20% savings to your audience. Watch for these because these unique codes will show up in your inbox unexpectedly and be valid for only 3 days. Gold level affiliates get an additional bump in commissions as well as a 50% off any 1 item in the Jade Bloom catalog. The real income-earning potential starts at our Platinum level. Unlike our other 3 levels that require monthly qualification, our Platinum level is reviewed over 12 months of performance and once achieved, guarantees that earning level for 12 months from the anniversary qualification date. In addition to the benefits of the other levels, our Platinum affiliates also receive $200 of spending power at JadeBloom.com and a personal Corporate Liason that will work with you to build your business.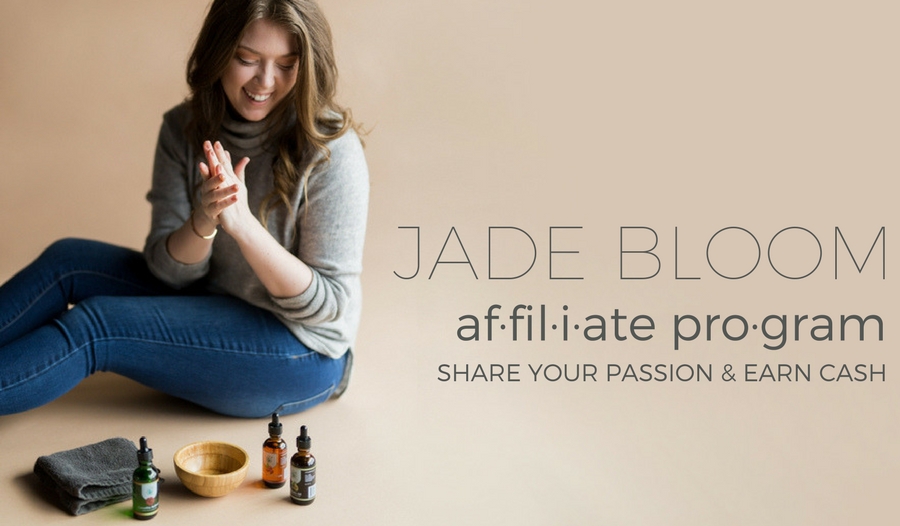 Jade Bloom exists to change the way people think about their health, and this mission will only succeed with the help of our valued affiliate partners. Help others discover the healing benefits and healthy lifestyles that come from 100% pure essential oils and all-natural products. Earn lifetime commissions for both consumers and wholesale customers ie: Spas, Soap Makers, Candle Makers, Essential Oil Resellers, etc. Withdraw your money in cash or convert your commissions to store credit for personal orders. It is free to become an affiliate and easy to join. We have pre-designed graphics, banners, and links that make it easy for you to share the great news about Jade Bloom through social media like Facebook, Twitter, and Instagram and it doesn't require any technical knowledge. As our affiliate partner, you will generate traffic and sales for our website and receive generous commissions in return for helping people be healthier and happier.
How Does It Work?
If you are not yet a member, click below to apply for free. We will confirm that you have personally sampled Jade Bloom's amazing product by placing at least one order. If you have not yet ordered from Jade Bloom, please do so before applying for the program to prevent unnecessary delays in approving your application. This policy is in place in the interest of ensuring that an affiliate is as informed as possible when promoting our products. We also encourage our affiliate partners to learn about our product line by enrolling for free at Jade Bloom University. We will give you $32 to spend and sample any of our products once you have completed the courses. When you join our affiliate program, you will be supplied with a range of banners and text links to place wherever you like. When a user clicks on one of your links, they will be brought to our website and their activities will be tracked by our affiliate program. Once this user completes a purchase, you earn a commission!
When you join our affiliate program, you will be supplied with a range of banners and text links to place wherever you like. When a user clicks on one of your links, they will be brought to our website and their activities will be tracked by our affiliate program. Once this user completes a purchase, you earn a commission! Now here's the exciting part. Since you referred that customer, their account will be forever linked to your affiliate account, which means, even if they click on another affiliates' link and they make a subsequent purchase, you still get the credit :). The opportunity to build a recurring revenue business in the affiliate world is unheard of as most affiliate programs only pay you 1 time for a referred customer. With Jade Bloom, our "Lifetime Customer" program does exactly what it insinuates.
Jade Bloom's high-quality oils, low prices, and reward point program ensures that your referrals will return to Jade Bloom for all their essential oil needs, and each time they do, you get paid. Once you have referred a new customer account to Jade Bloom you will continue to earn commissions on that account for the life of that customer, whether or not they ever click on your tracking URL again. Build residual revenue while promoting Health, Healing & Happiness®.
Real-Time Statistics and Reports!
Log in anytime to check your performance of sales, traffic generated, and your commission balance. You can request a commission any time your balance exceeds $25. Withdrawal requests will be held if the affiliate hasn't made at least one purchase from Jade Bloom. Once you log in simply go to "My Account" and click on "My Affiliate" in the left-hand column to manage your affiliate account.
You will always have fast support with any question you have about our network. We'd love to chat with you and are happy to help!
Thank you for joining us in our mission to change the way people think about health!