Apply Now & Discover Your Qualification Level
Welcome to the fastest growing non-MLM essential oil company in the U.S.  As our International customer base continues to grow, we have seen an increased demand for our customers in your area to try and buy our products.  If you are a business interested in selling all-natural products and the highest quality 100% pure essential oils, then we want you!  If you are not a business, you can sign up for FREE for our affiliate program and make money by referring people to Jade Bloom.  Learn more about our affiliate program here and sign up now.
Here is what makes Jade Bloom the #1 source in the U.S. for wholesale and private labeling of 100% pure essential oils and all-natural products.

The Wholesale Difference
1. Discounts up to 50% off catalog prices
2. Same day shipments
3. Nationally recognized brand that consumers ask to sample in local stores
4. Large size bottles for product manufacturers
5. Geographic exclusivity so you are the only Jade Bloom wholesaler in your area
6. Featured listing on JadeBloom.com website so online customers can easily be directed to your store

The Private Labeling Difference
1. Discounts up to 80% off catalog prices for finished goods
2. 3-5 day turnaround on orders
3. In-house label printing service
4. Largest product selection with new all-natural products added regularly
5. Because Jade Bloom controls the manufacturing process, we can offer custom formulations for your business on any of our products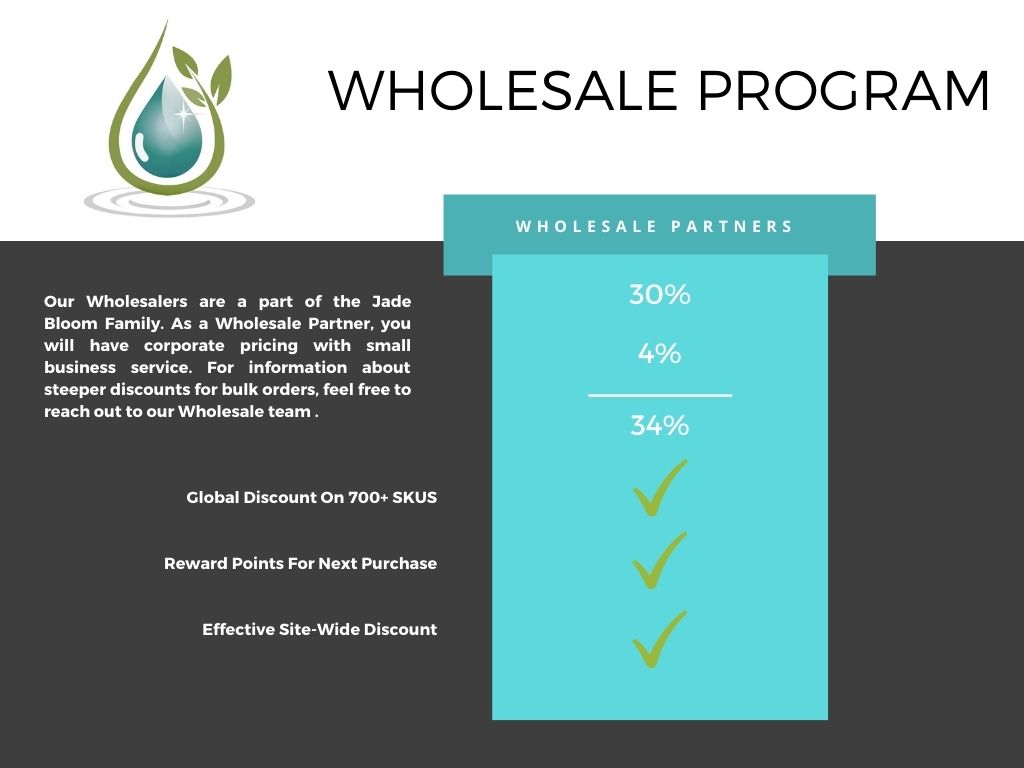 Thank you for your interest in our wholesale program.  Jade Bloom's mission is to deliver Health, Healing, & Happiness® to all of Humanity.
Jade Bloom is the #1 source around the world for low cost and high quality 100% pure all-natural essential oils along with more than 700+ all-natural and low cost products that are all manufactured exclusively by Jade Bloom at our facilities in Draper, Utah.  All of our products go through rigorous testing to ensure purity and we publish the purity reports to each product page and attach batch numbers to every bottle.  Become an exclusive Premium Wholesale partner with Jade Bloom and discover unique and proprietary formulations for all-natural Shampoo, Conditioner, Soaps, Bug Spray, Sunscreen, Deodorant, Hair Care, Skin Care, Organic Teas, Toothpastes, and so much more.  Are you ready to grow with us?
Our Wholesale program offers 3 levels of partnership with an effective discount rate up to 34% off our catalog prices.  If you own a physical retail store, we also would like to discuss the potential of using our nationwide audience of 150,000+ members to drive additional foot-traffic to your store with our "Store Locator" feature that includes unprecedented real-time inventory tracking for your location.  That means, if you carry a Jade Bloom product, we will notify our local customer from our website that it is available for pickup in your store, and you get paid.
START THE APPLICATION TO SEE WHICH LEVEL YOU QUALIFY


FREQUENTLY ASKED QUESTIONS
Q: What is your wholesale program and how is that different than what an MLM company does?
A: Our wholesale program is designed for locally established businesses such as spas, soap makers, health stores, etc. that are able to purchase large bulk orders for the purpose of reselling the Jade Bloom brand at their shops or for use in making their products.  Unlike an MLM company that are required to mark up their products to support a multi-pay system across a downline of sometimes 40 different people, our wholesale program has one simple discount for a business to make the majority of the profit we make by selling directly to their customers.
Q: How much do I save on my orders as an authorized wholesaler?
A: Our wholesale discount pricing offers an effective rate of 34%, with some exclusions on certain products.
Q: How do I place an order?
A: Ordering as a wholesaler is just as easy as placing an order as a retail customer.  Our wholesale program uses the same online interface to shop and add products to your shopping cart.  If your account is approved for wholesale then the pricing will be adjusted accordingly on the product pages.  Once your shopping cart is ready and meets the minimum order requirement simply check out online just as a retail customer does.  We also provide phone support for placing orders for our wholesale customers.
Q: Can I be a wholesale customer if I am already an affiliate or ambassador for Jade Bloom?
A: Yes you can, however, you will need a separate account for placing your wholesale orders by using an alternate email address.

Q: Can I use coupon codes with my wholesale account?
A: No, coupon codes are not valid for wholesale accounts.  Wholesale customers may set up a separate standard customer account for taking advantage of coupon code offers.
Q: Can I place orders on my wholesale account less than $250?
A: No, the minimum wholesale order for our Standard Wholesale partner is $250.  Wholesale customers may set up a separate standard customer account for placing orders less than $250.