Details
Make it easy to identify your oils from the top without having to pull them out of your case or put your glasses on to see the small print.  These round top labels apply easily to the tops of your Jade Bloom bottles.
Jade Bloom Essential Oil Round Cap Labels (All oils and some blanks to create your own labels)

154 labels in total

Basic Single Oils Labels & Jade Bloom Blend Labels

Easily removes from label sheet and applies to top of cap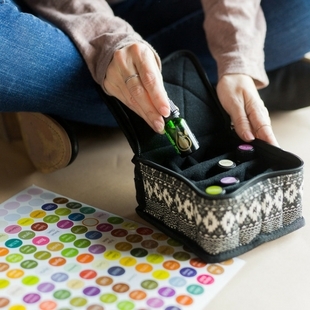 This sheet includes the following labels:

Ajowan
Allspice
ALLERG-EASE
ALLEVIATE
Amyris
ANANDA
Anise Star
Aniseed
Basil
Bergamot
Birch
Black Pepper
Blood Orange
Blue Tansy
Blue Yarrow
BOOST
Bulgarian Lavender 

Cade
Cajeput
Calamus
Camphor

Cananga
Caraway
Cardamom
Carrot Seed
Cassia
Cedar Leaf
Cedar Atlas
Cedar Texas
Celery Seed
German Chamomile
Chili Seed
Cinnamon Bark
Cinnamon Leaf
Citronella
CITRUS
CITTA
CLEANSE
Clove Bud
Clove Leaf
Cocoa
Coconut
Coffee
Copaiba
Coriander

Cumin
Cypress
DELIGHT
DIGEST
Dill
EMPOWER
Eucalyptus
Eucalyptus Radiata

Fennel
Fenugreek
FOCUS
Frankincense
Frankincense Carterii
Galbanum
Garlic
Geranium
Ginger
Gingergrass
Grapefruit
Green Mandarin

Mandarin
Helichrysum
Ho Wood
Hydacheim
Hyssop
IGNITE
Jasmine
Juniper Berry
Lavandin
Kashmir Lavender
Lemon
Lemongrass
Lime
Love & Peace

LUCID
Marjoram
Melissa
Myrrh
Myrtle
NAMASTE
Neroli
Nutmeg
OM
Onion
Orange
Oregano
Palmarosa
Parsley
Patchouli
Peppermint
Petitgrain
Pimento
Pine Needle
PROTECT
RELIEF
REMOVE
RESTORE
Roman Chamomile
Rose
Rosemary
Russian Clary Sage
Sandalwood
SAVASANA
Savory
Siam Wood
Silver Fir
SOOTHE
Spearmint
Spikenard
Spruce
SUTURE
Tangerine
Tarragon
Tea Tree
Thuja
Thyme
Tomar
TRIM
Turmeric
UNWIND
Valerian
Vanilla
Vetiver
WELL-BEING
Wintergreen
Ylang Ylang
22 blank labels for DIY blends you create 
Additional Information
| | |
| --- | --- |
| UPC Barcode | No |
| Scientific Data | No |
Customer Reviews
Must Have
By Debbi
September 14, 2018 10:20:25 AM MDT
I have kept wanting to buy these like forever. When you need an oil in emergency, it was so frustrating to have go thru each oil. I should of bought these years ago. I am so excited that they are coming out with these on some of the oils. Jade Bloom as always is awesome!!!
Summary
By Amy Welch
August 28, 2018 1:18:41 PM MDT
Beautifully done,new oil names to choose from.
labels
By Sylvia
August 24, 2018 8:11:14 AM MDT
Not sure at first
By Leann
August 23, 2018 6:08:19 PM MDT
I wasn't sure if I would use the stickers at first but I'm in love. So nice to see what I need to grab quickly.
Labels are a must!
By Nancy
June 1, 2018 9:47:45 AM MDT
Having a label on the top of your oil bottle makes all the difference in the world to me. I would rather have the label than have to continuously read each and every single label. My only problems with the labels are: a. the font used can be a bit hard to read in light colors for the names, maybe keep them black; b. Not all the oils I have are listed on the labels and since I can barely write that small I will still have to dig a few bottles out and read them; c. my labels came damaged but one call into customer service and one pic and I was reimbursed; d. I feel that the price is too steep for just one page of stickers. I think I would feel better if there were 2-3 included, but again I wouldn't let that deter me from ordering them again. As I said, labels are a must.
Summary
By Kelly Suttenberg
May 23, 2018 11:34:57 AM MDT
Very useful! I love having these makes it way easier to locate an oil I want to use!
Prefer prior label font and need more blend labels
By Dana Paull
May 14, 2018 7:14:38 PM MDT
The labels are great quakity, but the new font type and color harder for me to read...Plus only one for each blend. I use 10x more blend labels as I make rolers for all. Sheet for blends please and font color I can see!!!
Awesome
By Donitta Cody
April 29, 2018 8:23:50 PM MDT
Makes finding the right oil so much quicker!
Perfect!
By Teresa
April 23, 2018 12:37:03 PM MDT
I love that these are available for our bottles. If you store them in a case, box, drawer, etc, it makes it easy to see your oils without pulling out every oil! Works great for the tops of roller bottles and labeling an inhaler too!
Me 2
By Sabra Parks
March 27, 2018 12:18:19 PM MDT
Really wish all JB oils had cap labels.
Summary
By Leslie
March 21, 2018 10:25:19 PM MDT
I love being able to read which oil from the top, sometimes though you don't have some oils and it's really hard for me to write that small.... I wish all of your oils had a label or were labeled on top already!!! Your labels stick very nicely and are very easy to read.
5 Stars
By NM
March 21, 2018 9:03:36 AM MDT
Must Have
By Miranda Eisen
March 19, 2018 7:46:12 PM MDT
Great for helping you find your oil fast and easy. The labels are clear and easy to read.
Labels
By Brittany Pool
February 15, 2018 7:13:50 PM MST
Perfect for where I store my oils I can know what the products are without having to pick up each to see what they are
Pricy little stickers
By Jess
February 5, 2018 5:44:01 PM MST
First, the stickers themselves are great. I love having all my Jade Bloom oils with labels on them finally. I had been making due with YL and D labels, but didn't have all the ones I needed.

I will have to say these are more than I have paid for other labels. I received 6 sheets of another brand for only a $1 more than the single sheet of JB. The rating got knocked down a star for the value.
Helpful
By Tiff
January 24, 2018 7:43:26 PM MST
You just can't have a huge oil collection without these oils. They make locating the oils your looking for much easier!! I do wish they were a bit cheaper.



5 Stars
By TS
January 13, 2018 10:01:49 AM MST
5 Stars
By TS
January 13, 2018 10:01:48 AM MST
Summary
By ASHE
December 19, 2017 10:06:14 AM MST
Very Helpful
By Sara P
December 2, 2017 11:12:47 AM MST
Super helpful way to find oils quickly that are stored in a box. Now that Ive used many of them, I'd love it if you could pick the stickers you'd like to replace instead of having to buy ones you may not need or use as frequently.
Top labels
By Om
October 11, 2017 2:22:47 PM MDT
GOT TO HAVE THEM....QUICK AND EASY TO IDENTIFY YOUR OILS
Are you a label person?
By Alex
September 2, 2017 1:08:04 AM MDT
If so, I would recommend these labels to help you quickly identify your Jade Bloom Oils.
so much easier to pick the oil I am looking for
By Sheryl
August 28, 2017 8:45:03 AM MDT
I have tried putting my oils in different order from the ones I use most in front to alphabetical order. With the labels I can easily see the names and find what I need.
Oil stickers
By DANA
July 22, 2017 8:36:40 AM MDT
Easy to use and label oils.
Make your life easier
By Jennifer
July 9, 2017 9:22:33 AM MDT
Make your essential oil life MUCH easier and invest in these labels. It saves time to see, at a glance, what the oil is rather than having to take each individual one off the shelf to find the one you want.
Organization!
By Patricia
July 3, 2017 3:55:36 PM MDT
Finally! These little round stickers sure help me with keeping my oils organized and handy at a glance!
Love these labels!!!
By Kathy
June 29, 2017 10:03:33 PM MDT
They are the perfect size for essential oils
Wonderful!
By Sue
May 20, 2017 9:15:59 AM MDT
Very handy! It sure puts an end to searching through all of the bottle to find what you are looking for. I love them!
Love the Labels!
By Caroline
April 11, 2017 11:22:06 AM MDT
Easier to locate and find my oils quickly!
Labels
By Janet
April 10, 2017 8:14:52 AM MDT
These labels make finding my oils so very easy!!!
Love em!
By patti
March 20, 2017 11:02:58 AM MDT
Super handy to not take every single oil out of my bag to find what I want! My only critique is there are multiples of some labels and not enough of others so I had to buy an extra set. I guess I'll have to buy more oils to use them up lol!
much needed labels
By shirley
March 9, 2017 12:55:43 PM MST
I really needed to label my essential oils as the bottles were starting to increase over the last few months. I now can label my single notes as well as the many mixed oils I've accumulated. Thanks for having such great products.
Love them
By Margot
February 25, 2017 2:28:20 PM MST
Wish they were alphabetical but love having the labels.
Great Stickers
By Susan
January 23, 2017 8:17:25 AM MST
These work great. I like that there are extras of the same essential oil labels.
Thank you.

Great item
By Mindy
January 3, 2017 6:24:59 AM MST
Love this
By Mindy
December 20, 2016 9:41:27 PM MST
Great labels!
By Maralee
December 18, 2016 2:30:37 PM MST
These labels are really helpful! You can easily see from the tops of the bottles just the oil you are looking for without having to pick up everyone on them. It saves a lot of time!
Love
By Michelle from Florida
December 7, 2016 7:12:16 AM MST
I really like the round stickers, it makes locating my items on my shelf that much easier! I would like to see maybe 2 of each Selection on the sticker sheet, but otherwise they are perfect.
At a quick glance
By Deborah
October 15, 2016 8:11:09 AM MDT
To be able to see what the contents of the bottle from the top makes it so much easier for me since I have my bottles in a wooden box.
Jade Bloom bottles are a beautifully designed logo, just makes it so much easier to see without having to take it out of the container.
Great
By Spring
September 6, 2016 8:44:44 AM MDT
See all
Hide all