Details
Essential Oil Infused Sleep with your CPAP

Finally, you can enjoy the benefits of essential oils when using a CPAP device!  The patent-pending inline adapter provides assurance you won't damage your device.

Get the health benefits of aromatherapy all night long while using your CPAP.


This Product Includes a Patent-Pending CPAP Infusion Adapter and 5 Infusion Pads
*FITS EVERY CPAP MACHINE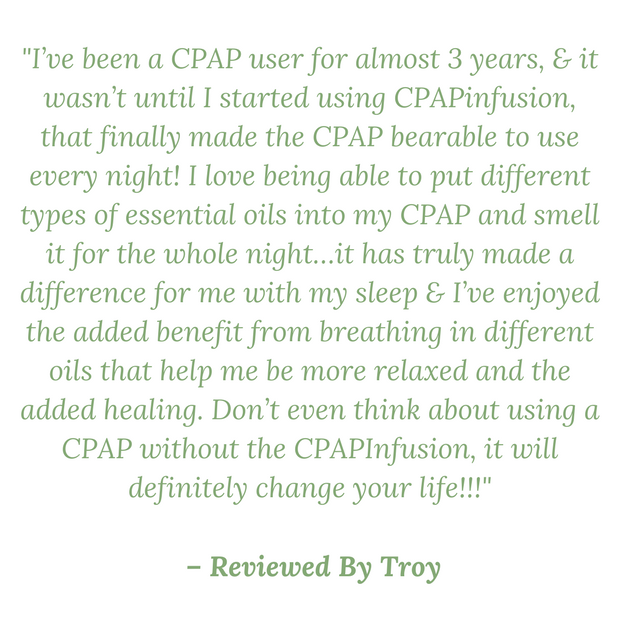 1. Apply
Apply your choice of therapeutic grade essential oil onto the Infusion pad
2. Insert
Simply insert the Infusion pad into the CPAP Infusion adapter
3. Connect
Connect the fully assembled CPAP Infusion adapter as shown.


Additional Information
| | |
| --- | --- |
| UPC Barcode | No |
| Scientific Data | No |
Customer Reviews
I really really like this.
By Judy Grimes
October 4, 2018 8:07:45 PM MDT
I was kind of afraid to try this. But after a few night I really liked it . Helped me sleep better.
Summary
By Vicki
July 18, 2018 6:37:17 PM MDT
I use my diffuser every night and it works great for my needs. I let my friends know that it works how to order it from Jadebloom.
Cpap diffuser
By Dena T
July 17, 2018 8:49:50 PM MDT
Love this! Fits perfect to my hose, I can change scents by using a different little pad, and the scent lasts anbout 2 to 3 days before adding more oil. Helps when I need a sleep aid, something for my allergies, or just a scent I really like to Relax with.
still on the fence
By Dana Paull
May 14, 2018 7:18:29 PM MDT
Fits perfectly, but pads move around some. I've been using with oil in the water tank for more than a year. Not sure if I'll go back to that yet, but just the thing if not for you.
Awesome
By Alex
April 18, 2018 2:17:51 PM MDT
I bought this as a gift for my Dad and he's been using it for a few days now and LOVES it. He uses lavender with it and the vapors help soothe him to sleep. I'm so glad he loves it! He's not the type to normally use "smell-good things", but it seems to have a therapeutic effect on him. It's very simple to attach too.
Awesome Product
By Roger Schofield
February 25, 2018 12:48:20 PM MST
I've used my C-Pap machine for 9 yrs, having allergies along with sleep apnea hasn't always been easy, until now!!! Love that I can use different oils for different symptoms, but my go to oil now is Relief, using the adapter makes it so easy!
Thank You Jade Bloom
No scent diffused
By Judith
September 15, 2017 1:32:52 PM MDT
I was very disappointed with this item. Since using a CPAP I have not been able to fall asleep to the wonderful fragrance of lavender. When this became available I was so excited and couldn't wait to receive it. Well I detected no fragrance at all after trying for four nights. So disappointed. Hopefully I can return it. Don't waste your money.
See all
Hide all