Details
Lip Balm
100% Natural - Protect Immunity Blend
"Finally, an all natural lip balm that actually works and combines the healing benefits of 100% pure essential oils."
Our 100% natural lip balm comes infused with essential oils for added therapeutic benefits.  Soften lips and boost the immune system simultaneously with our new PROTECT lip balm. 
Features
1. Softens lips and boosts immunity
2. Fast absorbing with a non-greasy and non-sticky feel
3. Free of parabens, toxins, aluminum, propylene glycol, phthalates, and any other synthetic cancer causing ingredients
4. Manufactured exclusively by Jade Bloom in the USA for Jade Bloom customers.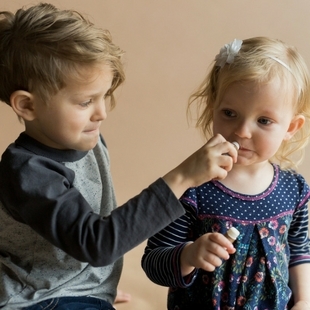 Ingredients
Shea butter (Butyrospermum parkii), Coconut oil (Cocos nucifera),  Beeswax (Cera alba), Jade Bloom's PROTECT Immunity Blend 
Disclaimer:
The above statements have not been evaluated by the FDA
This information is for educational purposes only, it is not intended to treat, cure, prevent or, diagnose any disease or condition. Nor is it intended to prescribe in any way. This information is for educational purposes only and may not be complete, nor may its data be accurate.
Safety precautions: Extremely potent use with care. Consult a professional reference for correct dilution ratios prior to application.
Avoid in pregnancy and lactation. Keep away from eye area. Keep out of reach of children.
You won't find a higher quality 100% Natural Lip Balm anywhere
Additional Information
| | |
| --- | --- |
| UPC Barcode | 641990785791 |
| Scientific Data | No |
Customer Reviews
Smoothing, Soothing, and Softening ~ with none of the bad!
By Small Town Girl
July 3, 2019 12:27:34 PM MDT
I wasn't sure how I would like this "flavor" of lip balm, as I am usually a peppermint lip balm kind of girl, but I love it. It smells wonderful and feels just as great. I love the benefit of the extra immunity boost along with the natural emollient properties of each ingredient and only the best ingredients. Thank you, Jade Bloom, for offering this lovely lip balm and at a reasonable price. Going to order more!
Good product
By Christina Sewell
June 24, 2019 3:11:36 PM MDT
It smell good and isn't sticky. Love this product
Never using Carmex again
By LeAnne Z
May 23, 2019 7:19:43 PM MDT
This is the best lip balm ever. I have proudly thrown away my Carmex and plan to stock up on these natural lip balms.
Love it!
By Kathryn
May 4, 2019 9:31:54 AM MDT
Love this lip balm. The smell, the feel everything about it. I have struggled with chapped lips from other lip balms in the past, but my lips have been nothing but smooth and health since I got this. I am going to be ordering more for my entire family!
must have
By Debbi
December 6, 2018 12:02:36 PM MST
I use every night before bed and thru out day if I am feeling like I am coming down with something and helps keep sickness at bay. Recommend this, along with protect toothpaste and the protect oil when you feel like you are getting sick. Helps shorten sickness and keeps you from getting sick
Love
By Diana blackner
December 5, 2018 12:11:11 PM MST
I was hooked on Carmen and had to put it in all the time Time to get off. Using the lip balms from JB has helped and I only use this now. I like the protect blend to help combat getting sick
Summary
By Carly
November 21, 2018 9:34:56 AM MST
This lip balm keeps my lips nice and soft and I love that it has protect in it.
Best Lip Balm ever!
By Neisha
November 8, 2018 11:42:46 AM MST
I typically use a lot of Bert's Bees lip balm, I actually run out quickly because I reapply quite often. This lip balm doesn't apply as smoothly as Bert's Bees but it stays on my lips a lot longer. After applying a few times, it does start to go on a lot smoother. The Protect blend is the first one I purchased, and now I ordered a Peppermint one to use once I run out of the first. I highly recommend this lip balm <3
Nice
By Sherrie Dillon
October 24, 2018 2:51:12 PM MDT
This is a nice product. It is made with my all time favorite blend. The only reason I gave a rating of 4 is because the consistency is different than I am used to. Getting used to it tho
Protect!
By Fay
October 4, 2018 8:28:48 AM MDT
I like the texture of Jade Bloom lip balms. It's smooth and not sticky. The fragrance is stronger at application, but fades quickly. I tend to use this at night.
Love the smell!
By Eileen
August 26, 2018 2:27:07 PM MDT
The cinnamon really stands out to me in this lip balm. Glides on really nice.
5 Stars
By Timothy
August 9, 2018 5:26:12 PM MDT
Hate the waxy feeling of other lip balms and I don't get that from this one!
Summary
By Theresa
August 9, 2018 11:20:24 AM MDT
Best lip balm ever !!! Lip balms usually flake on me, but not this one...
great product
By Sherry
August 2, 2018 12:48:11 PM MDT
love the scent and the feel
of my lips after having on
Immune Booster
By Tiff
July 30, 2018 11:21:35 AM MDT
Immune booster from lip balm! Yes!! A must have for every purse!!
5 Stars
By AM
July 30, 2018 8:07:42 AM MDT
Lip Balm That Boosts Immunity
By Janet
July 27, 2018 2:55:26 AM MDT
I never thought I would ever hear of a lip balm that also boosts your immune system. However, Jade Bloom gets a thumbs up from me again with their PROTECT Lip Balm. It not only soothes chapped lips but also helps boost your immune system. Talk about a win win situation, that is what PROTECT LIP BALM IS!!!!
Great subtle smell
By Katita
July 18, 2018 7:40:29 PM MDT
I love that it is protecting me from possible airborne illnesses and the smell is subtle and that pleasantly surprised me because I thought the smell would stronger.
Love this Lip Balm
By Irene
July 16, 2018 5:34:16 PM MDT
Wanted to try this lip balm to see if it would help clear up my dry lips. I have been very impressed and love how smooth this goes on and feels great. Has helped immensely.
Great product
By candace
May 30, 2018 11:40:39 AM MDT
Since I work with children I thought this would be a great first line of defense.
Summary
By A Must Have
May 29, 2018 6:28:00 PM MDT
I love this Protect Lip Balm, ever since using this every day my lips have gotten less dry and its added moisture and best part it has helped me not get sick.
A Must Have
Summary
By Really like it!
May 10, 2018 8:35:27 PM MDT
Very nice smell and feel.
"Protecting" my lips naturally
By Dana Paull
May 3, 2018 5:37:13 PM MDT
Love the Protect flavored lip balm. Not too waxy or greasy for me, and has the great scent/flavor of Protect!
Summary
By APRIL HUBBARD
April 16, 2018 4:59:27 PM MDT
Nice lip balm. And smells like Protect.
Love it
By ItsJusNik
March 13, 2018 7:49:49 PM MDT
This balm is wonderful! It moisturizes extremely well!
Summary
By Kim
March 7, 2018 4:44:31 PM MST
Super hydrating lip balm
By RR
March 5, 2018 11:30:49 PM MST
This is a nourishing balm infused with essential oils of Protect.
Really like the fact that this helps protect and heal my chapped lips.
By Caroline Frady
February 27, 2018 12:53:30 PM MST
Multitasker for sure!
By Abby
February 27, 2018 12:16:29 PM MST
This is a nice lip balm. Its a little hard to use as a lip balm, but it works great as a multitasker for cuts, scrapes, and chapping when you are sick and have allergies and blow your nose too much.
Lip Balm
By M Gallup
February 26, 2018 11:26:13 PM MST
Love this product! Feels great on lips and has no SPF factor, which is hard to find these days. Like that it has the protect essential oil in it.
Summary
By Name
January 22, 2018 6:04:45 PM MST
Great product for my dry lips
Protect Lip Balm
By Janet Wilson
December 28, 2017 8:11:06 PM MST
I love this product so much I purchased a tube for everyone in my family!!! I carry mine with me at all times!!
love it
By lisag
December 21, 2017 10:08:34 PM MST
i love this lip balm. i am so glad that i bought it and i think that everyone should have it in their home.
My new favorite product. It leaves your lip smooth and soft. The extra protection has kept my husband from getting cold sores. I love the way it tastes.
By Regina
December 21, 2017 3:09:29 PM MST
Love it!
By Elisabeth
December 17, 2017 8:21:34 PM MST
Absorbs well. Isn't shiny or oily. Very soothing. Smells and tastes great.
Smells nice!
By Charity
November 28, 2017 10:36:30 AM MST
I was a bit nervous this lip balm would burn because it has cinnamon in it but it doesn't! It smells great and makes my lips feel nice too!
Summary
By kim g.
November 28, 2017 9:48:04 AM MST
Great product.fast shipping.good price.
Good lip balm
By Victoria hall
November 6, 2017 8:14:15 PM MST
Smells great but I don't like the way it feels on my lips.
not my favorite
By Angel
November 1, 2017 7:51:20 PM MDT
I have several lip balms by jadebloom, but this one was extra gritty and dragged across my lips, it didn't glide like the others. I loved the fragrance and the blend for immunity but the grit detours me from using it as often as I should being flu season.
Love Protect
By Em
November 1, 2017 5:25:24 AM MDT
I got the Protect lip balm. I love the Protect blend, but the balm is a bit waxy and strange tasting. I think it would be better if made with unbleached wax. I am a huge fan of Jadebloom, though and love all of the essential oils!
Unsure
By Melodie
October 22, 2017 8:04:51 PM MDT
I enjoy it, but have to be aware of the strong scent of cinnamon. I love it, but it doesn't love me.
Great lip balm!!
By Amy
October 16, 2017 4:34:07 PM MDT
Great lip balm and even better that you get the awesome benefits of Protect at the same time!!
good stuff
By arin101
October 1, 2017 5:26:45 PM MDT
Great lip balm
By Alex
September 18, 2017 3:55:31 PM MDT
This is great lip balm. I like mine to be a bit smoother just because my lips are super sensitive but my husband loves it!! And I will still use it because I do like it!
Hooked
By Sarah
August 25, 2017 1:09:18 PM MDT
I absolutely love this lip balm. I won't buy any other kind now. This is my favorite scent.
Can't do without it.
By Sandy
August 10, 2017 8:05:19 PM MDT
I can't do without tbis one either. Love it. Truly moisturizes deep down. You can't fo wrong buying this.
Love it
By June
July 31, 2017 11:27:26 AM MDT
I loved this lip balm so I had to get the Melissa lip balm to!
Silky smooth lips
By Mary
July 7, 2017 6:58:55 PM MDT
This lip balm smells amazing and leaves your lips silky smooth. I will not buy any other kind of pop balm from now on
Favorite chapstick
By D
June 8, 2017 9:13:44 AM MDT
Very smooth when goes on and lasts a long time
Overall good
By Jordan
May 18, 2017 9:18:11 AM MDT
I love the smell of the product and I love using it. If there would be one thing to change about it, it would be the smoothness when applying it. The cream is a little tough which makes it ball up instead of glide.
Great product
By DeAnna
May 5, 2017 4:11:43 PM MDT
Gave Protect Lip Balm to my sister! She said, it was the best lip balm she has used.
Feels great!
By Karri
May 5, 2017 2:07:28 PM MDT
It does not have that waxy feel...just smooth and moisturizing...and immune booster too! Perfect!
Love this stuff!!
By Patty
April 29, 2017 2:49:51 PM MDT
I love this stuff! Never leave home without it!
Protect lip balm
By Mandi
April 17, 2017 9:26:32 AM MDT
One of my favorites! I put it on in the Morning and it keeps my lips soft for hours!
Love this!!
By Sharon
April 10, 2017 4:43:23 PM MDT
Makes my lips soft. I also love the scent
Natural lip balm
By Mary
March 13, 2017 11:13:28 AM MDT
I love this lip balm the most out of all I've ever tried. The scent is pleasing and not over powering. My lips felt like silk after using
Soooo Nice
By Jacki
March 9, 2017 10:04:31 AM MST
Love this blend! Especially great this winter <3
Love
By Lisette
March 2, 2017 10:07:24 AM MST
Makes my lips feel so soft. Love the product will buy more!
Awesome
By Rebecca
February 16, 2017 2:54:40 PM MST
love
By April
January 17, 2017 1:33:12 PM MST
I love the lip care product line. One of my favorites
great lip care product
By April
January 14, 2017 6:15:17 PM MST
Love the smell & taste! Feels great on my lips. Not greasy
It feels very nice on and feels like it is healing my lips.
By Teresa
January 3, 2017 1:43:11 PM MST
Love this
By Mindy
January 3, 2017 6:17:20 AM MST
Favorite chapsticks
By Jeannie
December 20, 2016 11:13:41 AM MST
Love these chapsticks, my favorites. Even got husband to try them and he likes them.
Amazing
By Samantha
December 4, 2016 9:25:59 AM MST
I absolutely love this product. The perfect combo of soft and scent. Makes my lips feel amazing
Loving it!!
By Lisa
November 25, 2016 11:10:01 AM MST
Jade Bloom lip balms are awesome!!! My lips have never felt more moisturized and soft. And the essential oil scents are naturally amazing!!
Jade Bloom oils and products are the highest quality at prices everyone can afford.
Lip Balm Sweetness!
By Marlisa
November 7, 2016 8:58:03 PM MST
Love the new immunity blend lip balm! Great taste, moisturizing plus immunity protection! A win win!
Love It
By Deborah
November 7, 2016 4:48:32 PM MST
Use it Every morning and throughout the day when needed. And that it's natural yay
See all
Hide all