Details
Lip Balm
100% Natural - Melissa Medicated
"Finally, an all natural lip balm that actually works and combines the healing benefits of 100% pure essential oils."
Our 100% natural lip balm comes infused with essential oils for added therapeutic benefits.  Soften lips while receiving the medicated benefits of Melissa oil. Melissa oil supports a healthy immune system, calms tension and nerves, as well as soothes occasional stomach discomfort. Melissa officinalis oil is also said to be "suitable for topical treatment of herpetic infections." https://www.ncbi.nlm.nih.gov/pubmed/18693101
Features
1. Softens lips, heals and prevents cold sores and boosts immunity 
2. Fast absorbing with a non-greasy and non-sticky feel
3. Free of parabens, toxins, aluminum, propylene glycol, phthalates, and any other synthetic cancer causing ingredients
4. Manufactured exclusively by Jade Bloom in the USA for Jade Bloom customers.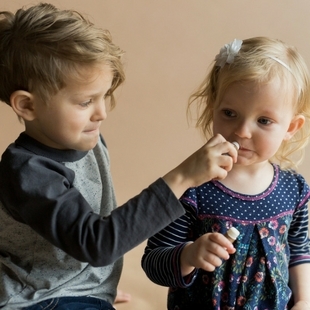 Ingredients
Shea butter (Butyrospermum parkii), Coconut oil (Cocos nucifera),  Beeswax (Cera alba), Jade Bloom's Melissa Essential Oil (Melissa Officinalis)
Disclaimer:
The above statements have not been evaluated by the FDA
This information is for educational purposes only, it is not intended to treat, cure, prevent or, diagnose any disease or condition. Nor is it intended to prescribe in any way. This information is for educational purposes only and may not be complete, nor may its data be accurate.
Safety precautions: Extremely potent use with care. Consult a professional reference for correct dilution ratios prior to application.
Avoid in pregnancy and lactation. Keep away from eye area. Keep out of reach of children.
This Melissa Lip Balm is highly effective at managing and preventing cold sores
Additional Information
| | |
| --- | --- |
| UPC Barcode | 641990785838 |
| Scientific Data | No |
Customer Reviews
Great for Cold Sores
By Angela
May 11, 2019 8:29:30 PM MDT
I get cold sores from time to time and decided to try this on a whim. And all I can say is WOW!! The first time I used it I already had a cold sore beginning and this stuff stopped it in its tracks! Now, every time I feel one starting I use this and they never come up.......... they just go away. This is Amazing!!
It's ok
By Laura
April 2, 2019 6:48:16 PM MDT
I'm not a fan of lip balm but I am a fan of Melissa. I got this in my first CC package and will continue to use this from time to time.
An awesome lip balm
By Brittny Burbano
March 19, 2019 7:24:19 PM MDT
I was skeptical at first because I'm not always a fan of lip balms but this one is great. It applies smoothly and isnt sticky, I enjoy the scent, its relaxing to me. I leave it near my coffee pot so I can remember to apply it throughout the day and my lips are definitely softer than usual!
Eating Citronella
By Nancy
March 11, 2019 11:47:36 AM MDT
This really does work. It healed my chapped lips in 1 setting..the only thing that ever does that for me is medicated Blistex...but this did the same thing. However, I feel like I'm eating Citronella. hahaha I love the scent of Citronella but not the taste so much. hahahaha It's going to be kept by my bedside at all times.
Lip Balm
By Sharon
March 9, 2019 9:01:35 PM MST
My lips were chapped from the wind. This lip balm healed them fast.
Lip healer
By Debbi
December 6, 2018 11:59:15 AM MST
My husband uses on his lips at night and helps and loves.
Tiff
By Relief
December 5, 2018 8:11:27 PM MST
I didn't use this personally but I gave it to someone needing relief from severely dry chapped lips and we were both amazed at how quickly she got some relief.
Lip Balm
By Joy
December 5, 2018 8:00:49 PM MST
This balm has helped my lips more than anything I have ever used. Love it!
Love this
By Cindy
November 28, 2018 8:56:45 AM MST
At first I wasn't sure - it went on very dry...but after about a weeks worth of use is goes on smooth and works for fighting off cold sores and keeping lips moist!

LOVE IT
By Stacy
November 16, 2018 1:46:53 PM MST
This is the only chapstick I will buy my family from now on! Works amazing for cracked/chapped lips and also fights off cold sores!
Great for healing
By Irene
July 19, 2018 11:22:29 PM MDT
I got this to help clear up my skin issues on my lips. I don't mind the flavor because of how it helps clear up my lips. Will buy this again to keep on hand.
Lip balm
By Ruthy Esbeck Nahrgang
July 9, 2018 8:59:09 PM MDT
Soothing for chapped lips.
my new favorite
By Orion
June 1, 2018 10:10:16 AM MDT
I used to love Burt's bees with clove oil but they stopped making it. been looking for a new favorite for a long time. THIS is it!
Smell
By Lisa Jo
May 10, 2018 7:45:47 AM MDT
I like how it feels bit I can't use it due to the over whelming smell of citronella!!
LOVE IT!!!
By Naomi
February 26, 2018 2:12:00 PM MST
I am hooked on this lip balm. I wont ever be caught without it. It really helps my very dry lips to stay moist and when I had a cold sore coming on I used it and it never caught hold. The tenderness was gone by the end of the day.
Okay product
By Jessie
December 17, 2017 10:14:17 AM MST
I got this lip balm for various reasons. #1 was bcive always read so much great stuff about Melissa oil, considering the price of it, it has to be great right? The lip balm itself says immune boosting which I liked and I ran out of my current lip balm. I really don't like the smell, which is almost identical to a citronella smell even though it's not in the ingredients. It's very thick which can be good for long lasting but I still don't like it and it's gritty when alllying. I'll keep this for occasion uses when I don't mind smelling like a mosquito candle and if I'm feeling worse than normal
Surprise!!
By Mglass0807
December 14, 2017 8:08:13 PM MST
I needed a medicated lip balm, so, of course, I chose this one. I was shocked because I didn't know what Melissa smelled like... I can now tell you, citronella. I really like how it heals my lips quickly. I keep it on my desk at work and apply it often. One afternoon a fellow oiler was sharing how she was going to use her brand new Emu carrier oil on her fingers and nails... not having mine, I randomly put this lip balm on a terrible hang nail and a paper cut - the redness and irritation went away immediately!! The next day there was hardly any evidence of the paper cut! It's a really great product, don't let the strong smell deter you, it's temporary.
moisturizing
By Karen Madera
November 10, 2017 6:35:44 PM MST
I like to put this on before I go to bed.
Summary
By Melodie
October 22, 2017 8:02:49 PM MDT
Definitely soothes and softens my lips. Strong scent for scent sensitive.
Great!
By Tracy
October 21, 2017 9:10:56 PM MDT
I love this lip balm, it kicks cold sores in the butt !
good stuff
By arin101
October 1, 2017 5:24:33 PM MDT
Summary
By Tyffani
September 25, 2017 7:36:39 AM MDT
I don't care for the scent, but it does the job.
Great lip balm
By Teas oils
September 20, 2017 12:51:25 AM MDT
I've been having some really sore lips for a few months now. Feels like they are sun burned even though I wasn't in the sun and like I might get a blister. This lip balm is the only thing I've found that is helping. They're not completely better yet but they are feeling less sore and more moisturized.
My new favorite lip balm
By Lilli
September 16, 2017 12:30:41 AM MDT
I love the flavor of Melissa and this lip balm moisturizes my lips very well. It isn't too heavy or filmy either. I had gotten into the habit of putting on chapstick before bed, and now I can't wait to apply this every night.
Love love this lip balm.
By Janet
August 10, 2017 8:01:34 PM MDT
I love this lip balm because it helps severely chapped lips. Within 4 hrs my lips were not as dry . Also i was battling a cold. This balm helped heal the cold.
Above and beyond!
By Rachelle
August 1, 2017 6:01:37 AM MDT
I bought this lip balm because I heard it was good for cold sores, but once I tried it, it made my lips so soft that now I use it everyday! It also has a nice fragrance. My new go to!
Awesome product.
By diane
July 10, 2017 11:13:52 AM MDT
This stuff i awesome. I had cold sore coming on Sunday night. Started this balm and by wednesday it was dried up. Love it.
amazing!
By Priscilla
July 8, 2017 5:43:55 PM MDT
I started using this lip balm and can not even remember the last time I've experienced an out break.... This lip balm stops cold sores dead in their tracks. (For me at least) Love this product and highly recommend it ..

P.s. It smells amazing! :)
Amazing!
By Cindi
July 8, 2017 1:11:53 PM MDT
When I feel my seasonal allergies start to tingle warning me of a pending cold sore, I reach for this lip balm. It has made a big difference in how long I suffer. I love this product!
Fantastic Lip Balm
By Cricket
July 2, 2017 9:20:39 AM MDT
Melissa is one of the best oils for lip problems, especially if you get cold sores frequently. This balm is so moisturizing and soothing, no matter how chapped I've let my lips get.
Love it
By Angela
June 12, 2017 7:02:54 PM MDT
I love this lip balm it's wonderful
great product
By awesome
March 6, 2017 8:11:10 PM MST
I have multiple flavors, and I am in love with them all, great feel and results!
Melissa You R Amazing !
By Sherri
January 27, 2017 8:36:42 PM MST
Lip Balm Melissa

Soothing balm with delightful lemony smell.
Will use this during the healing stage and continue to use it as a lip balm to hopefully prevent future cold sores.
Since I got this I've been using it for numerous conditions :

Dry chapped hands
Cashiers hands
Eczema
Arthritis on hands
( those little knobs/nubs on my fingers)
Cracked heels
Dry Elbows
Itching
Rashes
On your cuticles/ dry fingernails
Dry winter hands

I wished I bought more of these lip balms
They are amazing !
Great chapstick
By leann
January 23, 2017 8:41:56 AM MST
Lip Balm
By Sheila
November 7, 2016 9:48:57 AM MST
Just love it, my granddaughter Jizel has 1 for her backpack and all her friends at school want one for themselves.
Naturally Healing & Hydrating
By Krista
October 22, 2016 6:17:23 PM MDT
I love love love Jade Bloom's Lip balm!
I have tried the Protect flavor, Peppermint flavor and the Melissa.
The Melissa lip balm is special because of the healing benefits but I feel like they all go on very smooth, smell great and leave my lips very hydrated! <3
See all
Hide all