Meet Team Member Ethan Thomson -- June 24, 2016
June 24, 2016 -- Get to know Jade Bloom Team Members - Meet Ethan Thomson!
In the past 2 years of business, we've had repeated requests from our loyal customers to get to know the people behind Jade Bloom.  We have decided to dedicate a portion of our blog to occasionally introduce a new member of our team through a fun questionnaire created by team member Jackie Mallett.  If you have new questions you'd like to see on our questionnaire then feel free to email them to our support team.  We'd love to hear from you!

Today, meet Ethan Thomson.  You may have received a package personally signed by Ethan.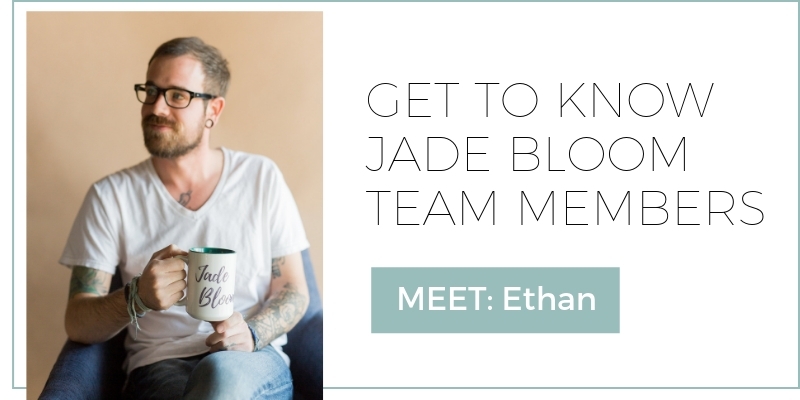 What is your favorite Jade Bloom product, and why?
My favorite Jade Bloom product is our new line of deodorant, for many different reasons.  First and foremost, I know what ingredients are put into commercial brand deodorants and I want to avoid that at all costs. It is a practical, and easy way to implement essential oils into your lifestyle.  Everyone uses deodorant, so it is an easy way for me to introduce people to the amazing benefits of essential oils and all-natural products. 
What do you do in your spare time? What do you wish you could do in your spare time?
Family is very important to me, so I spend as much time with my two-month-old daughter, and her mama as often as I can. I also take pride in hard work, I enjoy tending to my lawn, and doing projects around the house. To relax, I like to play a round of disc golf with my brother and fellow Jade Bloom team member, Adam.  I wish that I could spend my time playing an instrument, any instrument... It's always been a life goal of mine to be a musician.
Complete this sentence: "There are two types of people in this world; there are people who___ and there are people who___."
There are two types of people in this world; there are people who want to be seen working hard, and there are people who want to be seen for their hard work.
Why are natural products important to you?
Family is very important to me, so of course, I want my family to look for natural prevention and remedies when available. Also, I am a very logical person, and natural products are the logical decision to make when I am looking to live and teach people about maintaining a healthy and active lifestyle.
If you could brunch with anyone, dead or alive, who would it be? And what would be on the menu?
I would brunch with my Grandma and Grandpa Bill.  They passed away a few years ago and were not able to meet my new beautiful family.  I would love to sit and talk with them about the joys and challenges of parenting. I was never able to get that kind of advice from them, and I know it would be priceless. Even after they're gone, I still find myself trying to be like them.  I'm a pretty simple guy so I wouldn't need anything fancy for the menu; some nice crispy bacon, eggs, and hash browns would do just fine... Of course, no brunch would be complete without mimosas :)
Favorite quote from your favorite movie. GO!
My whole family are big movie buffs, so I literally cannot just choose one, but I've narrowed it down to three of my favorites:
"Life moves pretty fast, if you don't stop to look around every once in awhile, you could miss it." - Ferris Bueller's day off
"Just keep swimming." - Finding Nemo
"Great men are not born great, they grow great." - The Godfather
Jade Bloom's mission is to deliver Health, Healing, and Happiness to as many people as possible. What is YOUR mission statement?
My mission in life is to raise, protect, and provide for my family, through any means necessary. I want to give my children a strong example to look up to, and through open-honest communication, be able to teach, and guide them through their lives.
What is something you're exceptional at? What is something you're dreadful at?
I am an exceptional swimmer.  I swam competitively for over 10 years, was a lifeguard for 6 years, and taught swim lessons for 2 years. This is a life skill I'm looking forward to teaching my children.  I am dreadful at golf.  I have tried so many times to improve my golf game, and for some reason, I just cannot wrap my head around it...
My spirit animal is___
I don't know… I think I would be a bear… They are beautiful creatures, with personality, intelligence, family relationships, and they hibernate through the winter… that sounds pretty awesome to me ha ha.