Details
Calendula Infused Oil (Therapeutic Grade) 10ml
Infused Oil
Scientific Name: Calendula officinalis

Extraction: Submerged in apricot and olive oil
Origin: India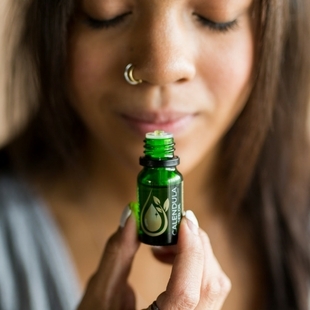 The Calendula flower has many healing benefits. Commonly, this plant is referred to as Marigold. It originally got the name Marigold from the Virgin Mary. Many Catholics use the flower during events to honor Mary.  It gained popularity in the 14th century for fighting the plague and was used in recipes to improve health.

Aside from its ties with the Catholic church, this flower is also valued in the Hindu religion. Hindus adorn their gods with this flower but also use it to add vibrant color to foods and fabrics. 

Jade Bloom's Calendula oil is made by submerging the flowers in 100% pure olive and apricot oil.
The result is a soothing oil that is great for improving the skin. 


DRY SKIN:
Most notably, this oil is used for skin care.
It can provide moisture and relieve dry skin, chapped, split or inflamed skin. Eczema and psoriasis can both be soothed with this hydrating and healing oil.

ANTI-AGING:
Applying this oil to your face can significantly improve the texture of your skin by improving blood flow to the cells. This will reduce the appearance of age spots, scars and wrinkles. To improve the tone of your skin, follow this recipe:
Facial Recipe:
Apply this blend to your face each night and massage in upward circles for 3-5 minutes to gently exfoliate and improve skin texture.
3 drops Calendula
1 drop Frankincense

 

1 drop Carrot seed
4 drops Rosehip (carrier oil)

EYE HEALTH/VISION:
Studies have shown the antioxidant compounds in calendula can directly impact your vision. The functioning of your eyes depends on beta-carotene which is present in this oil. Apply 1 drop of this oil around your eye being cautious to avoid eye contact to prevent macular degeneration.

INFLAMMATION AND SPASMS:
A study done by the Department of Biological and Biomedical Sciences at the Aga Khan University Medical College in Pakistan concluded that the extract of Calendula relaxes muscle spasms and may also help with abdominal cramps.
Spasm Recipe:
Massage this mixture into the area of spasm as needed.
3 drops Calendula
2 drops Marjoram
1 drop Ginger
5 drops Safflower Seed (carrier oil)
AIDS MENSTRUATION:
This plant is known to induce mensuration. Because of this, we do not recommend using Calendula oil during pregnancy. In addition to jump starting menstruation, this oil can also ease symptoms like cramps and hot flashes. The amount of flavonoids in Calendula will relax the muscles & improve blood flow.
Menstrual cramp Recipe:
Apply this mixture to your lower abdomen to relieve PMS symptoms and cramps.
3 drops Calendula
1 drop clary sage
1 drop Chamomile
3 drops Flaxseed oil (carrier)

Other benefits include:
Diaper rash
Ear infections
Oral Health
Ulcers
Hemorrhoid
Antimicrobial
Disclaimer:
The above statements have not been evaluated by the FDA
This information is for educational purposes only, it is not intended to treat, cure, prevent or, diagnose any disease or condition. Nor is it intended to prescribe in any way. This information is for educational purposes only and may not be complete, nor may its data be accurate.
Safety precautions: Extremely potent use with care.  Consult a professional reference for correct dilution ratios prior to application.
Avoid in pregnancy and lactation. Keep away from eye area. Keep out of reach of children.


You won't find a higher quality 100% pure Calendula essential oil anywhere.
Additional Information
| | |
| --- | --- |
| UPC Barcode | 641990786873 |
| Scientific Data | No |
Customer Reviews
Hopeful
By Garnet
July 6, 2019 4:56:08 PM MDT
I got the calendula because many recipes called for it. I look forward to implementing it in blends. The apricot oil part of the base lends a pleasant aroma to the infusion.
Stretch marks
By Calendula
May 28, 2019 1:12:15 PM MDT
Just started using it and I like it so far, excited to see the results!

Amazing!
By Elizabeth Durbin
May 7, 2019 8:16:01 AM MDT
This is great for your skin! I use it in my skin care regimen! I also use this with other oils and carriers for my restless legs! Works great!
Wow!
By Sarah Stephenson
March 25, 2019 8:09:32 PM MDT
I make my own infused oils from herbs. I love using them in lotions and potions. This is way nicer than my infused calendula oil. Mine is good, but this is WOW!
Time saver
By Nancy
February 26, 2019 1:41:27 PM MST
Saves me the hassle of having to infuse the calendula flowers in a jar that I am constantly afraid of dropping. Perfect to add to a skin care blend.
Love this oil
By June
February 5, 2019 8:48:52 PM MST
This oil really works for dry skin. It leaves my hands silky soft and absorbs well. It also helped clear up a rash from the dryness. I have been living in a dry climate for the past 3 and a half years and need all the help I can get. This will definitely be an oil to keep on hand for me. No pun intended.
Calendula
By SilviyaC
January 24, 2019 12:30:18 AM MST
I add it to my face blends and diffuse it. Lovely smell.
Smell is pretty bad but works wonderfully
By Jenny
December 29, 2018 3:19:04 AM MST
I learned that this oil is helpful for acne. It really helped the first day I put it on. Just beware that the smell is not very pleasant.
Skin care must
By Miranda
December 28, 2018 10:08:39 AM MST
I add this to almost all my skin care mixes. It has a great scent and works wonders.
5 stars
By Bobbi
December 18, 2018 1:24:04 AM MST
It smells....
By brown girl
November 8, 2018 11:46:09 AM MST
Summary
By Melissa
October 6, 2018 10:58:52 AM MDT
Love this oil its help my skin so much. The dark spots on my legs r getting lighter my skin is softer and more even.
You wont be disappointed.
By Natalie
September 13, 2018 8:09:40 PM MDT
I use this product for my dry eye trouble and it is very gentle and in the morning you will notice a difference. I use it with my carrier oil and with my eyes closed I put the mix on my eyelids. This oil does not hurt your eyes IF some got in your eye(s). Natalie
So many good uses... it is a must have!
By Eileen
August 26, 2018 12:12:36 PM MDT
Calendula has so many wonderful uses. It is a staple in our home for first aid use especially with bug bites.
Great for insect bites
By Kristina
August 20, 2018 10:18:27 PM MDT
I first used this on some ant bites I could not stop scratching and it helped so much! The inflammation went down and I could leave the bites alone so they could heal. I have also used it on other insect bites with the same result. I also love the smell!
totally addicted !
By Tracy
August 3, 2018 5:34:12 PM MDT
I love this smell so much...i put it on anything that is inflamed on my body...and i even use it just to have the scent around as a perfume.
Hot oil - careful
By englishgirlinusa
August 1, 2018 6:28:09 PM MDT
Love this, but didn't dilute enough!
Calendula
By OilyVegan74
July 24, 2018 7:47:29 AM MDT
LOVE!
By Kayla
July 21, 2018 6:02:12 PM MDT
Love love love this oil! I use it every day on my wrists and neck. Very nice smell that works as a nice perfume/scent to wear for the day. It wears off after a few hours but it's nice to start the day with.
Great for pain!
By Charity
June 10, 2018 4:57:54 PM MDT
LOVE
By Name
May 20, 2018 10:57:21 PM MDT
SO LOVE THE SMELL OF THIS OIL CAME WITH OUR CC THIS MONTH...THANK YOU JB1
Skin care heaven
By Oily Vegan
May 17, 2018 4:01:43 PM MDT
I love the mild marigold smell of this oil. I love how it makes my skin feel. Definitely one of my favs.
Heaven in a bottle
By Jenn
May 15, 2018 4:12:15 PM MDT
This smells SOOOOOO uplifting. I loved learning about this oil and its skin benefits.. I add it to a bit of jojoba and use as moisturizer nightly. My skin just GLOWS!
at my age
By Linda Leggio
May 15, 2018 3:13:10 PM MDT
at my age, i am constantly looking for something i can use for my face. i love this oil! i use just a little and it goes a long way. i mixed it with some coconut oil to smooth on my face at night time.
i also made up the diy hand and foot scrub that i received in my collectors club. smells wonderful and my feet and hands feel so soft !
Love it!
By slyng
May 11, 2018 5:41:20 PM MDT
I got this in my collector's club. I love it. Use it on my face. I will buy this one again!
DIY SALTS
By Name
May 10, 2018 1:37:00 PM MDT
I made body polish added this calendula oil it smells divine.
LOVVVE IT!!!!
By Oily Vegan
May 10, 2018 7:53:11 AM MDT
Love this oil!!! Great for your skin. mild smell. awesome!
Marigold
By Stephen
May 9, 2018 9:07:38 PM MDT
This oil has a subtly marigold smell to it, which obviously would make sense. It's an excellent moisturizer as well.
Summary
By Jennifer Knight
May 9, 2018 1:50:26 PM MDT
Calendula is fantastic! I used this in a blend to help soothe my son's poison ivy.
Love this
By Lisa Gober
May 8, 2018 8:50:01 AM MDT
I love how this smells, and adding it to lotion. I can't stop smelling myself, lol. It definitely feels like it's a great moisturizer addition for my dry skin as well!
Awesome oil
By Ruthy Esbeck Nahrgang
April 11, 2018 1:11:30 PM MDT
I was so excited to receive this oil. Currently I'm using it for my facial products as well as in my first aid kit. I recommend buying even the larger size than 10 mL because you will find you use this for everything.
calendula
By foodiemom
April 8, 2018 5:31:43 PM MDT
I have been using this with my daily oils for moisturizing my face. So far I like it, and I'm hopeful that it will help with aging lines, but I haven't been using it long enough to tell. It does have a pleasant smell.
calendula
By roxanne
April 3, 2018 3:38:47 PM MDT
This oil smells amazing. Just like the flower. Very calming . I have only diffused it a couple of times but so far I love it
Awesome
By Thrace
March 16, 2018 4:51:54 PM MDT
Could not ask for a better quality oil!!
Great
By Tiff
March 9, 2018 8:09:08 AM MST
I love this new oil! Thanks JB for another awesome product!
Summary
By Name
March 8, 2018 8:06:16 PM MST
Loving this oil!
By Sandy
March 6, 2018 9:50:48 AM MST
I used this on my daughter's eczema on her arms for a couple of days, and it cleared it right up. It works very well! :)
This is so unique!
By Alex
March 4, 2018 5:44:47 AM MST
I love the idea of submerged calendula into other oils. It's just something new. I am looking forward to adding this to my facial care blends!
Calendula
By Name
February 24, 2018 6:11:43 PM MST
Very excited about this new oil...Can't wait to try it!
See all
Hide all