Details
High Blood Pressure Kit
Eterniti Diffuser + Bergamot, Ylang Ylang, & Frankincense
**THESE KITS WILL BE SENT OUT WITH THE SHIPPING LABEL DIRECTLY ON THE DIFFUSER BOX AND OILS WILL BE INSIDE.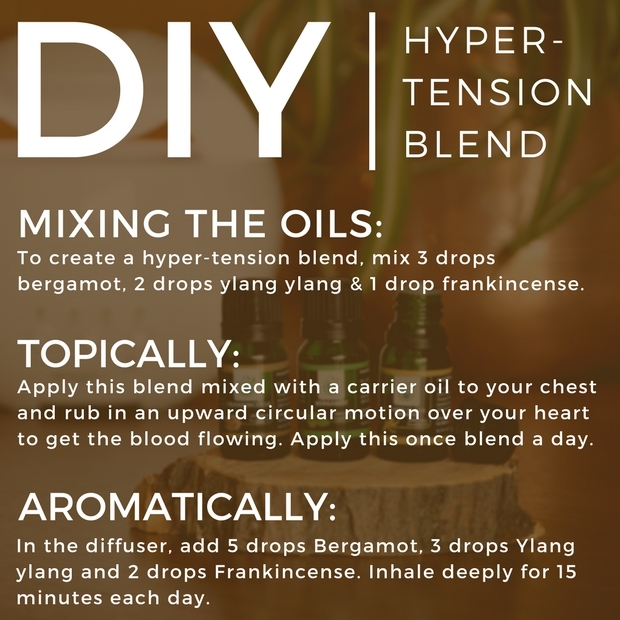 Our 4 piece High blood pressure kit is designed to naturally help you lower your blood pressure to prevent 
serious health issues in the future. This it includes:

-Eterniti Diffuser
-Ylang Ylang essential oil
-Bergamot essential oil
-Frankincense essential oil 



According to a government study, "75 million American adults have a high blood pressure - that's 1 in every 3 American adults."

High blood pressure (hypertension) can cause a range of other health issues including both heart disease which is the number one leading cause of death in the US, and it may also lead to increased risk of a stroke which is the third leading cause of death in America. 

With these being incredibly common, it is important to get regularly checked as high blood pressure has been called "The Silent Killer".

Often, doctors will prescribe medications to lower your blood pressure, however, there are also many natural ways to combat this common health issue.

Stress, food, and physical activity are among the multiple things that can cause blood pressure to rise or lower.

Foods that you should avoid if you have high blood pressure include:
-salty foods
-processed foods
-meat
-sugar
-alcohol
Foods that can lower blood pressure:
-leafy greens
-berries
-beets
-bananas
-garlic
-pomegranates
Another option for lowering blood pressure include deep breathing.
Studies have shown that this to lower blood pressure.
If you are a beginner at deep breathing, try the method called "equal breathing".
This is where you breathe in for 4 seconds and then exhale for 4 seconds. Eventually, you can try to build up to 8 seconds in and 8 seconds out.


Aromatherapy is truly an amazing thing!
Recent studies on Bergamot essential oil show that it can lower blood pressure if inhaled for 15-60 minutes. Simply add 10 drops to your diffuser and set it on your desk throughout the day and it is sure to relax you and prevent your blood pressure from rising.

Other essential oils used for hypertension include:
-Clary Sage
-Ylang-Ylang
-Rose
-Marjoram
-Frankincense
-Jasmine
-Valerian
-Mandarin
-Melissa 
-Lavender
Keeping one of these oils in your bag as you are out and about can also be beneficial. Simply add a drop of any of the listed oils to your wrist for a natural perfume that has amazing health benefits!

After regularly using these oils for hypertension, get another check up to monitor your blood pressure and evaluate what in your lifestyle is helping or hurting your body.


__________________________________________


With more than 6000 4 and 5 star reviews on Amazon, you will discover why this is our best diffuser deal to date for our Eterniti diffuser and your choice of 3 oils.  
About the Eterniti Ultrasonic Diffuser:
Run Time 8 Hrs Continuously or 24 Hrs Intermittent

Water Capacity: 400ml, Coverage: up to 1000 Square Feet

Features: Timer Settings 1Hr/2Hr/3Hr, Int/Cont. Runs Whisper Quiet use it both Day and Night. Shuts off automatically when the water level gets low.

100% Satisfaction Guarantee, 1 Year Manufacturer Warranty, BPA Free

Diffusing is Simple and Healthy, Enjoy Body & Mind
ETERNITI Essential Aromatherapy Oil Diffuser

Setting a new standard in elegance and function unites modern scientific innovation with contemporary design to create this quiet, high-output diffuser that will meet your aromatherapy needs for years to come. The ETERNITI utilizes a high frequency ultrasonic electrical vibrations from a ceramic disc to disperse the water and essential oil out of the vent surface, forming a fine, soothing healthful mist.

The Ultrasonic pulsating sound creates a soothing vapor mist. This is the only unit to diffuse oil instantly while the ultrasonic pulsating sound creates a soothing vapor mist. Simply add a few drops of essential oil into the water to turn your room into a relaxing spa.

The ETERNITI creates a bound of healthy, micro fine vapors that remain suspended in the atmosphere for an extended time. It's virtually silent so it can be used both day and night. Its ultrasonic action creates negative ions to help purify the air. Enjoy 1 Hour, 2 Hour, or 3 Hour Intermittent Diffusing that are controlled by the on/off switch.

To help you relax and provide a calm environment after a long, trying day - place your ETERNITI in a sleeping room, great room, office, hotel room, or home spa area.

Why Should You Diffuse? 

Essential Oils have been shown to have a variety of effects throughout our lives. Diffusing Essential Oils gives you a way to deliver those oils into your system. Whether it's increasing focus, decreasing stress, or simple relaxation - using the ETERNITI to deliver those benefits can provide a whole room experience or allow you to direct the vapor closer to an individual.



You won't find a higher quality High Blood Pressure Diffuser Kit anywhere
Additional Information
| | |
| --- | --- |
| UPC Barcode | No |
| Scientific Data | No |
Customer Reviews
Great!
By Cheryl
February 20, 2018 12:46:41 AM MST
This kit is a must for anyone suffering with high blood pressure! The oils smell great, the diffuser is quiet and works great, and you will be investing in your heart health!!
See all
Hide all