Details



Boxed Gift Set
PMS Kit - 5 Essential Oil Blends + 1 Carrier Oil & 1 Organic Tampon
This box set is the perfect gift for all women ready to take charge of their cycle in a natural and healthy way. We hand-picked the items in this box to help with everything from mood swings to painful cramps.


In this gift box is a 100% organic tampon from the company CORA, which is just another company trying to expose the harmful chemicals in conventional brand tampons and provide a healthy alternative.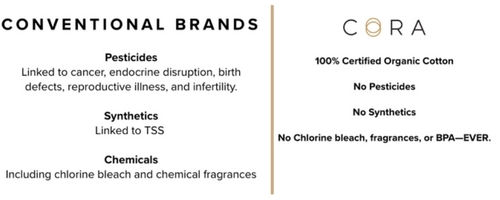 It contains 3 single essential oils, 2 blends, 1 carrier oil, 1 sample of a 100% pure CORA Tampon, instructions on how to
use each product and a convenient kraft gift box for presentation and portability.



7 products included in this box Here is what you get with the BLEND Gift Set:


ALLEVIATE Tension Blend 10ml: Rub 3 drops on stomach for cramps or on forehead to relieve headaches

"I've been very glad I got this for my collection lately. Whenever I have a headache, I put a little on my temples and the back of my neck and it definitely helps! I love the refreshing scent too" -Reviewed by Lilli

"Love this blend for headaches and stress relief. At the first sign of a headache or tension in my neck from stress, I apply Alleviate. Works great." - Reviewed by Tammy



DELIGHT Uplifting Blend 10ml: Apply 1 drop to wrists to relieve anxiety and ease depression

"I couldn't be happier with the smell and quality. I put a little Delight on my wrists and the back of my neck and I felt uplifted within just a few moments. So good!" -Reviewed By Lyndsey

"I find that if I am having a difficult day and I need a lift mentally and emotionally, this will do the job. This is a very refreshing scent." - Reviewed by Debra



Clary Sage Essential Oil 10ml: Diffuse or apply 2 drops topically to your stomach and temples to regulate hormones

"This oil was a lifesaver after my hysterectomy. It helped with my hormones and my moods. I love the scent over other brands because it's not, knock you down overpowering." - Review By Crystal
"This oil really helps me with cravings and irritability during my menstrual cycle. I usually want to eat anything high in carbs, fat and sugar and this oil really helps curb my appetite and grouchiness. I wear it in a diffuser around my neck or place it in a carrier oil on the inside of my ankles. When I feel like I am going to break my healthy eating habits I will smell my diffuser necklace and tell myself to wait 20 minutes. Usually, the feeling passes and I feel calm." -Review by Robin


Rare Kashmir Lavender Essential Oil 10ml: Apply 2 drops to back of neck to calm emotions and sleep deeply

"The smell is incredible and it relaxes the body and mind. It helps with spasms and aches and heals wounds. It is definitely favorite!" - Reviewed By Brooke

"I have used many different brands of lavender oil and Jade Blooms is my favorite, the scent is very calming and I use it often for myself and my kids." Reviewed by Kim


Bergamot Essential Oil 10ml: Apply 1 drop to temples to stimulate dopamine and serotonin to improve mood

This essential oil is considered an effective antidepressant due to its primary ingredients, Alpha-Pinene and Limonene, both of which inherently have bright in aromas, and actively induce hormones. Clinical studies have shown this oil helps 

"This has turned out to be my favorite of the fruity smells. Its aroma is uplifting, but yet has an unexpected depth of smell. You have to try it! Great for stress away blends!" - Reviewed By Brooke



Flaxseed Carrier Oil 2oz. Use this oil to dilute essential oils making them safe for topical use. This oil also regulates hormones and reduces pain

First cultivated in Europe, the plant's brown seeds were regularly used to prepare balms for inflamed skin and healing slurries for constipation. Rich in essential fatty acids or EFAs, flaxseed oil is used to prevent and treat heart disease and to relieve a variety of inflammatory disorders and hormone-related problems, including infertility.



CORA 100% Pure Tampon: Enjoy a sample of CORA and avoid inserting harmful chemicals into your body with conventional tampons. If you enjoy the sample, you may visit https://cora.life/ to purchase more



You won't find a higher quality PMS Kit anywhere
Additional Information
| | |
| --- | --- |
| UPC Barcode | No |
| Scientific Data | No |
Customer Reviews
Perfect
By Tiff
December 20, 2018 7:15:24 AM MST
Sipplies gir my daughter troubled time of the month!
Lifesaver
By Oily Princess
August 24, 2018 11:11:32 AM MDT
Amazing set. Must have for anyone going through those times of the month.
Great group of oils
By Michelle
July 23, 2018 5:53:02 PM MDT
I am somewhat new to oils, so this is a great combination of relaxing, soothing and uplifting blends!
See all
Hide all