Details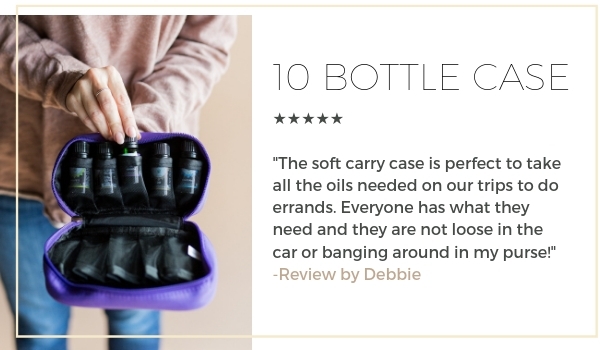 *** This listing is for the carrying case only. No oils are included.

Take your favorite Jade Bloom oils on the go with 10-bottle carrying case.
 This 10 Bottle Soft Essential Oil Carrying Case is perfect for your full size 10 ml and 5 ml bottles. The flexible dimensions of up to 2.75" x 6.5" x 2" inch is great for holding a mix of both sizes. 
This is a softly-padded cloth and vinyl essential oil carrying case that holds your choice of 5 ml and 10ml bottles

Softly-padded cloth dividers separate and protect each bottle

Dividers are made of mesh so you can easily see all of your oils without having to pull them out
Additional Information
| | |
| --- | --- |
| UPC Barcode | No |
| Scientific Data | No |
Customer Reviews
Love it
By Mary Lou
November 19, 2018 6:58:04 AM MST
I really like this 10 bottle carrying case. The webbing inside helps to see the labels on my roller bottles and inhalers. So far 10 seems to be the just the right size for me.
Summary
By Luann
July 19, 2018 9:26:04 PM MDT
LOVE THIS, PERFECT FIT FOR ON THE GO AND IN MY BAG.
love it
By pam
April 11, 2018 8:33:11 PM MDT
Perfect size for anyone on the go.
Perfect
By tammy
September 15, 2017 7:29:30 AM MDT
Perfect carrying case for on the go. Oils nice and secure in separate pockets.
Very cute and very attractive!
By Tanniyn
September 13, 2017 7:33:03 PM MDT
I bought the purple one. Perfect to carry my "Must Haves" oils. Very handy.
Definitely Recommend!
A great start up kit!
By Julie
July 15, 2017 11:00:15 PM MDT
I was so excited to receive this in the mail! All of the best and most popular essential oils all nestled in a perfect carrying case! Each bottle is securely stored in its own mesh pocket and the case easily folds together with a wrap around zipper. Every scent is so refreshing that I'm going to buy more as gifts!
Perfect Case for Travel!
By Courtiney
February 21, 2017 10:23:33 AM MST
Great case for traveling to hold all of your essential oils mostly used! Do wish they had other colors to choose from than black, though.
Dependably Easy
By Denisha
December 21, 2016 9:38:01 PM MST
I love my cases!!! They are super easy to use and fit in my purse. I am able to separateu blends from my singles. I also love how durable they are. They are in my purse with the monsters, lol.
Awesome!
By Johni
December 20, 2016 11:04:48 AM MST
Love these travel bags. It holds 16 bottles each. It cushions the bottles very well and packs easily. Great purchase.
Perfect!
By debbie
December 17, 2016 10:48:56 PM MST
The soft carry case is perfect to take all the oils needed on our trips to do errands. Everyone has what they need and they are not loose in the car or banging around in my purse!
This is a great!
By Sandra
August 19, 2016 12:00:44 PM MDT
This is a great little folio to carry your 'Must have' essential oils with you. Fits 10 Essential Oil bottles perfectly and safely.

Demensions are: 6.5" L by 3.5" H & 2" W
( I may have messed that up)

I purchased the Black color and I'm considering getting a few more!
See all
Hide all